Turn Clutter into Credits with Listia
Turn Clutter into Credits with Listia. Are you looking for a way to get rid of clutter and earn money at the same time? If so check out Listia! As you know I am a huge fan of ridding my house of clutter in order to stay organized.
Turn Clutter into Credits with Listia:
If you made a Resolution to remove clutter from your home, then Listia may be a great option for you. If you are also looking to turn that clutter into a revenue source, then you may like Listia. You can turn clutter into credits. Then use the credits to get things you love! I have been looking for a way to turn clutter into cash and I was trilled when Listia reached out to us to do a sponsored post for them.
How does Lisita Work:
It is FREE to sign up and easy too! After you sign up you can Declutter you home by Selling all the stuff you don't use – from DVDs to clothing to toys, all for free! Then you can Earn Credits. Rack up credits when others win your auction listings. Finally Reward Yourself Discover and get stuff you'll love from other members or the Listia Rewards Store! Our readers ask us all of the time for a resource to sell or remove clutter from their homes. Sign up for Listia now and get 1000 FREE Credits! It is easy to sign up and doesn't cost a penny.
How can you earn Listia Credits:
1000 Sign Up – Your first 1000 credits are on Listia – simply sign up to earn them!
500 Get Your Feet Wet – Listia will instantly give you another 500 credits when you list your first item.
unlimited! – Give Away More Stuff – Continue earning credits by listing all the stuff you don't use.
500 – Invite Friends – Listia is more fun with friends! Listia will give you 500 credits for every friend you invite once they complete their first listing.
unlimited! – Click around and discover hidden rewards throughout the site! You might win bonus credits for things like listing, bidding, commenting and messaging.
100 – Connect with Facebook – Listia will help you share your listings and discoveries when you connect your Facebook account – and throw in some bonus credits for doing so!
100 – Connect with Twitter – Link your Twitter account to easily share links to your listings or brag about cool items you've won and earn 100 credits! You can also watch this short YouTube Video to see how Listia works and is also running a number of raffles this month with truly awesome prizes! Several are pictured above! Each credit is a raffle ticket. Once you join you can enter here.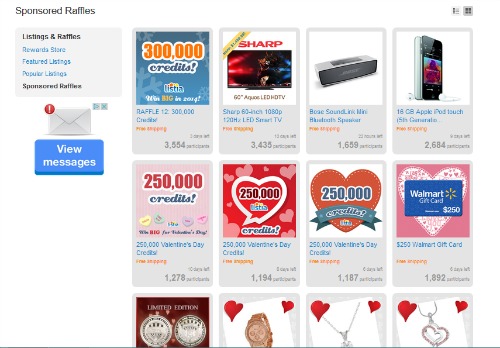 In addition to listing items to declutter you can also trade items! You can use Listia to trade CDs, Instruments, books or vinyl records just to name a few! Of course, for me being able to declutter and turn unwanted items into things you love & actually use, for free with the Listia Credit System is a huge win/win if you ask me!
Listia enables families and individuals around the world to trade freely and win items using a credit system. However, as much fun as it is to win great items without spending money (and it's a lot of fun) one of my personal favorite features are the Charities. If a Listia Member wants to donate their credits to a cause they really believe in, they can do so really easily. Right now you can donate to the American Cancer Society!
Join over 5 million uses on Listia today and starting trading and winning!
Mobile: iPhone & Android
Mobile: iTunes
Like Listia on Facebook
Like Listia on Twitter
Follow Listia on Pinterest
Disclosure: This is a sponsored post however all opinions are 100% my own.
Melissa is a football and soccer mom who has been married to her best friend for 24 years. She loves sharing recipes, travel reviews and tips that focus on helping busy families make memories.