Awesome Gift Ideas for Boys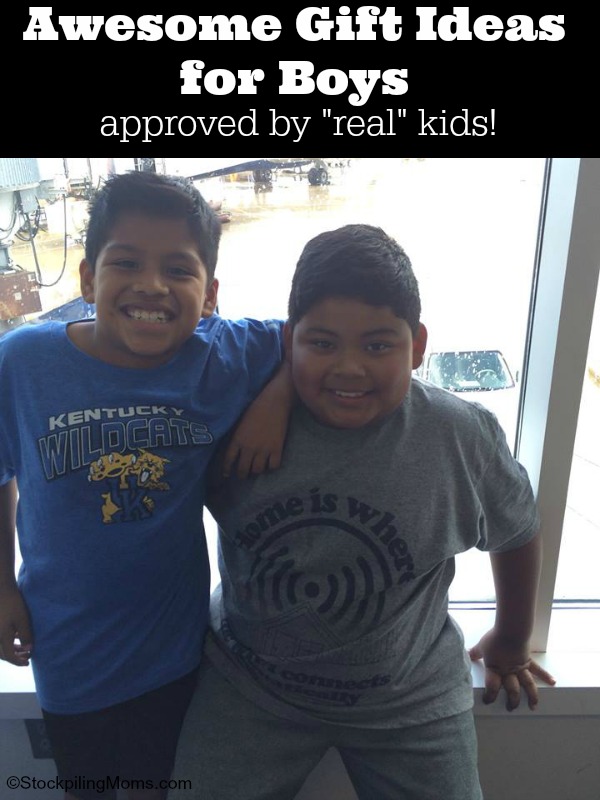 Are you looking for AWESOME gift ideas for boys? I mean the kids where they rip open the paper and scream with delight? If so, we have two suggestions for you that you are going to want to check out! First of all, I think there is nothing a boy likes better than an action toy. We have found in our years of parenting that our boys like action and they like combat play. When we ask our boys what they want for Christmas, a birthday or other special occasion the first thing they reply with is a NERF Gun! No joke!
Awesome Gift Ideas for Boys:
Just when you think there can't be another version of a nerf gun available, they don't have Hasbro comes up with something that is even cooler than the year before. It always keeps our boys asking for more and best of all it is not "just a toy" and it is not electronics. We love that Nerf guns are action toys that keep our boys entertained literally for hours! Not only do the boys have fun but we do too!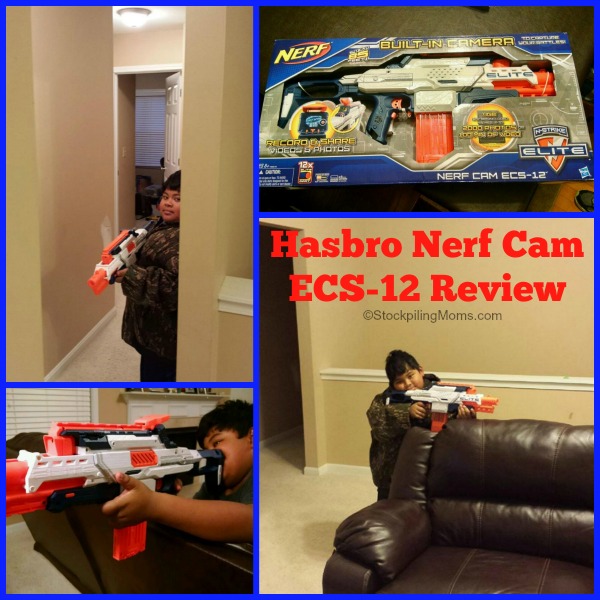 If you are looking for a gift idea for a boy, you definitely need to look at this HOT Nerf blaster! This blaster is amazing and has provided our family with hours of fun! When we received the package, my son ripped it open like a crazy man and couldn't wait to play with it. My husband and I had to wait until the kids went to bed to play with it and we were quite impressed! This Nerf Blaster has taken our Nerf Battles to a whole new level. The blaster has a built-in camera with a 1.77-inch color screen that gives you a first-person, blaster-cam perspective.
My oldest son loves to film our Nerf battles and watches them over and over. I am impressed with the video and audio on this blaster. I was not expecting it to be so clear and pretty sharp for a camera on a toy. The one problem I have is the person taking the video. My son makes me about half sick while he is filming but we watch anyway because he is so excited. The Nerf Cam ECS-12 video blaster comes with a 4-gigabyte memory card that can hold up to 2000 photos or 3 hours of video. You can transfer the media by removing the card from the blaster and uploading it to your device.
Another huge plus to this gun is it has automatic firing. It makes playing with the little ones much easier because they do not have to pump or pull anything back. The gun is fairly big but the boys seem to handle it well. The one problem you do have with this gun is the ability to sneak up on people. Being sneaky is nearly impossible since it is runs on batteries for the automatic firing BUT this has not taken any fun out for us. The boys love it and play forever. Nerf Wars in the basement provide my kids great exercise in the winter and this Nerf product keeps them interested. I know this gun may seem a little pricey for some but my kids have played more with this than gifts I spent a small fortune on. (Like the hand held game system they barely play with.) This blaster has made them active and they have spent hours upon hours playing with it.
Includes: blaster with built-in camera, 12 darts, clip, memory card, and instructions:
Built-in camera to record and share videos
Fires darts up to about 80 feet
Includes 4GB memory card
Acceleration trigger for motorized blasting
Quick-reload 12-dart clip and 12 Elite darts
Ages 8 and up
Requires 8 AA alkaline batteries (not included)
Actual video time will vary based on video-taking environment
Peyton has been asking (ok begging) for the Nerf Mega ThunderBow since he first saw it advertised. I have been so excited to give this to him that I couldn't bare the thought of waiting until Christmas. The Nerf Thunderbow is HUGE. I mean not so big that it is hard to hold but it really realistic. Best of all the quality is great too! I love that the suggested retail price is only $39.99 too!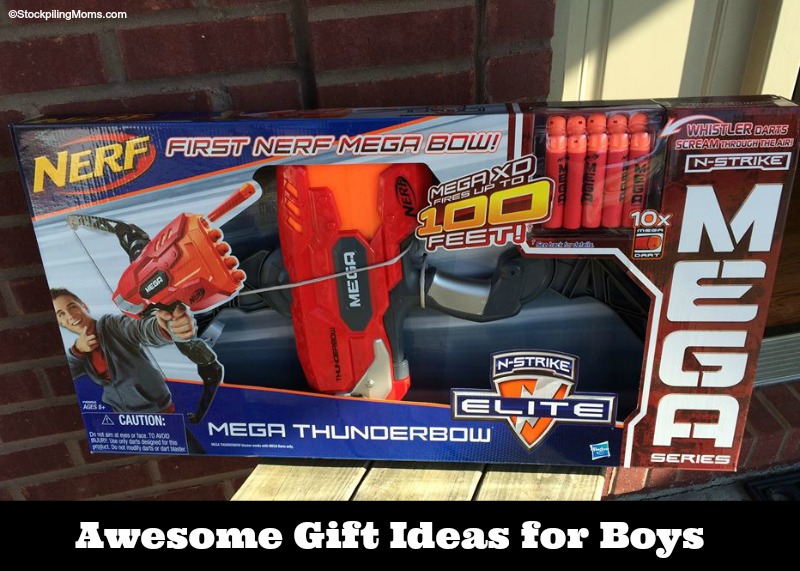 This Nerf product will allow your child to go outdoors and really enjoy some action! The Nerf N-Strike Mega blasters feature bigger darts for bigger battles! Your kids will take aim with the Nerf ThunderBow blaster that features real bow action, and let the darts fly with the first Nerf Mega bow! My son is taking his to his grandpa's farm where he will be able to "shoot" right along with the adults safely!
This Nerf product has Real Bow Action! Pull back the string and release it to launch the Mega darts through the air, using the same action you use for a real bow. The black bow arms on this red and orange Nerf bow flex as you pull the string, adding to look and feel of a real archer's bow. Blast into realistic archery action and adventure with the first Nerf Mega bow! My son loved that it fired 5 Darts Without Reloading and they shoot up to 100 feet.
To use you load 5 big red Mega darts into the barrel of this Nerf bow blaster, then repeatedly pull and release the string to fire all 5 darts in succession. Listen as the Mega darts whistle through the air when fired. This Mega series bow from Nerf fires the darts a Mega distance of up to 100 feet, for bigger Nerf battles! It includes the blaster, 10 darts, and instructions. This toy is suggested for ages 8 and up.
Right now, you can order the Nerf Mega Thunderbow at Amazon.com for on sale for $29.98!
If you are like us, you have TONS of Nerf Bullets that are broken. This is a great DIY Pencil Cushion and way to re-purpose and recycle them!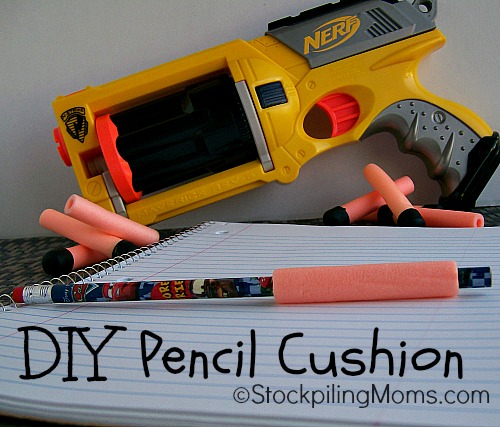 You can also check out Shelley's review of the Nerf N-Sports Sonic Howler Flying Disc, Play-Doh Double Desserts Playset and Nerf Super Soaker TRI Strike Crossbow Water Gun and the Nerf Rebelle Super Soaker Dolphina Bow which are perfect for Summer Fun, Easter Baskets and Birthdays!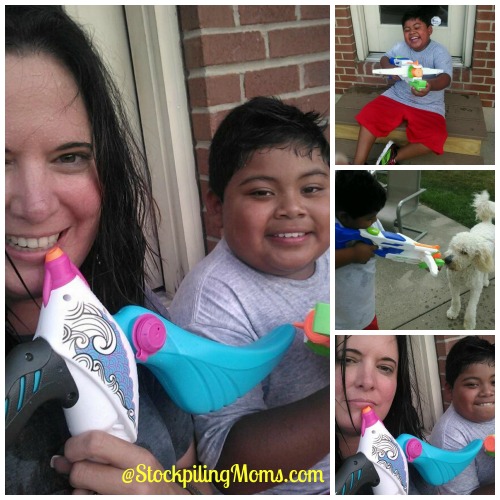 Disclosure: Hasbro sent us toys for review in this article however all opinions are 100% our own.
Shelley is a boy mom, marine wife, and is blessed with an amazing family. She loves sharing recipes, travel reviews and tips that focus on helping busy families make memories.