eBay introduces Collections
eBay introduces Collections. Are you looking for a way to create Christmas "Wishlist's" online? I am so excited to share with you eBay Collections! I just recently created 5 collections myself and they are working perfect as a Christmas "Wishlist".
eBay introduces Collections:
The grandparents are always asking us for our Christmas "Wishlist's" so this year I decided to think outside of the box. I created a Wishlist or eBay Collection for each of using the eBay collections online. This is a sponsored blog post however the opinions and ideas are 100% my own.
Creating eBay Collections were fast and easy (plus free). I just created an account and then I searched for items and instead of placing them into my cart I simply created and added them to a collection. It took about 15 minutes per collection to create! Now I can share the collections with my family. It is so easy because I can share through email or social media! I can update the lists by adding new items to them or deleting item from the lists. This will make it easy because as a family member makes a purchase for Peyton, I can delete that item from the collection.
I personally created a Wishlist for Mom, Dad, Peyton and then I created a Holiday Entertaining and Winter Look for Less collection. I love all of the bargain shopping I was able to do on eBay and the collections really express our interests and likes. It was fun and simple to create the collections and I found some great deals!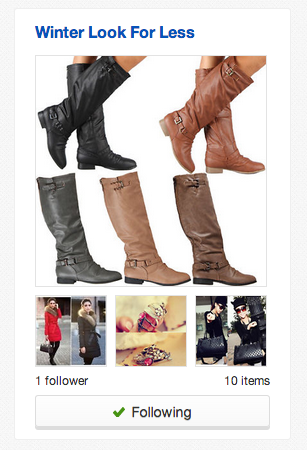 In the winter look for less collection I found an amazing pair of boots and then I built my collection around them! I am in LOVE with the winter coat that I found! It was fun to create the collection and it will be nice if someone purchases some of them too 🙂 In my Holiday Entertaining Collection I found some fun accessories that would really make our Christmas dinner for festive! I love the apron too!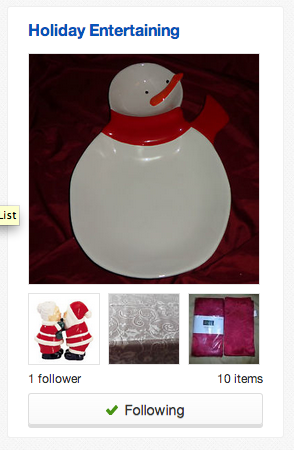 In the collections for Mom, Dad and Peyton I was able to find items that I think all of us would really enjoy! I love the Lava Lamp that I added to Peyton's collection. I found some great jewelry for my collection and some UT VOLS items for my husband! I can't wait to see if any of these items end up wrapped under our Christmas Tree!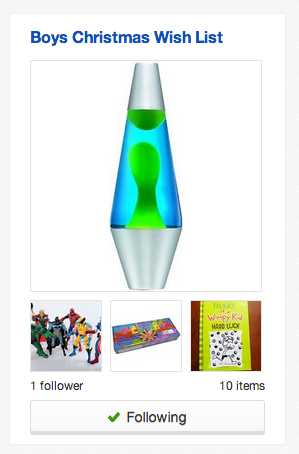 I would love for you to Follow My Collections and Follow Me on eBay.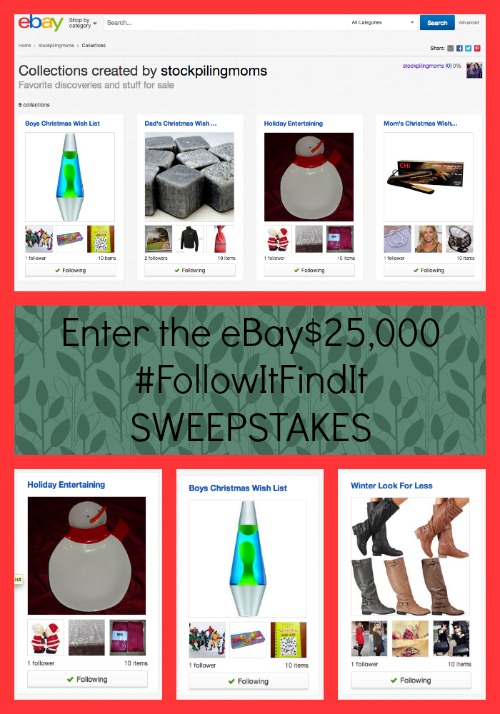 Right now, eBay has a $25,000 #FollowItFindIt SWEEPSTAKES that I urge you to enter! Can you imagine winning this amazing giveaway??? What would you do with the money if you won? You can learn more about the Sweepstakes HERE or click the image below.

Disclosure: This blog post is part of a paid Social Moms and eBay blogging program. The opinions and ideas expressed here are my own.
Melissa is a football and soccer mom who has been married to her best friend for 24 years. She loves sharing recipes, travel reviews and tips that focus on helping busy families make memories.