How to get your kids to brush their teeth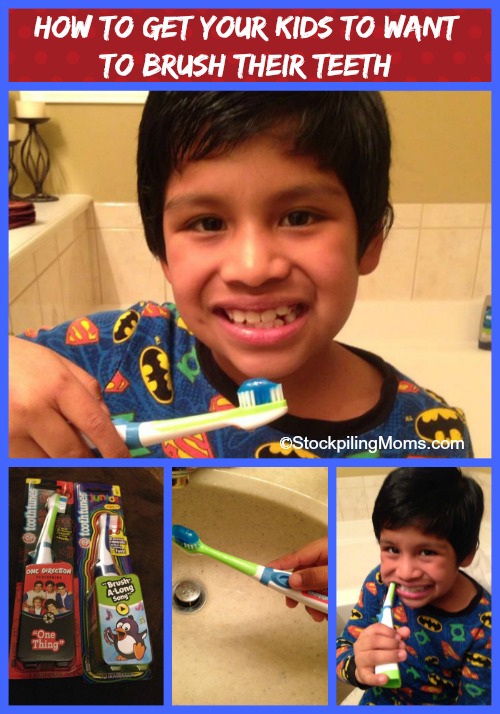 How to get your kids to WANT to brush their teeth. Did you know your kids should brush their teeth for 2 minutes? Our dentist taught us this when Peyton was only 18 months old. Now just because we KNOW this information that doesn't make it fun – or does it???
How to get your kids to brush their teeth:
I have always used a timer with Peyton so that he knows how long he should brush however he often forgets to flip it over OR he plays with while he brushes and loses track of the time. So, when we were introduced to the Tooth Tunes Toothbrush by Arm & Hammer, I was "hopeful" that it would help our situations.
When the toothbrush arrived, and I handed to to Peyton he got excited. WHAT? Excited about brushing his teeth? I thought he would like the toothbrush because he really LOVES music. He has is iPod with him at all times and is constantly singing and dancing to his tunes. His favorite class at school is Music Class and he loves to play his drums, recorder and ukulele. In fact one of his favorite shows to watch is the Voice!
When Peyton came home from school and saw the new toothbrush, he immediately asked me if he could open it. Wow, that is a good sign. Next he asked if he could go brush his teeth…..YES, you are reading that correctly – he ASKED me in the middle of the day if he could go brush his teeth. He really enjoyed brushing his teeth to the tunes and he actually brushed for the full 2 minutes and then brushed again. YES – AGAIN!
We have a WINNER! Since the arrival of the toothbrush I have had no issues with Peyton complaining about brushing or the time spent! I love that Peyton was excited about the new Tooth Tunes and I know Dr. Ryder (his dentist will be). At every appointment we always talk about flossing and length of time brushing. I like that he is interested without me insisting and I can't wait to see how using the new Tooth Tunes on a daily basis benefits his teeth. I am sure he will soon have a brighter whiter smile.
The one thing Peyton mentioned after brushing was that he could hear the music in his mouth. I looked it up and yes indeed the Arm & Hammer Tooth Tunes features a one-of-a-kind Music in your mouth technology. It streams the sound vibrations from the bristles of the toothbrush through the teeth, allowing kids to hear the music while they brush. He LOVES that part! A great idea would be to add one of the these Arm & Hammer Tooth Tunes Toothbrushes to each of your kids Easter Baskets! They even come in Jr (ages 3+).
Check out the
Tooth Tunes Radio Disney Music Awards Winning Smile
Instagram Sweepstakes and enter by posting on Instagram.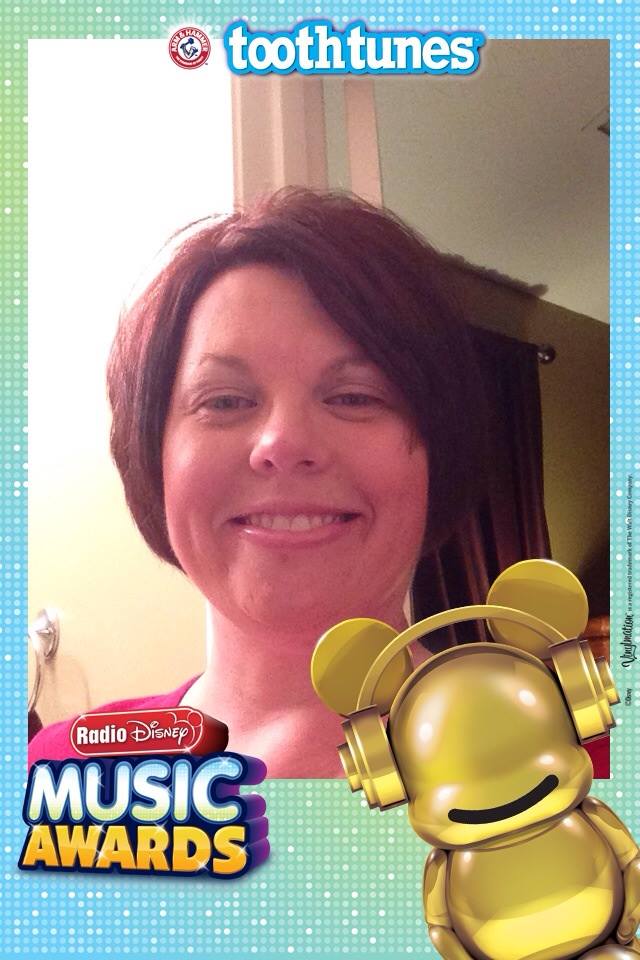 To Enter:
SMILE! Photos should show off your best "Tooth Tunes smile." You can see my sample above.
It is not required that the Radio Disney Music Awards custom photo frame from the Radio Disney App (however it is cute and free to download) be used to enter, but each entry must be hashtagged #RDMAToothTunes to be eligible to win. Using the photo frame does not increase chances of winning.
In order for your Entry to be valid, your Instagram Account must be public (not private) and viewable.
One winner will be randomly selected on March 31, and will receive a three-day, two night trip to the Radio Disney Music Awards for four people. (A prize worth $4,000!) – YIKES that is exciting!
Be sure to follow Stockpiling Moms on Instagram while you are there 🙂
Disclaimer: This is a sponsored post written by me on behalf of Tooth Tunes.
Melissa is a football and soccer mom who has been married to her best friend for 24 years. She loves sharing recipes, travel reviews and tips that focus on helping busy families make memories.