The Great American Lemonade Stand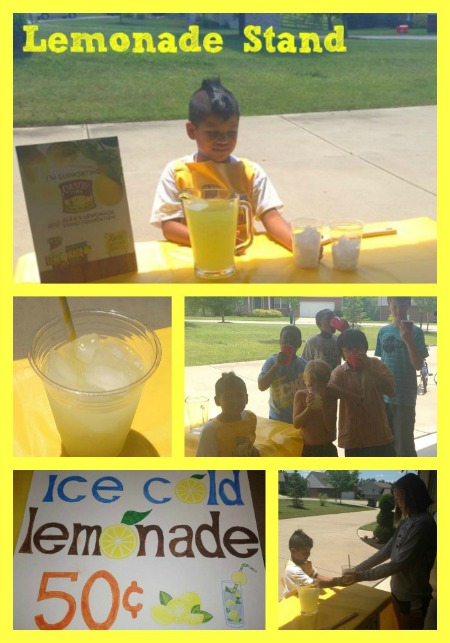 The Great American Lemonade Stand. It is officially Lemonade Season at my house. This is what we call summer. Every year Peyton BEGS to have a lemonade stand. He loves the idea that he can make money by hosting one and every year I say, no – let's just give it to our friends but this this we decided to host one and compromised and decided to give the money earned to charity.
The Great American Lemonade Stand:
This summer, Country Time Lemonade is giving families everywhere a fun and philanthropic way to participate in one of America's great summer traditions – hosting a lemonade stand.
The Great American Lemonade "Stand-tacular" offers fans of the Country Time Facebook page a "Stand Plan" that provides tips and tools to host the perfect stand. Fans who post a photo of their stand to the Country Time Facbeook page can trigger a $5 donation to Alex's Lemonade Stand Foundation. County Time will donate $5 (up to $50,000) to Alex's Lemonade Stand Foundation to help fight childhood cancer for every family lemonade stand photo uploaded to the Great American Stand-tacular's Facebook page this summer.
As the Official Lemonade of Lemonade Stands, Country Time is available in four refreshing, down-home flavors including classic Lemonade, Pink Lemonade, Strawberry Lemonade and Half & Half (half iced tea, half lemonade). Now my personal favorite is the Half & Half. It is Pink Lemonade for Peyton and classic for Tim. I was really excited to try the Strawberry Lemonade and I have to say it is delicious!
Of course, you can never go wrong with the classic Lemonade. A little trick my mom taught me is to add sliced lemons to your Country Time. Every time I do everyone thinks I squeezed it myself 🙂 I think some frozen strawberries would be perfect for the Strawberry Lemonade. A great tip is to use these Lemon Ice Cubes in your lemonade to keep it cold!
It is simple to create a Lemonade Stand. With just a pitcher of water, some ice cubes and spoon, Peyton and I can stir up an afternoon of fun for the entire neighborhood. I always invite the neighbors over or bring out a pitcher for Lemonade for them when they are out playing on a hot summer day.
The Country Time Lemonade "Great American Lemonade Stand-tacular" online offers a free downloadable "Stand Plan" – a creative and user-friendly guide that gives parents all the information they need to help their kids build the best stand, while teaching them a little bit about business basics.
The Great American Stand-tacular program helps kids learn valuable lessons of entrepreneurship and giving back to others in need, values I definitely want Peyton to inherit! It is a great experience for him and at the same time we can give back to those in need.
I hope you will join with us and participate in the The Great American Lemonade Stand-tacular. When you do be sure to load your picture to the Country Time Facebook page.
Disclaimer: I have been selected by Kraft Foods to be an ambassador for Country Time. While I have been compensated for my time, my opinions are my own, and I have not been paid to post positive comments.
Melissa is a football and soccer mom who has been married to her best friend for 24 years. She loves sharing recipes, travel reviews and tips that focus on helping busy families make memories.