Top 10 Reasons To Visit Dollywood
The Great Smoky Mountains always provides beautiful scenery and experiences every season. Dollywood is sitting in the foothills of this great National Park, and it is a beautiful place to visit any time of year. Dollywood presents a totally different and exciting atmosphere for guests every season, so it is fun to go over and over. I had the pleasure of visiting Dollywood at the end of the summer break, and we had a wonderful time.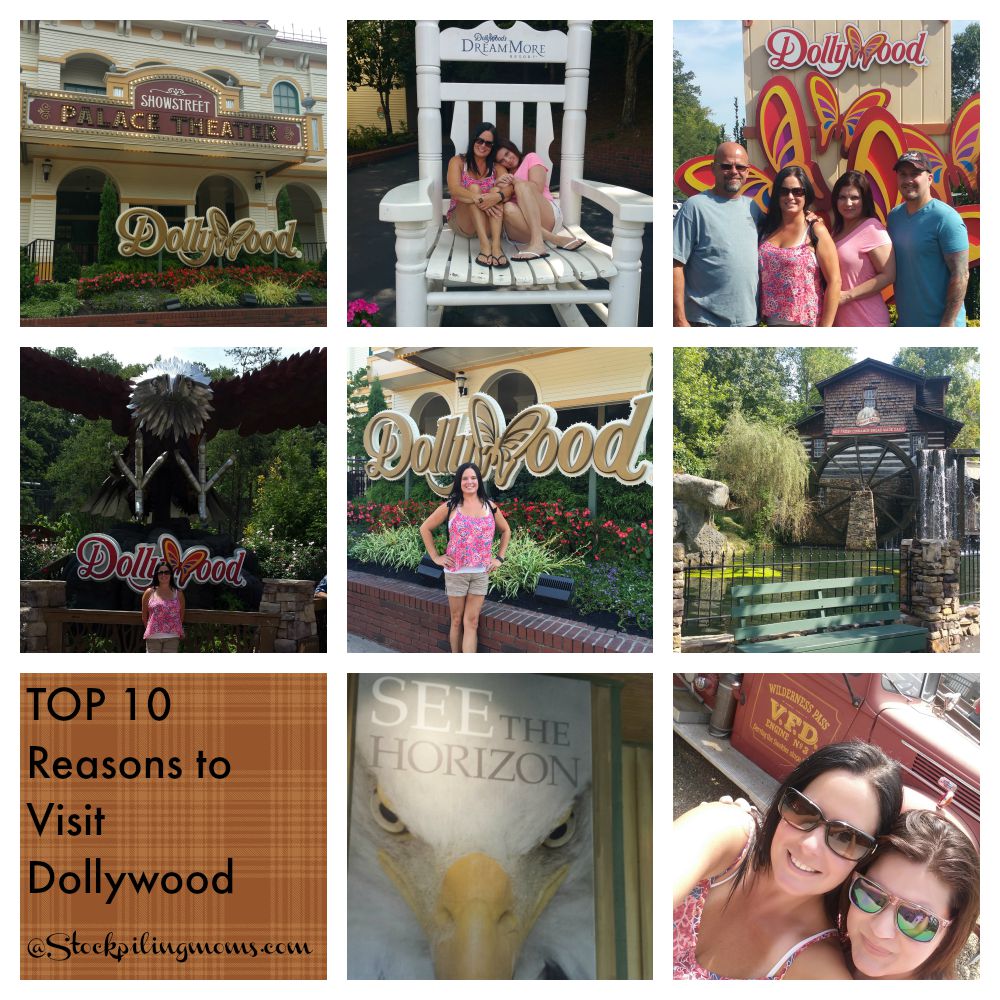 There are so many things I could tell you I love about this trip, but I will stick with Top 10 Reasons to Visit Dollywood! I am a country girl and I love all things country, but the great thing is you don't have to be all about country to enjoy this adventure. Dollywood is an outdoor adventure for all ages. This is one stop the whole family is guaranteed to have an amazing day.
Top 10 Reasons to Visit Dollywood
Wild Eagle – The Wild Eagle is one of the most amazing rides I have been on. It is a four-inversion steel winged roller coaster that flies at speeds up to 61 MPH. I could have ridden these one hundred times straight. (Well maybe not 100 but I would have tried.) We were there the end of August, and the lines were not very long. Make sure you ride both sides if you have time. HINT: There are places to buy lockers before you enter the ride. IF you just have a small backpack or cling bag it will fit in the storage provided at the actual ride. I would also recommend removing flip flops or any type of shoe that could fall off. Requirement: At least 50″ tall.
Wings Of America – The Wings of America show is an educational experience for all ages. You can stop by and see the bird's and read about them individually. We really enjoyed being able to see these entertainers up close.
Parton Back Porch Theater – This show had us all dancing! It is 30 minutes of chart-topping hits and entertainment. Everyone was dancing from the babies to the older folks! This is sure to be a hit with everyone in the family. Plus, this is a wonderful place to take a break and rest for a minute!
Aunt Granny's All-You-Can-To-Eat Buffet – If you are looking for a place to eat that will make everyone happy this is your place! Due to some dietary issues, we were limited to where we could eat. The staff was very courteous and upbeat. We had an issue of me not eating when I should, and my blood sugar dropped. They got something quickly to help out and were very attentive to our needs. The food was very good and there were plenty of things for all of us to choose from.
Sweet Shoppe at Dollywood – Who can resist a sweet shoppe? I was pulled in by the smell, the delicious candy, fudge, ice cream, and our family favorite taffy! Stop by with the kids and watch how they make it. Make sure you ask questions, and they will tell you all about it. Don't forget your free sample!
River Battle – We ran around like little kids and didn't even get on the ride. We are not ones that like to get wet, but this brought us major entertainment from the outside. I would guess we probably ran around 20 minutes trying to get the riders wet! Caution: We did get wet on the outside but not soaked like they did on the actual ride. Since we did not actually ride the ride, because we did not want to get wet, I took this excerpt from the Dollywood website "As the rafts navigate the waters, the battle begins as passengers, each armed with a soaker gun, take aim at each other and more than 100 targets along the way, including large-scale "talking animals"—beavers, skunks, otters, bears and more. Some of the targets shoot back while others display a variety of special effects, creating surprises at every turn and ensuring that no two rides are ever exactly the same. "
Mystery Mine – Now this was one of my favorites but if you get motion sickness it may not be the best for you. There is a 95-degree, 85-foot vertical drop that plunges into darkness! What else can I say about that?
Dreamland Drive-In – Chart topping hits of the 50's and 60's will drive you back memory lane! Check out other amazing shows like Country Crossroads or the Smoky Mountain String Band.
Crafts – There are so many things to look at and pick from at Dollywood. If you want to take a one of kind gift home to the family, this is the place to pick it up. My favorites are the Blacksmith & Foundry, Custom Glassworks, Old Flames Candles, and Stone Penland Pottery.
Thunderhead – Take a ride through the mountains on this amazing wooden roller coaster. You have to be daring to take on this 100-foot drop and a top speed of 55 mph. This coaster is for all the daring guests! Requirement: At least 48″
**If you're a Dolly Parton fan be sure to check out the Chasing Rainbows Museum. You can take a tour of Dolly's old tour bus, see a replica of her childhood home and see the show My People which includes some of Dolly's real-life relatives.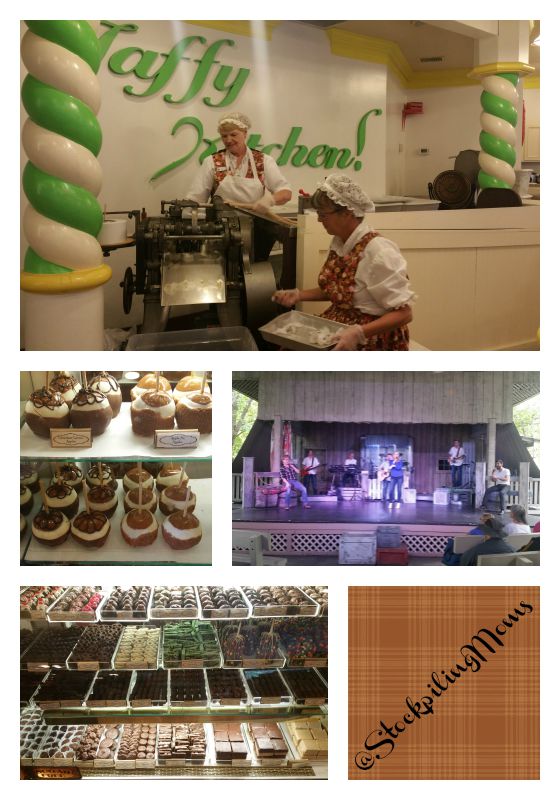 There are so many things to do at Dollywood and it would take forever for me to mention them all. We had a beautiful day at the park, and we cannot wait to go back. Check out DollyWood's Festival Schedule. I would love to take the family back for the Smokey Mountain Christmas or catch a service on a Sunday at the Robert F Thomas Chapel. We hope these Top 10 Reasons to Visit Dollywood help you in your planning!
Disclosure: Dollywood PR did provide us with tickets to the park, but all opinions are 100% my own.
Shelley is a boy mom, marine wife, and is blessed with an amazing family. She loves sharing recipes, travel reviews and tips that focus on helping busy families make memories.