Tips for having fun at Kings Island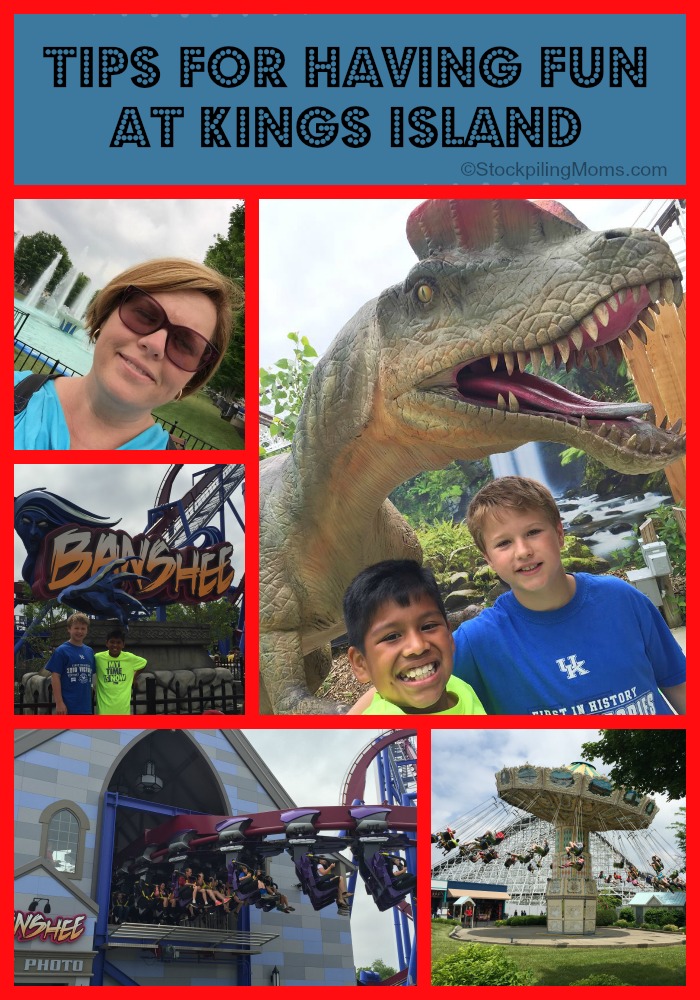 Tips for having fun at Kings Island. We love to visit Kings Island Amusement Park in Mason, OH. If you have never, been you are really missing out on a fun family day. We have some tips and tricks for you so you can have a fun day at the largest amusement and waterpark in the Midwest! Going to a new amusement park can be overwhelming but with a little planning you can help reduce the stress and create a memory that will last a lifetime.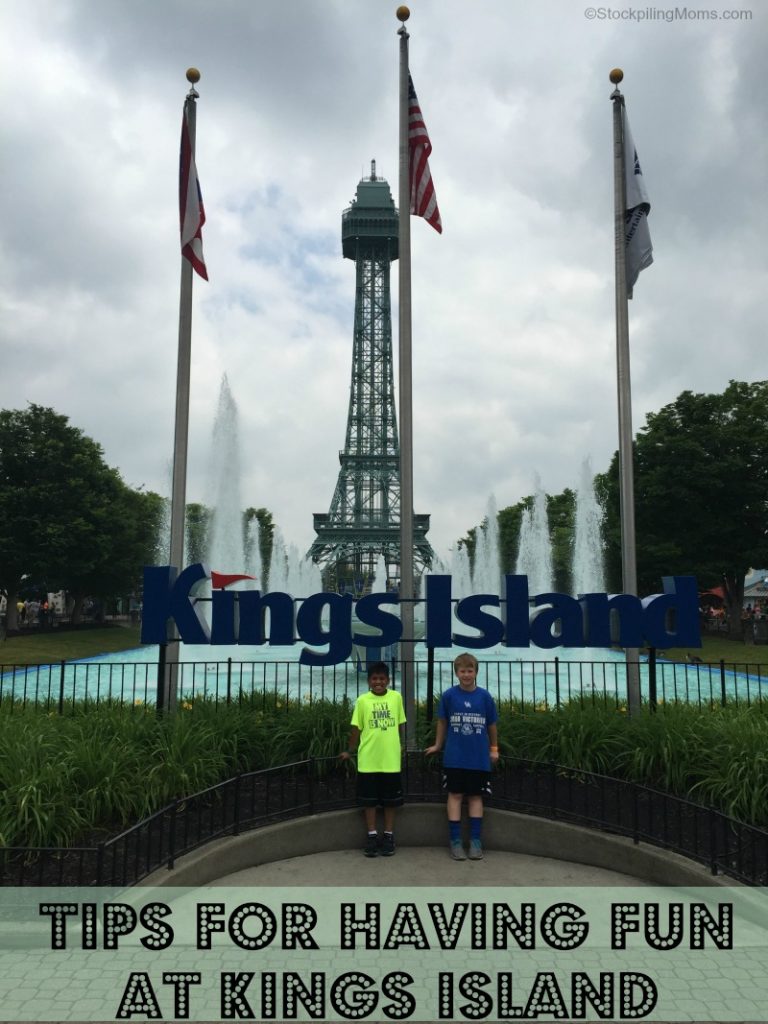 Tips for having fun at Kings Island
1. Download the Kings Island FREE MOBILE APP – With new features including ride wait times and a live interactive map, the new Kings Island mobile app is sure to make your day at Kings Island even better! It is available for your Apple or Android mobile device. The updated app also includes special offers and discounts for inside the park, updates on special events and promotions, find your favorite rides, shows and restaurants. You can even use the car finder to mark your parking spot and let the app remember for you! We have used it and it is a game changer for us in terms of how much fun that we have! By using the app, we can see how long the wait times are for a ride and plan based on that.
2. FREE Wi-Fi – Kings Island now has free Wi-Fi throughout the park. This is perfect for using the Kings Island Free Mobile APP. Be sure to use it save money from your data plan. If you children have devices this is a great way to stay connected throughout the day.
3. Choose the day you visit wisely – We find the best days to attend are overcast and rainy days. Because we are season pass holders and live close to Kings Island we visit often. Our favorite days to visit are any day that the weather is overcast. Those days tend to be less crowded. Also, we like to go mid-week. We find that Tuesday, Wednesday and Thursday can be less crowded. If you are purchasing a one-day ticket you can find better prices online for weekday tickets. Saturday and Holidays are the busiest days. Avoid those days and also look at the calendar for special events and promotions days and avoid those too.
4. Consider a season pass – Season pass holders get great benefits. From discounts on food, games and souvenirs to early park admission and free parking and free admission to dinosaur alive. With only 2 visits your pass will pay for itself. If you think you will go to the Park at least 2-3 times in a season it is worth it!
5. Bring your own food and drinks – If you have food allergies you can bring your own food to Kings Island. Just stop at the customer service desk before you enter the gate. You can also bring in 1 bottle of water for each person. You can pack a cooler and leave that in your car. Take a break for lunch and dinner and save a bundle inside the park.
6. Free Water – You can get free water at any concession stand or restaurant. This is a great way to save money and stay hydrated. They will also fill a Kings Island refillable cup (from any year) with water for free at any concession stand. This is a tip that can save you a bundle.
7. All Day Dining Plan – If you are going to be at King Island for the day the All-Day Dining Plan is a great value at $29.99. You will get a wristband to use for the day. You can get a meal every 90 minutes all day long. A tip is to share the meal plan with (2) or more people. Set your phone timer so that you go back exactly every 90 minutes to maximize the meal plan and get your money out of the plan. If you are a season pass holder, they also offer a meal plan that you can add to your pass. We purchased that for my son, and it has been a huge money saver for us.
8. Purchase the refillable cups – A great way to save money is purchase the refillable cups online for $10.99 and then you can buy a refill for $.99 while you are at the park. Just get one or two and share them with the family! You can also purchase the refillable snack tub and then pay for a refill (cotton candy or popcorn) when you are at the park. Again, just get one and share them with the family. They also offer refillable Icee but we don't find that to be a great deal. There is only 1 location to get a refill and you can just purchase a 32 oz Icee for refill price so skip that one!
9. Pack a change of clothing – If you are going to ride the water rides in the amusement park or in case it rains, I suggest that you pack a bag with a change of clothing and shoes for each person in your party. Leave that bag in the car and then in case you need it you will have it. Also, watch the weather because there are times where it gets cool and a sweatshirt comes in handy.
10. Pack a swim suit bag – I suggest that you bring your bathing suits, towels, flip flops or water shoes and sunscreen. If it is a hot day there is no better relief at Kings Island than to head to the water-park. The water-park admission is included in your Kings Island admission. You can leave your swim suit bag in the car and then you can drive over to the water-park when you are ready or you can send someone out the car to get the bag and you can take the train to the water-park from the amusement park. Best of all you can also go back and forth between the parks as many times as you want in a single day.
If you are not a thrill seeker there are plenty of shows, dinosaurs alive (costs $2.50 per person) family rides and planet snoopy available. You can also sit back and do some amazing people watching which is one of my favorites. There is a great covered pavilion by The Banshee which is a great place to sit while you family rides. I am not a huge fan of riding myself but I always have a great time with my family at Kings Island. I hope these tips help you have a great day!
This is one of our top picks for Summer Fun in our 70+ Things To Do in the Cincinnati Area – Summer Bucket List.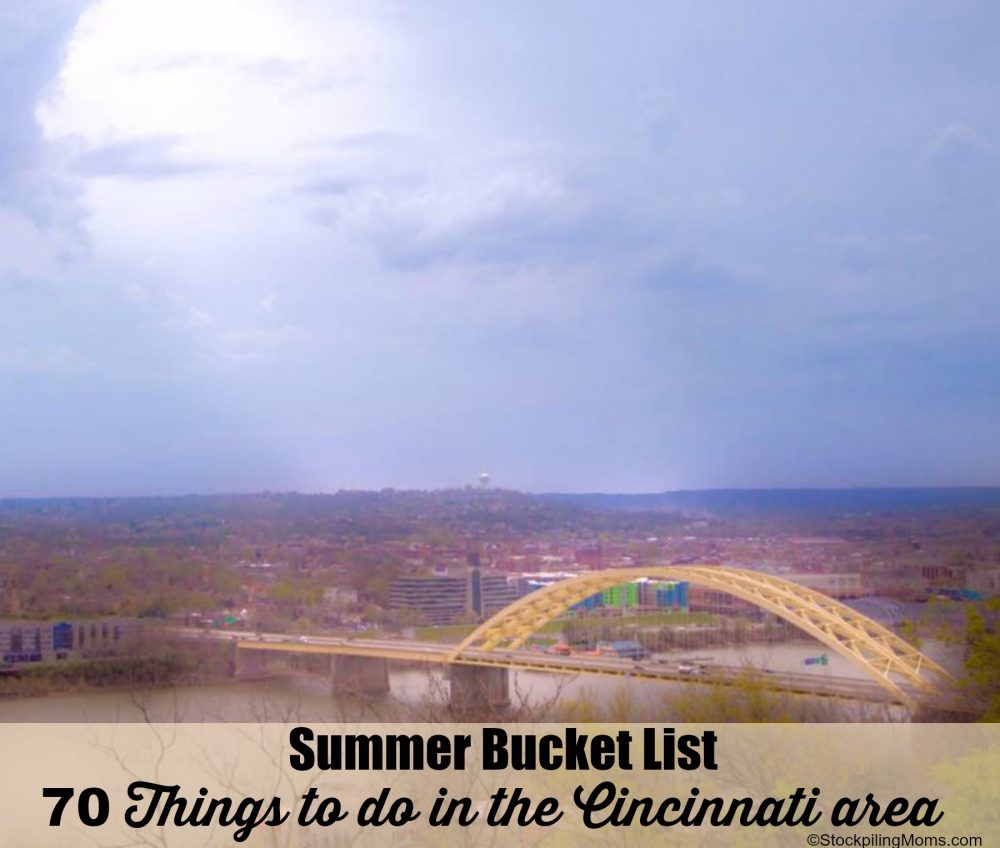 This is one of 70 Things To Do In the Cincinnati Area – Summer Bucket List! Hope you enjoy it as much as we did!
Melissa is a football and soccer mom who has been married to her best friend for 24 years. She loves sharing recipes, travel reviews and tips that focus on helping busy families make memories.