This past weekend, we celebrated our 14th family day with my son. Fourteen years ago, I brought Caleb home from Guatemala and we celebrate every year! When I asked Caleb where he wanted to go for his special day, his response was "Dollywood!" This response made me so happy because I love all things, Dolly! Who doesn't love Dolly? I have always wondered why Dolly uses butterflies everywhere, and I finally learned why. She uses butterflies as her logos because she feels they represent beauty and freedom. This really meant something to me this weekend. I thank God every day that I had the freedom to bring my son home from Guatemala. Our lives together are beautiful! This is what made this Family Fun at Dollywood that much more special!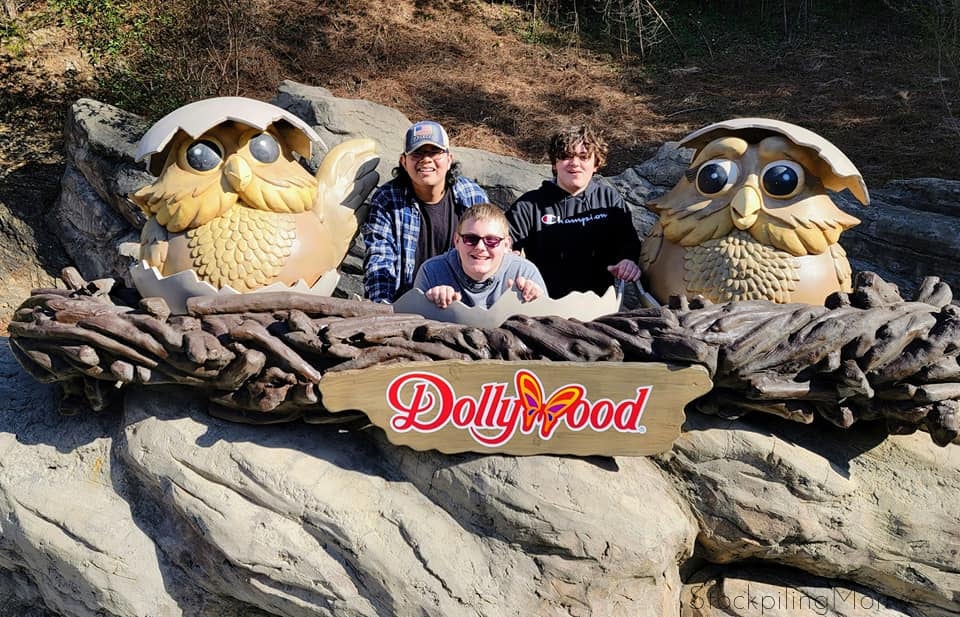 When I was planning our trip, I wanted to get the most out of our day! With three boys that is really important. I highly recommend you get there at least an hour before park opening. The park opened at 10 and we arrived around 9. Arriving early was great because we had parking close to the front and were allowed to go to the park. The rides weren't open yet, but it allowed us to head the direction we wanted to go. We headed to Timber Canyon and Wilderness Pass, (Go to the left when you enter the park) where the thrill rides are located. Check out our favorite rides!

Favorite Rides in Timber Canyon
Thunderhead – Do not be shy because it is a wooden coaster. It is one of the smoothest wooden coasters I have ever been on! You will be thrilled with the 100-foot drop and a top speed of 55 mph. It's an exciting roller coaster!
Mystery Mine – This amazing coaster travels an 1,811-foot track through an abandoned coal mine. You have no idea what to expect on this ride. We rode it a couple times and it was so enthralling you couldn't remember what happened before. This ride was an unexpected favorite!
Drop Line – If you love dropping 20 stories you will love this ride. The greatest thing about this ride is the view as you go up! The Smokey Mountains are truly a beautiful place to visit!
Favorite Rides of
Wilderness
Pass
FirehouseChaser Express – This was a smaller coaster, but the kids loved it! The ride goes frontwards and backwards, which was a big hit!
Wild Eagle – Isn't it just like Dolly to want to push the limits! This is America's first wing coaster! If you want to feel like you are flying, this is it! Hands down my favorite coaster ever. What a tall order to fill, because I have been to amusement parks all over the United States. I love this ride!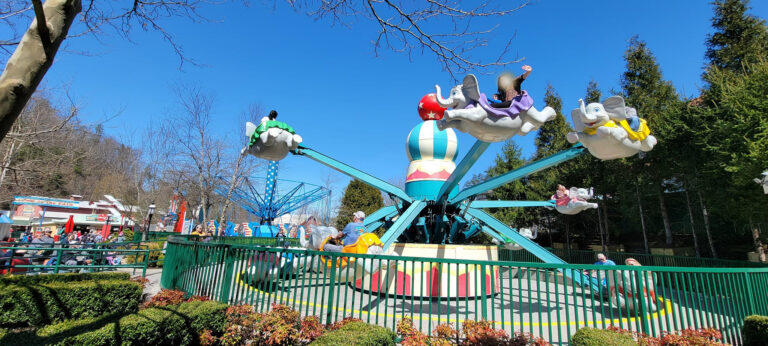 County Fair
We loved this part of the park! It reminded us of the county fairs we used to attend when we were kids. When we were looking at the park, this is the last place I thought we would spend a lot of time with three teenage boys. The boys had a ball! We literally laughed until we had tears running down our face. Nothing like a country fair to bring back memories of your childhood! Family fun at Dollywood, at it's finest!
Check out the Shows at Dollywood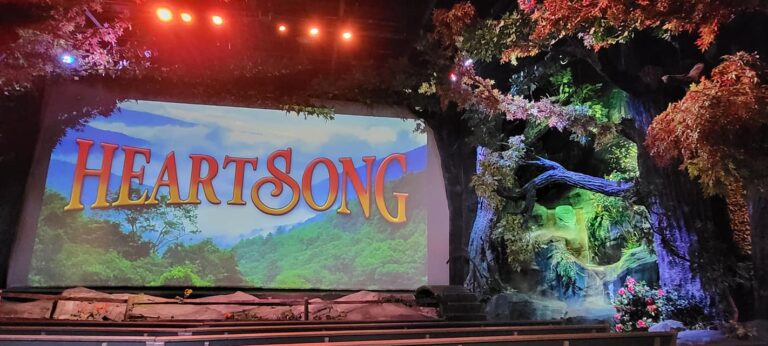 HeartSong – This was an amazing multi-sensory film narrated by Dolly herself. There is something soothing about Dolly's voice! Enjoy this journey with Dolly as she shares places very close to her heart! Warning for small children, there are times when the theater goes dark.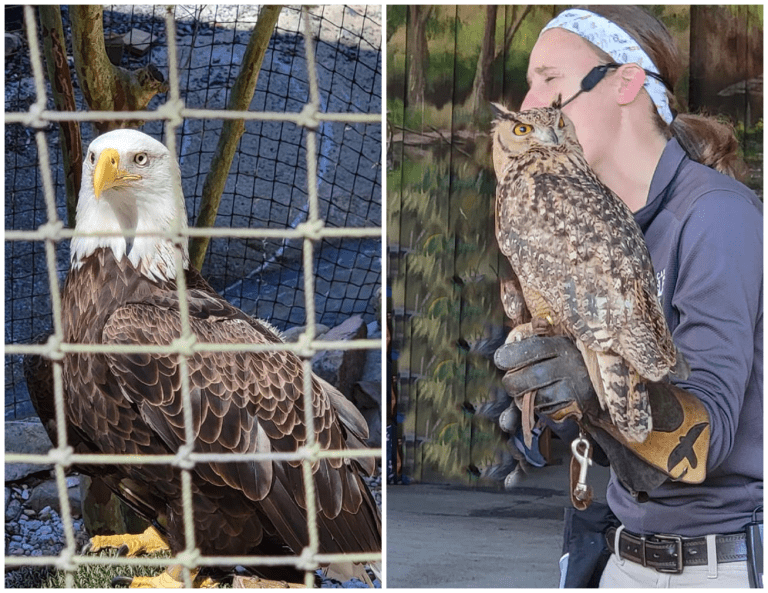 Wings of America Birds of Prey – This is an amazing show for the whole family! We were able to see some of the most amazing birds up close and personal, such as the Screech Owl and the Desert Owl. My favorite part is walking through and seeing the American Bald Eagles on Eagle Mountain. Did you know the Bald Eagle can reach speeds of 30-35 mph. You will learn so much visiting this part of the park!
Wild Roots Band – Let's just say I heard the old hymn "I saw the Light" and I went running! This amazing trio will make your heart smile and there is no way you can't walk away happy! Take in the rich sound of that amazing Smokey Mountain Music!
A Brighter Day – So I am a dancer! I can't hear music and not move! The Brighter Day will preform something for everyone.
Dolly's Bus Tour – I am not sure if this will be a permanent fixture, but it sure is a great one! You can tour one of Dolly's retired busses. I was giddy seeing where Dolly laid her head and cooked her meals. From what they said Dolly loves to cook!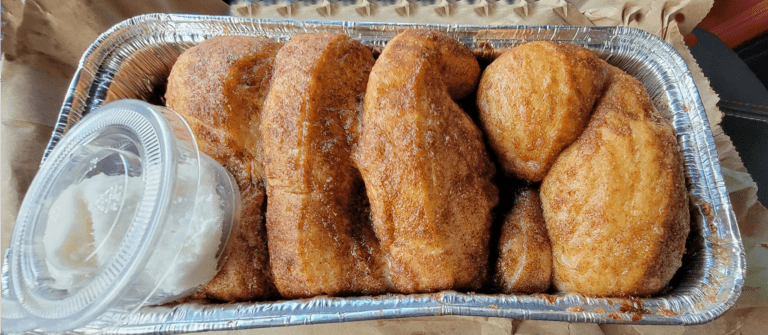 Time To Eat
Cinnamon Bread at The Grist Mill – DO NOT MISS the Cinnamon Bread! OH MY GOSH! This bread is truly amazing! We bought extra to bring home!
Aunt Granny's – Are you looking for a place to eat that will make everyone happy? This is your place! There is nothing like a home cooked country meal! They will have all your favorites from fried chicken to mashed potatoes and green beans! Everyone will find somthing they love!
Grandstand Cafe – This was a perfect place to pick up a small lunch for the boys. They have foods all the kids will love. Hotdogs and chicken strips with fries, usually please kids of any age!
Sweet Shoppe at Dollywood – Who can resist a sweet shoppe? I was pulled in by the smell, the delicious candy, fudge, ice cream, and our family favorite taffy!
Market Square BIG SKILLETS – We did not eat here but we walked through. The steak and sausage sandwiches looked amazing and the aroma made me hungry! If we had not of just eaten we would have tired these sandwiches!

Family Fun at Dollywood
There is not enough space to write about all the things I love about Dollywood! All I know is Family Fun at Dollywood is an easy thing to accomplish. Don't forget to hop on the Dollywood Express for an beautiful ride! From amazing hand-made crafts to carnival games you can spend the whole day doing things you love! Stop by the Smokey Creek Leather Shop to see the amazing craftsmanship. We bought a leather wallet for my son and he is in love! Are you having a snack attack? Dollywood has everything from cookies, cotton candy, funnel cakes, and ice cream! Dollywood truly has it all!
We are already planning our next trip to Dollywood! There is never a bad time of year to go! Check out DollyWood's Festival Schedule. I would love to take the family back for the Smokey Mountain Christmas or catch a service on a Sunday at the Robert F Thomas Chapel. Check out Dollywood on your next trip to Pigeon Forge or Gatlinburg. Your family will make lasting memories you can talk about for years.
Disclosure: Dollywood PR did provide us with tickets to the park, but all opinions are 100% my own.
Shelley is a boy mom, marine wife, and is blessed with an amazing family. She loves sharing recipes, travel reviews and tips that focus on helping busy families make memories.