Reconnecting at Beaches Turks and Caicos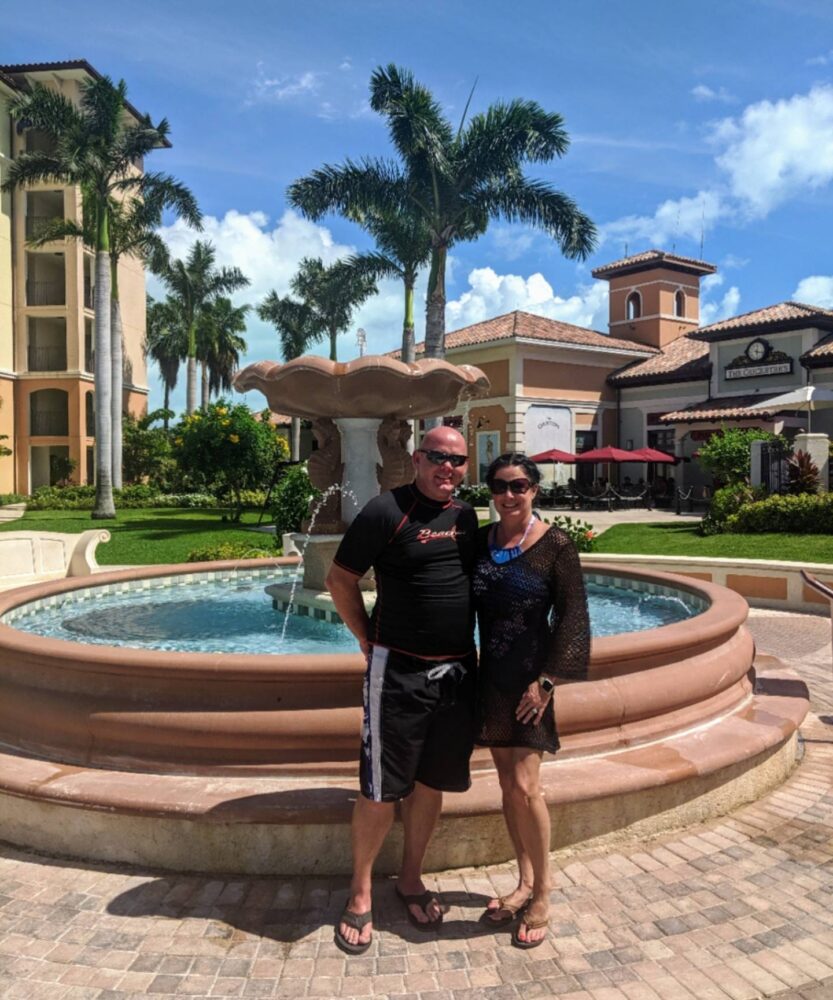 Life is busy! It is always something. My boys always have something. Sports, homework, appointments, chorus concerts, dances, and all the stuff that goes with the teenage years. My husband works in Heating and Air, it is nothing for him to be gone 80 hours a week and work one weekend a month. Reconnecting at Beaches Turks and Caicos was so amazing for us as a couple! We also got the chance to make new friends as well as reconnect with our old friends.
Reconnecting at Beaches Turks and Caicos:
Reconnecting doesn't have to be with just your spouse. When we were at Beaches Turks and Caicos there was a group of 52 women visiting from Arizona. We also met a lot of families and extended families vacationing together. I was really impressed. We need to take the time from our busy lives and reconnect with the people around us! Life is too short! Reconnecting at Beaches Turks and Caicos is a no brainier! Everything you would ever want, and need is there.
This trip I met a lot of new people but the best thing for me was hanging with my husband. We needed this break from everyday life and enjoy time together. We had an amazing week and we have a lot of favorites about Beaches Resorts Turks and Caicos.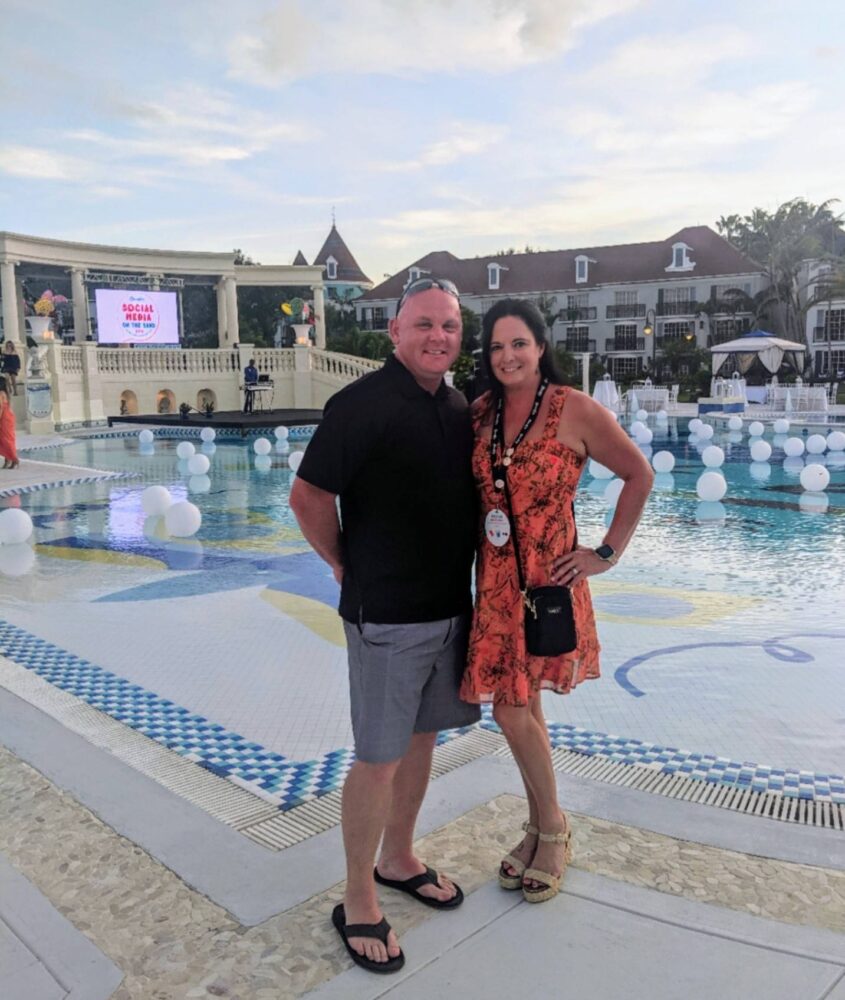 Favorite Morning Breakfast
Reflections was our favorite breakfast at the resort! Reflections has one of the best breakfast buffets I have ever seen in my life. We had the best fresh baked pastries, French toast, pancakes, eggs, omelets, and all the breakfast meats! My favorite part was the generous selection of fresh fruits. Service was very inviting and friendly. We loved you could sit inside or out.
Favorite Morning Activity
It isn't very quiet at our house in the morning. With the hustle and bustle of getting to work and school it's not very relaxing. We LOVED walking along the beach in the morning. Lonnie and I had some of the best conversations about life in general, our hopes and dreams. It's also easy to just be quite and listen to the ocean. Perfect time for Reconnecting at Beaches Turk and Caicos.
Favorite Party Pool
Hanging at the Italian Pool was so enjoyable every single day! I love people watching and this is the best place to do it! My favorite was Poolside Line Dancing (but I enjoyed line dancing in the pool much more!) From aquacize to tie & dye activities the Italian Pool never disappointed! There is always something to do! We love the swim up bar and the entertaining bartenders! There were so many options alcoholic and non-alcoholic. We laughed and smiled so much, all part of Reconnecting at Beaches Turks and Caicos.
Favorite Relaxing Pool
Iguanas Pool in the Caribbean Village is usually quiet. There are times when they play water polo and/or pool volleyball. You don't have to be a professional to have fun! There also is a nice swim up bar where you can order alcoholic and non-alcoholic drinks. Honestly, I took a couple naps at this pool.
Favorite Lunch
We really enjoy Bobby D's in the French Village. The service is great, and the selections are just what you would expect at a Diner. We loved their Fish Burger and ate it a few times. We also enjoyed having ice cream from the ice cream parlor (inside the restaurant) after lunch. You can also stop in for soft serve, cookies, and cupcakes at any time. We love the fact they are open pretty much all the time.
Favorite Filling Quick Snack
The MR Mac Truck is a favorite of us both. We loved the Crab Mac and enjoyed it several times as a snack. We even picked it up one day and took it to Bobby D's for a side to our lunch.

Favorite Snorkeling Location
If you are up for some adventurous snorkeling, we found an amazing place. Stop by the Aqua Center and pick up your mask and snorkel! Do not forget your life jacket. With a life jacket you can go further out and see much more. The snorkeling location is about a ten-minute walk from the Aqua Center, passing the Caribbean Beach on your way.
You will see some red buoys that are marking the location of the reef. You can swim on the outside of these red buoys. Lonnie and I loved this time together sharing things we have never seen before. We spotted a smaller shark, puffer fish, tons of other fish, and 4 sea turtles. It is something we will talk about forever. Reconnecting at Beaches Turks and Caicos was not hard with all these amazing opportunities!
Favorite Dinner
Hands down our favorite dinner was Kimonos! DeMar was head of our Hibachi two different nights and he was so much fun. Lonnie and I had so much fun dancing, singing, and laughing all the way through dinner. The food is excellent, and you will walk out extremely happy with a huge smile!
We have an honorable mention in this category! We really loved our dinner at Barefoot on the Beach! Perfect atmosphere for a romantic dinner and great conversation, all while sitting at a picnic table on the sand. Lonnie had Surf and Turf and loved every bite! We really enjoyed this night together.
There are so many things that are my favorite about Beaches Turks and Caicos. Let's just say it is my favorite place in general. I could write forever on this resort. Reconnecting at Beaches Turks and Caicos was so important to us. We came home refreshed and already planning our next visit.
Posts You May Enjoy:
How To Get School Approval For An Educational Trip To Beaches Turks and Caicos
10 Reasons Why You Should Book An All Inclusive Trip to Beaches Turks and Caicos
Navigating Food Allergies While Traveling to Beaches Resorts
If you decide to book a Beaches or Sandals vacation we do have an affiliate link to offer you to book through – HERE.
Disclosure: We were invited to 2019 Social Media On The Sand where we were provided our stay at Beaches Resorts. All opinions are 100% our own.
Shelley is a boy mom, marine wife, and is blessed with an amazing family. She loves sharing recipes, travel reviews and tips that focus on helping busy families make memories.