Quick Tips for Better Sack Lunches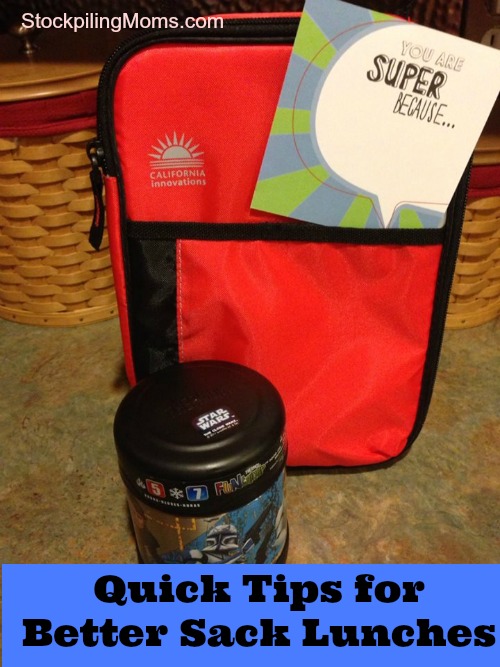 Here are Quick Tips for Better Sack Lunches. With Back-to-School Season upon us I thought I would share with you several quick tips for making better sack lunches. We pack lunches 5 days a week at our house. Hopefully these tips will help you too!
Quick Tips for Better Sack Lunches:
Get into a routine of planning and packing your lunch the night before. Sandwiches are quick and easy to put together and can even be frozen. We love this Lunchbox Tip – Freeze PBJ's to save time and money – DIY Uncrustables
Freeze a smoothie. It can serve as both an ice pack and a refreshing drink come lunchtime!
Use a thermos to include soup or chicken nuggets. I often place a corn dog in a thermos. Either mini nuggets or remove the stick. You can place a plain hot dog in hot water for your kids to remove at lunchtime.
Include a dessert as a reward for your children after they eat their meal or on Friday's.
Pack foods from all the food groups – diversify your kid's meals.
DIY Lunchbox Icepacks – this is a great way to save money!
Here is a sample Menu:
Monday – Corn Dog, Grapes, Pretzels, Baby Carrots
Tuesday – Chicken Nuggets, Apple Slices, Broccoli with Ranch
Wednesday – Turkey Sandwich Combo served with grapes, baby carrots and chocolate chip cookie
Thursday – SpaghettiOs, Strawberries and Biscuit or Crackers
Friday – Apple Slices, Ants on a log, Graham Crackers
Enjoy these Back-to-School Posts:
Free Back To School Morning Routine Printable
Tips for Transitioning from Summer to School
Melissa is a football and soccer mom who has been married to her best friend for 24 years. She loves sharing recipes, travel reviews and tips that focus on helping busy families make memories.