I have to admit a slight love affair with Ikea. This list of Must Buy Items from Ikea is just what I need (and you need too) to plan a trip for updating the new home. While we are taking many things with us when we move, adding a few new and fun items for the house is a must.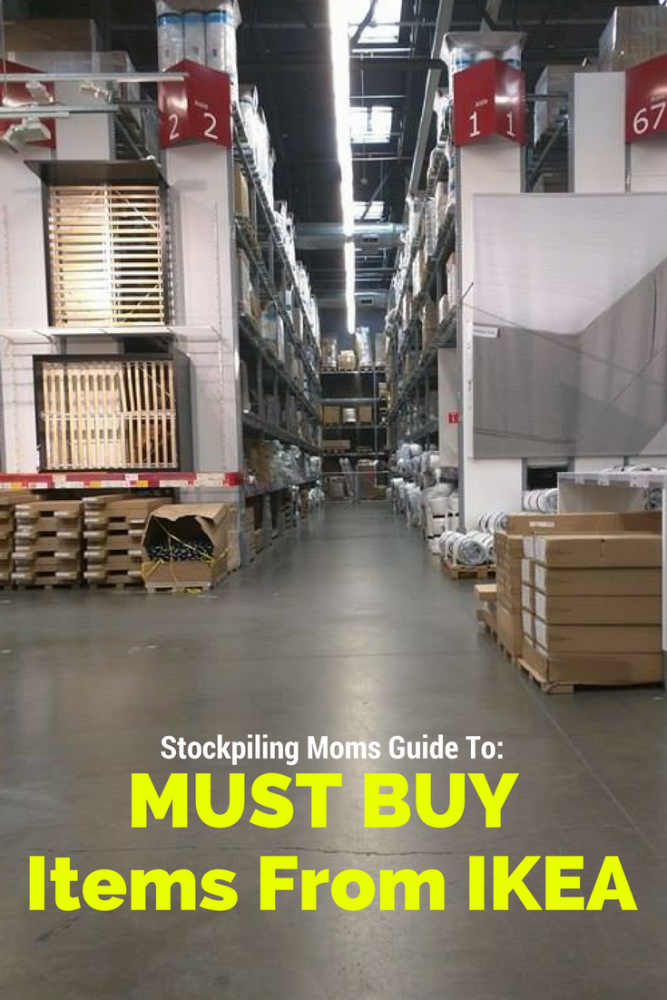 Must Buy Items from Ikea
If you don't have an Ikea local to your area, you an order online or even grab Ikea items on Amazon and have shipped directly to your door. Of course, visiting the store itself is something everyone needs to do at least once, so try to make a trip if possible.
Ikea Kallax Bookcase or Room Divider: This bookcase is one of a kind. It not only works for storage, but it is large enough to be a great furniture piece that is also used as a room divider. With the square sections on each shelf, it is ideal for adding cloth bins or woven baskets to each shelf for storage. I love how functional this is, and that it is large enough to break up a large living area into sections.
Ikea BPA Free Plastic Dinnerware Set: Because some days I don't like dealing with the nice dishes, this plastic dinnerware set is ideal. Being BPA free means I don't worry about any of us using it, and with the bright colors, it is nice for summer weekend entertaining with no worries about someone dropping a plate and breaking it.
Ikea Bekvam Spice Rack: I love this spice rack and how it fits perfectly into a cabinet or on the wall near the stove. It fits the average spice bottle easily and makes cooking a breeze!
Ikea Side Table: This basic side table comes in a multitude of colors or finishes and is the perfect size for any room in your home. It fits easily beside chairs or couches, but for a lower bed frame could double as a bedside table. It's versatile, easy to put together, and a must in any home.
Ikea Wooden Clothes Hangers: I never knew how much of a difference you would see until I tried them. These are so much nicer than the inexpensive plastic kind I had before. I absolutely love how my clothes hang on these and will never go without them again.
Ikea Hanging Closet Storage Bins: It goes without saying that these are perfect for kids' closets, but I also love using them in my own closet. They are just the right size to go inside the closet to hold my favorite leggings, scarves, camisoles, or other items that I prefer to have easy access to without hanging individually.
Ikea Multi-Use Table or Desk: This basic table has been used as a computer desk by many, but I love it in the craft area. It's tall enough to sit under in a chair, but not so short you can't use it standing up. It's perfect to go into a craft room, hobby area, or to pull out and use as a buffet table when guests come for dinner.
This list of Must Buy Items from Ikea is just what you need if you are looking to upgrade a few things in your home. Make sure to check this list before heading out to your local Ikea or take advantage of the deals on Amazon shipped directly to your home!
More Home Decor Tips:
10 Easy Homemade Area Rug Ideas
Furniture Items To Never Buy Used
Unique Bathroom Shelving Ideas
Melissa is a football and soccer mom who has been married to her best friend for 24 years. She loves sharing recipes, travel reviews and tips that focus on helping busy families make memories.