10 Beautiful Scripture Based Vinyl Wall Decals
Moving into a new home means it is time to decorate! That's where these 10 Beautiful Scripture Based Vinyl Wall Decals are ideal for updating the walls in your new home. They are especially handy for those who are renting and are unable to paint or add permanent changes to walls. Check out my picks for some great scripture based vinyl decals to add a fun element to an otherwise simple or plain wall in your home.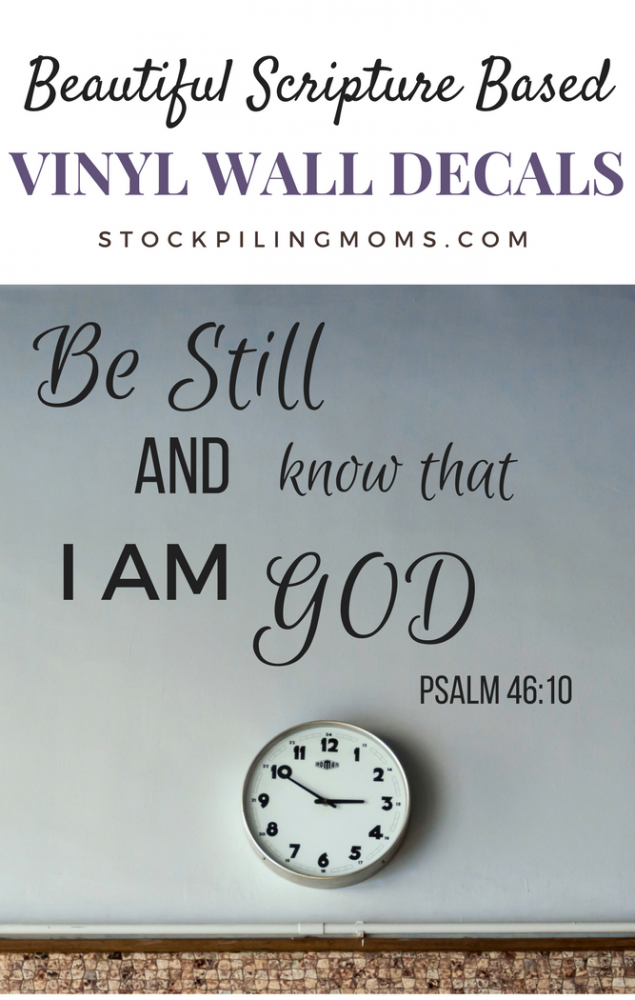 10 Beautiful Scripture Based Vinyl Wall Decals
Psalm 46:10: "Be still and know that I am God." This is a great reminder to put in your office. I love that it helps focus on knowing that we are not in control, but He is.
Jeremiah 1:5: "Before I formed you in the womb, I knew you. Before you were born, I set you apart." Perfect for a nursery or a child's room, this is a great scripture based vinyl wall decal that reminds everyone how important they are.
Joshua 24:15: "As for me and my house, we will serve the Lord." Posting this in the interior hall or living area of your home is a wonderful reminder of your family focus.
1 Corinthians 16:14: "Let all you do, be done in love." A great addition to your kitchen, or above the door so you are reminded as you leave to head out to work each day that your actions should be done in love.
With God All Things Are Possible: This phrase is a paraphrase of scripture, but a wonderful reminder that we won't face anything we can't handle. A great choice for your office wall, or family room.
Proverbs 22:6: "Train up a child in the way he should go and when he is old, he will not depart from it." A wonderful vinyl wall decal to add to your family room or a child's bedroom.
Proverbs 31:25: "She is clothed in dignity and grace and she laughs without fear of the future." I need this in my office as a reminder to always keep my attitude above reproach.
Psalm 139:14: "I am fearfully and wonderfully made" Another great option for a nursery or kids room that is a reminder of how special we each are.
2 Corinthians 5:7: "We walk by faith, not by sight." Posting this in an easy to see location is a great way to remind yourself every day of your faith and it's significance in your life.
Philippians 4:13: "I can do all things through Christ who strengthens me." Always a favorite scripture, this verse is ideal as a reminder in any room of the house that you are not alone in your daily struggles.
These are amazing vinyl wall decals based on favorite scriptures. They offer not only a great uplifting message, but an easy way to decorate your home inexpensively.
More Home Decor Ideas:
20 Farmhouse Decor Ideas You'll Love
10 Easy Homemade Area Rug Ideas You'll Love
Melissa is a football and soccer mom who has been married to her best friend for 24 years. She loves sharing recipes, travel reviews and tips that focus on helping busy families make memories.