Affordable and Functional Table Centerpiece Ideas
Setting up your dining room table to look beautiful while also being functional may feel impossible. These Affordable and Functional Table Centerpiece Ideas are a perfect solution for your needs. Not only can they be elegant and decorative for every day, but they also offer a unique function to make your mealtimes easier to manage.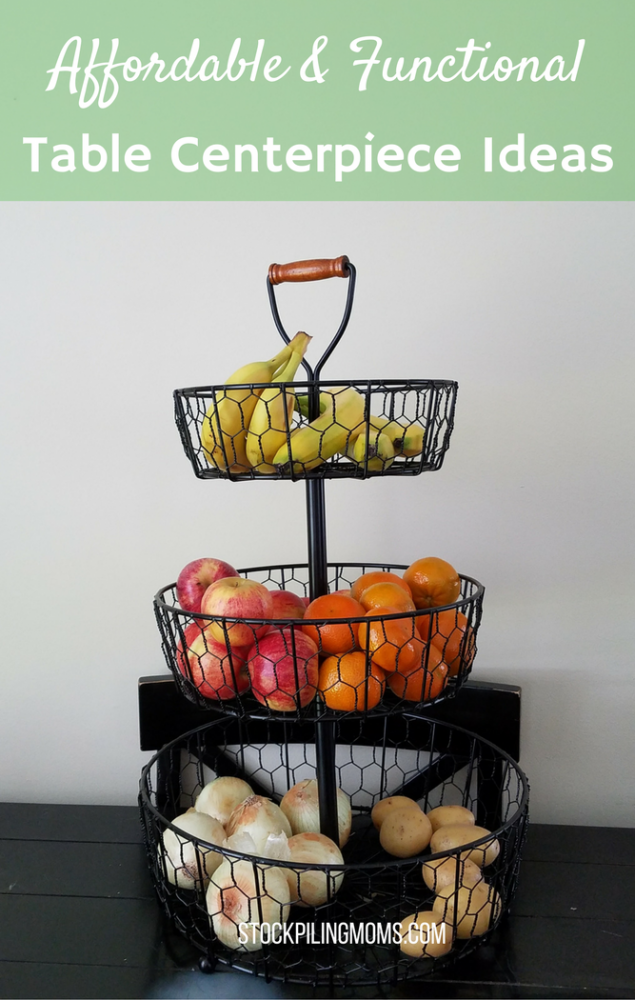 Affordable and Functional Table Centerpiece Ideas
Large wooden salad bowl: If you've noticed, there has been a recent influx of wooden bowls and serving platters. This simple but elegant Cherry Wooden Salad Bowl even comes with wooden "tongs" to help serve. It is simple enough to be used year-round and is large enough to add decorative items like wooden balls, flowers, or potpourri to for daily use. Empty and wash, and you have a functional serving piece.
Long wooden platter or serving tray: As mentioned above, wooden decor and serving items are popular. This Natural Long Tray with Bark Edge is a personal favorite. It has all of the beauty of the natural elements while being completely functional for use in serving food. I would line with a simple linen napkin and use to serve bread or rolls at dinner.
Punch bowls: There are so many gorgeous varieties out there to use as beautiful table centerpiece ideas. Punch bowls are a favorite of mine since they are so inexpensive while being useful. The embossed glass punch bowl is almost always affordable and comes in various shapes, sizes, and colors. A stainless steel punch bowl is definitely a high-end option, but if you have the budget it can be a timeless piece.
Wire fruit baskets: There are so many gorgeous wire baskets out there made just for storing fruit. Add this to your table as a great decorative and functional piece. Single baskets or multi-tiered baskets are both great affordable options.
Decorative storage baskets: You have seen simple woven baskets used for storage for years, but there are also amazing cloth baskets that can be monogrammed or even beautiful wire baskets like this copper wire basket that add upscale decor to a smaller budget. They are functional and beautiful additions to your table. I love using these to store napkins, utensils, or similar items between meals!
Trifle bowls: Similar to the punch bowl, a large glass trifle bowl is a perfect addition to your table. Use for decorative items, and then rinse for use to serve up a favorite summer dessert treat.
Adding decor to your dining room table is easier than you imagined. Using fun pieces like these gives you both function and variety in your decorations.
More Home Decor Ideas:
10 Beautiful Scripture Based Vinyl Wall Decals
20 Farmhouse Decor Ideas You'll Love
Melissa is a football and soccer mom who has been married to her best friend for 24 years. She loves sharing recipes, travel reviews and tips that focus on helping busy families make memories.