5 Tips to Create Your Dream Bedroom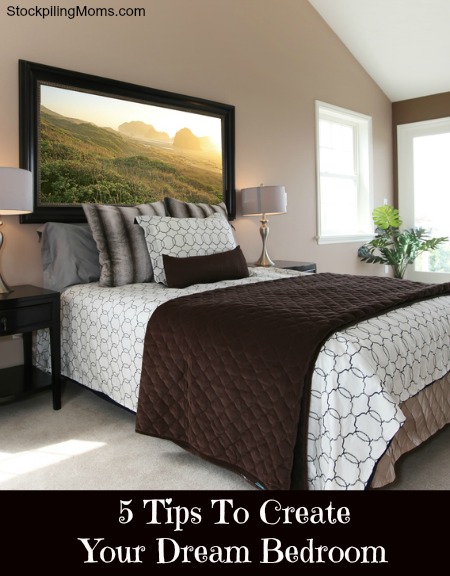 Here are 5 Tips to Create Your Dream Bedroom. Whether transforming your current bedroom into a cozier place or just moving into a new bedroom, everyone has the dream of a room that will be restful and peaceful. A place where worries can be set aside and sleep and relaxation come in like a thief to leave back nothing but plentiful slumber, beautiful dreams and a rejuvenated you. Creating a bedroom that you love and look forward to retiring to at the end of the day is what we want to talk about. Where do you start?
5 Tips to Create Your Dream Bedroom:
1. What's the dream?
Since you have an idea of a dream bedroom, start with dream. What would you like the room to look like? Some thoughts that come to mind are comfortable and relaxing. Though it may seem like just the bed or the linen on the bed, the colors on the wall, the lighting and the furniture in the room, all add to giving that relaxing feeling. Target each area of the room and work them together. Change the colors of the wall, switch to soft lighting and maybe throw in a couple of extra fluffy pillows to get that comfy feel when you walk into the bedroom. Picking the dream color is an important part of making your walls fit into your dreams. Lights add to the elegance of the room. Choose the location of those lampshades so they are one with the room.
2. Keep work out
Your dream vacation would be one without your work laptop and similarly your dream bedroom should leave work outside. Instead make space for a few good reads that will help drift into sweet dreams. A great reading chair or reading table will add this grace into the look of your room.
3. Dress up your windows
Curtains can make a room turn into a dream bedroom. Use the opportunity to pick curtains over shades to give the room a homely and welcoming feeling.
4. Adorn the walls
The correct pick of décor on your walls is important for your bedroom. This could include calming paintings or fun memories of your family framed up on the wall. The walls can either be a calming color or add a beautiful mural as an escape.
5. Don't forget the floors
Your floors like to dress up too. So, try a carpet or a rug to complete your dream bedroom. Go for patterns or colors that make you feel calm and match the accessories in your room. Fun patterns like chevron or a floral print can bring personality to the floors in your bedroom while also adding some texture.
Your dream bedroom is only a couple of steps away. Once you get past the planning stages and into the actual decorating, you'll find your room can easily turn into a reality.
Posts You May Enjoy:
How we got the Death Star for FREE using Swag Bucks
Keeping Up with your Money Resolutions
Melissa is a football and soccer mom who has been married to her best friend for 24 years. She loves sharing recipes, travel reviews and tips that focus on helping busy families make memories.