Indoor Family Bucket List
This Indoor Family Bucket List will help you turn stay at a home time into family time! If it's the quarantine or the weather that's had you indoors here are ideas for turning stay at a home time into family bonding time!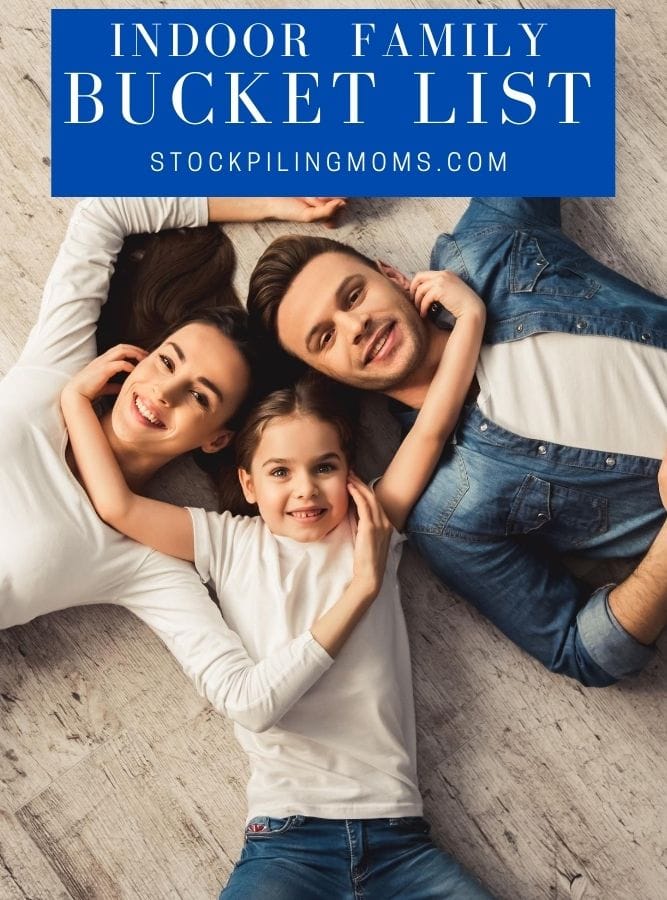 Indoor Family Bucket List
Before this one's in the books, there are still plenty of fun indoor at-home activities that families should have on their last-minute bucket list. Many of them can be done right at home too.
Have a Family Game Night
When's the last time your family sat down and had a game night? It could be board games or card games, it doesn't matter. Things can get pretty intense and exciting especially among sibling rivalries.
Karaoke Competition
Karaoke is not just for an evening out at the club, it can be enjoyed right at home where your kiddos can even get involved. You may even find out that your children have a hidden talent.
Dance Party!
If it's not singing, then it's gotta be dancing. Have a few friends or family over for a fun and thrilling dance party. Chacha anyone?
Plan a Last-Minute Vacation
There's a pretty good chance your summer vacation may have been put on hiatus. Plan a last-minute family vacation in order to give your kids something to talk about with their friends when they're standing six feet apart.
Family Charades
If you've never played family charades, this is one that will certainly add entertainment to your bucket list along with a few good laughs.
It's Nerf or Nothin'
If your children are a little older, it's time that mom and dad put them in their place by showing them who the true marksmen are. Plus, nobody gets too badly injured with a nerf gun.
Paint a Masterpiece
The trick is getting your family to sit still long enough to do this one. Your toddler may very well be the next Picasso while you can recreate The Starry Night.
Make a Real Treasure Map
Have some fun with your kids by creating a treasure map of your home along with clues as they go. It also wouldn't hurt to have a really neat treasure waiting for them where X meets the spot.
Tea Party
Calling all families with little princesses! A tea party with stuffed animals and a few strange looks from dad will help recreate the Mad Hatter tea party scene. A traditional tea party with a few crumpets or scones wouldn't be a bad idea also.
Gather Up Old Toys
Now that you have your children all wrangled up inside, go ahead and have them gather up old toys that they're no longer using. It's time that you lighten their inventory and drop off some toys at your nearest Goodwill or Salvation Army.
Create a Time Capsule
This summer has certainly been one to remember. We've never experienced anything quite like it. Make a family time capsule and bury it somewhere in your yard or attic that you plan on opening many years from now. How cool!
Bake Cookies or Cupcakes
Spend a day or two baking cookies or cupcakes with your kids. It will be a sweet memory that they never forget.
Hold a Movie Night
Cuddling with one another (or spread several feet apart) and munching on some buttery popcorn while watching a film is one fun and relaxing way to spend time as a family.
As you can see, there's still time for you and your family to have a fun and exciting summer. Hopefully, some of these ideas will work, and you can come up with a few other ones as well. Maybe you already know of some neat things that you can do indoors and would be willing to share your bucket list ideas? I'd love to hear from you.
More Family Fun Activities
Melissa is a football and soccer mom who has been married to her best friend for 24 years. She loves sharing recipes, travel reviews and tips that focus on helping busy families make memories.