How to remove hair build-up and residue naturally
Are you interested in learning how to remove hair build-up and residue naturally? I have been trying to figure out how remove hair build-up and residue naturally myself. My hair has really had a major build up of chemical products and was really heavy and I was unable to style it even after washing it. I asked my stylist and she gave me two great tips. I love that they are both frugal and best of all they REALLY work!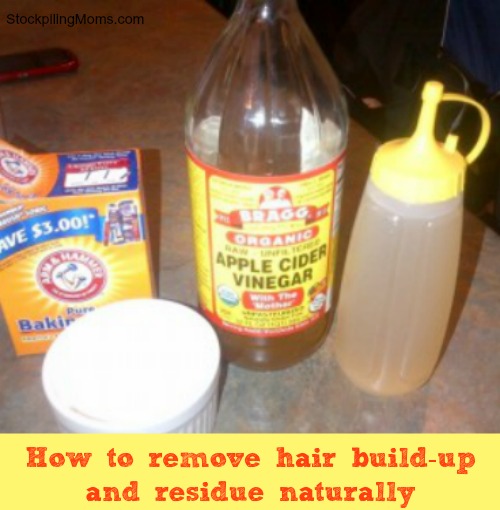 She told me to mix 2 tablespoons of baking soda into my shampoo and wash my hair as normal with the paste. She said I could also wet my hair and rub the baking soda in and then shampoo. I chose the first option and it worked great! I just mixed up enough for one shampoo and washed.
She also mentioned doing a vinegar rinse. I mixed up 1 TBSP of apple cider vinegar with 1 cup of cold water and after I did the baking soda mixture shampoo I used the apply cider as a rinse. I did not rinse my hair with water after I just left the apple cider on my hair and then towel dried and then blew dry my hair.
I was a little concerned my hair would smell like apple cider but after drying it there was no smell! In addition not only was the hair build-up and residue gone my hair was left so shiny! I am so happy with it!
I purchased a plastic condiment bottle after season and used that for my apple cider rinse. It actually holds 2 rinses so I just leave it in the shower. I do the baking soda and apple cider once a week and it is working great!
Have you ever tried either of these methods to remove hair build-up or residue?
Additional BEAUTY Tips:
How to remove blackheads naturally
How to remove hair buildup naturally
If you are new or just catching up here are our most popular posts:
Crockpot Bacon Cheese Potatoes
Weight Watchers Peanut Butter Cool Whip Treat
Downy Unstoppables in my Wax Burner? Who Knew?
Follow Stockpiling Moms:
Facebook
Twitter
Pinterest
YouTube
Instagram
Melissa is a football and soccer mom who has been married to her best friend for 24 years. She loves sharing recipes, travel reviews and tips that focus on helping busy families make memories.