How to Knit a Ribbon Scarf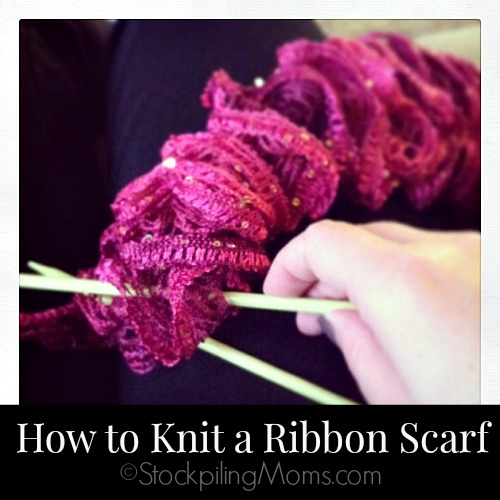 How to Knit a Ribbon Scarf Instructions. I love knitting and making homemade presents for my family. Every year for Christmas I make scarves for my nieces, sister in laws and aunts. They adore them and every year look forward to what I am going to make. This past Christmas I made Ribbon Scarves and it was a big hit!
How to Knit a Ribbon Scarf
You will need I ball of Red Heart Boutique Sashay 3.5 oz and US 9 knitting needles
Notes: For longer scarf cast on 6 stitches (this is what I do) and for a shorter scarf cast on 10 stitches.
Stretch one end of the Sashay for several inches and lay it flat, placing the edge with the metallic thread along the bottom. (Notice that the yarn is a mesh of holes. You will be working with the top of the mesh and leaving the metallic edge loose to form the ruffle.)
Beginning at the top right edge, insert tip of a knitting needle from back to front starting 4″ from end.
Continue inserting needle 5 more times. You now have 6 cast on stitches.
Pick up the needle with the 6 stitches and knit using the top two threads of the mesh rather than the entire strand.
Continue knitting these 6 stitches in each row, always turning your work in the same direction at the end of the rows. Put your work down and open up the mesh as you go.
Stop knitting when you have 1 yd left for binding off.
Bind off loosely, drawing the end of the Sashay through the last bound of stitch. Trim leaving a 4″ end. To finish the ends, fold under the corner and tack inside with sewing needle and thread.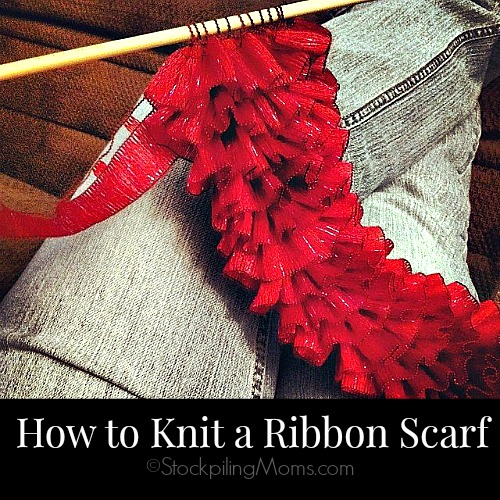 More Knitting Tips
Beginner Knitting Instructions
Knitting – How to Make a Purl Stitch
Christmas DIY Ideas
Shelley is a boy mom, marine wife, and is blessed with an amazing family. She loves sharing recipes, travel reviews and tips that focus on helping busy families make memories.