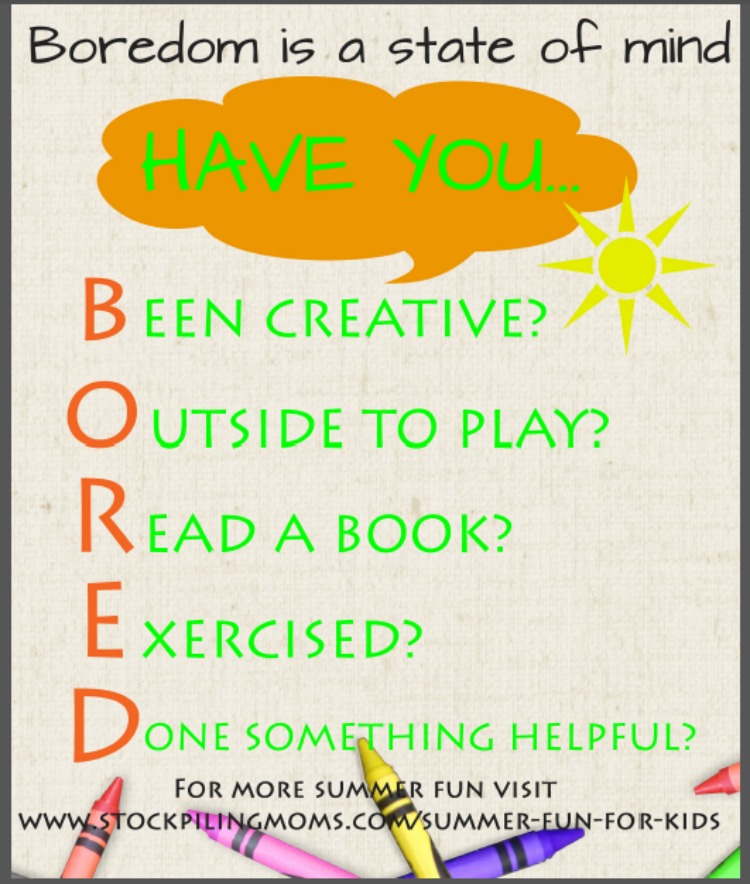 Check out this BORED Printable and 70 Kid Friendly Summer Activities. Summer Break is here! It is time to have fun with the kids while they are off of school. At our house we don't allow the word BORED to be used! In fact, growing up if you said, I'm Bored to my dad, he would reply "Boredom is a state of mind". Well, there really wasn't much of a reply to that. I guess that is what he was going for.
We have 60+ Summer Boredom Busters to help fill your days with ideas of activities to do with your kids this summer. In addition, we have decided to list 1 item for each day of the summer for you too! We hope it helps keep the kids happy, which will keep you happy too!
BORED Printable:
Print ——>Stockpiling Moms Bored Printable
70 Kid Friendly Summer Activities:
June 9 – Make Blueberry & Raspberry Popsicles
June 10 – Die Dye T-Shirts with Sugar
June 11 – DIY Cloud Dough
June 12 – Exploding Colors – A Rainbow of Fun Science Experiment
June 13 – Make Father's Day Cards or this Inexpensive Gift
June 14 – Make Father's Day Rice Krispies Treats for Dad
June 15 – Spend the Day with Dad or Grandpa – 10 Father's Day Recipes
June 16 – Make DIY Sponge Bombs and play outside with sprinkler
June 17 – Visit the Zoo (or a Park)
June 18 – Play DIY Lawn Twister
June 19 – Go on a hike and enjoy nature
June 20 – Go Big Foot Hunting and Camping
June 21 – Make Homemade Fruit Popsicles
June 22 – Make Homemade Playdoh
June 23 – Make a New Sew Travel Pillow Case
June 24 – Plant Pumpkins

June 25 – Pepper Experiment – A Fun Science Experiment
June 26 – Lobster Kid Craft
June 27 – Make a Tin Can Wind Chime
June 28 – Go Fishing
June 29 – Water Fun in your Backyard
June 30 – Make Popsicle Stick Flags
July 1 – Make Patriotic Tin Cans
July 2 – Make Sparkler Kabobs
July 3 – Fireworks Fruit Pizza
July 4 – Go to a local parade and watch fireworks – Make this Sparkler Shield and do sparklers (with adult supervision)
July 5 – Have a water balloon fight and enjoy Patriotic Ice-Cream Sandwiches
July 6 – Handprint Terra Cotta Planter and Plant Flowers inside
July 7 – Make DIY Bookmarks and visit the local Library
July 8 – Make recycled crayons
July 9 – Make your own slime
July 10 – Make toilet roll noisemakers
July 11 – Make DIY Camping Tablecloth Holders
July 12 – Go on a Picnic with the family
July 13 – Make DIY Travel Art Centers for the Kids
July 14 – Christmas in July Week – Candy Cane Ornament
July 15 – Christmas in July Week – Cinnamon Ornaments
July 16 – Christmas in July Week – Cute as a Button Ornament
July 17 – Christmas in July Week – Reindeer Popsicle Ornament
July 18 – Christmas in July Week – Donut Snowman for Breakfast and Frozen Jingle Drinks
July 19 – Christmas in July Week – Grinch Stole Christmas Party
July 20 – Christmas in July Week – Make Reindeer Cupcakes
July 21 – DIY Canvas Picture Holder
July 22 – DIY Clothespin Clips
July 23 – DIY Horse Pool Noodles
July 24 – Create a DIY Lemonade Stand
July 25 – Create Kids Summer Fun Buckets
July 26 – Night Sky Mapping
July 27 – Smores by a fire pit, on a grill or in the oven
July 28 – Washi Tape Pill Bottle Upcycle
July 29 – Upcycled Painted Vase
July 30 – Dress up Day
July 31 – Eggo Wafflers Ice-cream Sandwich
August 1 – DIY Button Ring
August 2 – Make Homemade Peanut Butter
August 3 – PJ and Movie Day – Popcorn, Pizza and Fun!
August 4 – Make your own Slushy Magic
August 5 – Outdoor Play – Frisbee Fun, Soccer, Obstacle Course, Croquet, Hula Hoops
August 6 – Visit King's Island, Newport Aquarium or the Park
August 7 – Make Caramel Marshmallow Popcorn and watch a Movie
August 8 – Make Ants on a Log and have a picnic (either outdoor or indoor)
August 9 – Play with Sidewalk Chalk
August 10 – Host a Bicycle Parade – kids decorate their bikes and ride together
August 11 – Sensory Spelling Practice with Shaving Creme
August 12 – Timeline Project
August 13 – Create a Science Fair Project
August 14 – Board Game Day
August 15 – Dance Party
August 16 – Paint Pottery at your local pottery store
August 17 – Create a collage with old magazines
August 18 – Bottle Cap Stamping
Recipes for Summer:
10 Summertime Crockpot Recipes
Disney Matching Shirts – A great money saver on your next Disney vacation.
Frugal Camping Tips – Tips to save you money.
DIY Travel Crayon Case – I love this tip! I always used it when Peyton was little.
Stockpiling Moms can be found in all your favorite places. Hop on over to Instagram and follow the fun. We love posting memes, family fun, travel, and whatever we are feeling that day. Pinterest is also an amazing place to visit Stockpiling Moms. This is where you can pin all your favorite articles from our Food, Travel & Lifestyle Blog.
Melissa is a football and soccer mom who has been married to her best friend for 24 years. She loves sharing recipes, travel reviews and tips that focus on helping busy families make memories.