How to Eat Well on a Budget
Living well is something that we all want to do, so knowing How to Eat Well on a Budget is a must! Some have just enough to get by, others have more than enough and yet, others still struggle to have what they need. This is where living frugally comes in. We can all have what we need. Thankfully, it doesn't mean that we have to spend a ton of money to live the way we want to.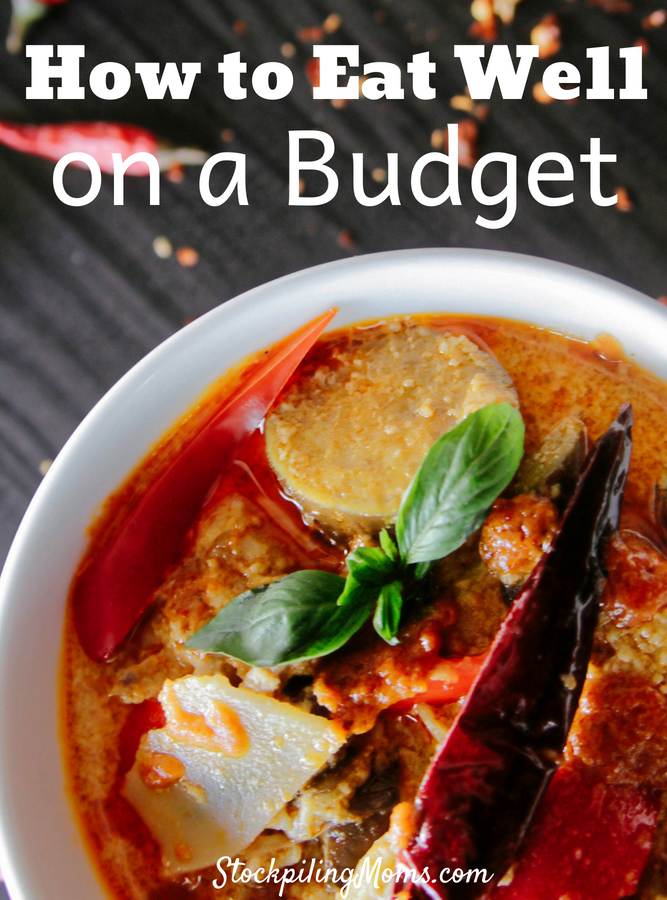 How to Eat Well on a Budget
Buy in Bulk
Buy everything you can in bulk. Things like paper products, diapers (if it applies), groceries are much cheaper when buying in bigger quantities and will help keep your monthly budget on track. If your family eats meat, I highly suggest getting a warehouse store membership or, go with someone who has one. Picking up larger quantities of meat and dividing them into meal size portions and freezing them will save a lot of money.
I use a Food Saver to divide up bulk purchases. This helps them last longer and is an easy way to keep things orderly in the pantry or freezer. You can use both Food Saver Bags as well as the Food Saver Jar Sealer.
Know Your Prices
Knowing the average prices for items you always buy near you is important. The easiest way to keep track of the prices is by keeping a spreadsheet. Doing so will allow you to keep a close on the prices so you know when you are truly getting a good deal on an item. Compare this list to your weekly grocery list and weekly store sales to grab the best prices every time you shop.
Gardening
Gardening isn't always easy but, it can be so helpful for your families grocery budget. If you grow foods your family eats constantly that will greatly help in lessening the amount that is spent each trip. If you aren't sure how to make it affordable, check out our Frugal Gardening Tips for Spring that also work for year round.
Meal Plan/ Freezer Cooking
Meal planning will help save your family a lot of money. There are so many different ways you can do this. The most common ways are weekly, bi-weekly or monthly. Having a plan and knowing exactly what is in the house will help save you money so you don't have to run through the drive-through for dinner.
We have tons of great Meal Plans here for you to check out. Some of our most popular are the 10 Healthy Slow Cooker Freezer Meal Plan, 20 Make Ahead Freezer Meals, and the 15 Slow Cooker Freezer Meals in 90 Minutes.
Freezer meals can be great for busy days when you don't have time to prep dinner because you take them from the freezer, place them in the Crockpot before work and dinner is done when you get home. You may also love using an Instant Pot for meal planning or freezer cooking.
Eat from the Pantry
This goes right along with the meal planning. Before you make the meal plan take time to take an inventory of everything in your pantry. Then, make your meal plan based off of what you have to save money at the store.
More Frugal Living Tips:
52 Week Savings Plan for Debt Resolution
Frugal Kitchen Tips for Busy Moms
Tips for Creating a Household Budget
10 Creative Ways to Save Money
Melissa is a football and soccer mom who has been married to her best friend for 24 years. She loves sharing recipes, travel reviews and tips that focus on helping busy families make memories.