20 Keto Diet Slow Cooker Freezer Meals
Life is busy. Cooking in a slow cooker is one of my favorite methods of saving time and money. Just because you are on the Keto Diet doesn't mean you have to sacrifice convenience! Check out this list of amazing 20 Keto Diet Slow Cooker Freezer Meals! You are going to fall in love with the ease of making these recipes, plus your family will love the food too!
Preparing freezer meals that you cook in the slow cooker is a great way to save time. We hope you enjoy these recipes as much as we do! If you are new the Keto Diet check out our Beginner Keto Meal Plan. It is a great time saver!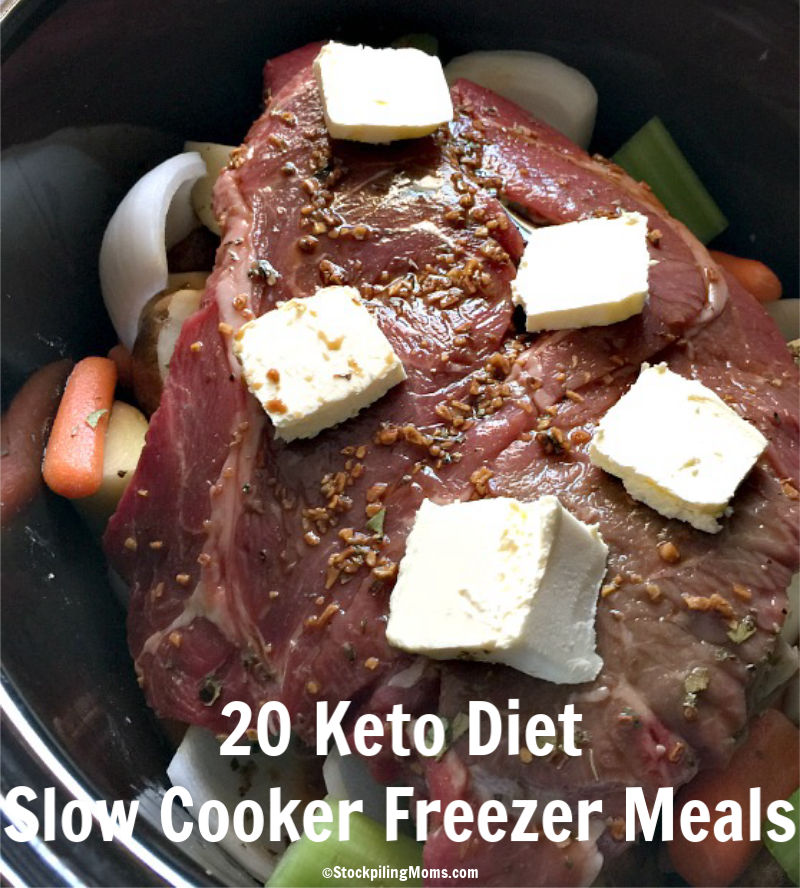 For most of these Keto slow cooker freezer meals recipes, you'll find a traditional 6-quart slow cooker is more than large enough. However, if you want to save time, you may like to make double batches of some meals. That means an 8-quart slow cooker may be a wise investment.
Since you will use these on a regular basis, pick a quality option and take good care of it. The key to slow cooker cooking success is investing in a quality crockpot. You don't want to use one that the heating element doesn't work correctly. It will only waste money by overcooking or under cooking your food.
20 Keto Diet Slow Cooker Freezer Meals
Keto Slow Cooker Turkey Stuffed Peppers
Buffalo Ranch Chicken Recipe – Slow cooker
Turkey Taco Lettuce Wraps – slow cooker
Roasted Red Pepper Chicken – slow cooker
Slow Cooker Chicken Ranch Tacos
Crockpot Philly Cheese Steak Recipe
Southwest Flank Steak – Crockpot
Slow Cooker Tuscan Chicken Freezer Meal
Unstuffed Pepper Soup Freezer Meal
Easy Freezer Slow Cooker Spaghetti Sauce
Keto Slow Cooker Pot Roast Recipe
Slow Cooker Garlic Chicken Drumsticks
Fresh Balsamic Crockpot Chicken
This list is going to make your mouth water and your budget sigh with relief! Easy and delicious Keto Diet Slow Cooker Freezer Meals are at your fingertips. So many amazing Keto Diet friendly recipes in one place makes it easy to create a functional meal plan your entire family will love.
JUST GETTING STARTED ON THE KETO DIET?
What Can You Eat on the Keto Diet?
Ultimate Keto Diet For Beginners
Melissa is a football and soccer mom who has been married to her best friend for 24 years. She loves sharing recipes, travel reviews and tips that focus on helping busy families make memories.