This week in our 52 Weeks to Wellness, I want to share some of our favorite 10 Easy Low Carb Snacks. If you are attempting a low carbohydrate diet, it can be tough to find satisfying options out there that aren't also loaded with fat.
Choosing quality low carbohydrate and high protein foods that aren't super high in fat is tough. However, we have some tried and true low carb snacks that fit easily into a Weight Watchers diet, or any lifestyle. Remember that there are some healthy fats that we include in our lists to help balance your diet out. Yes, lower in fat and calories is best, but your body does need some fats for healthy brain development and energy.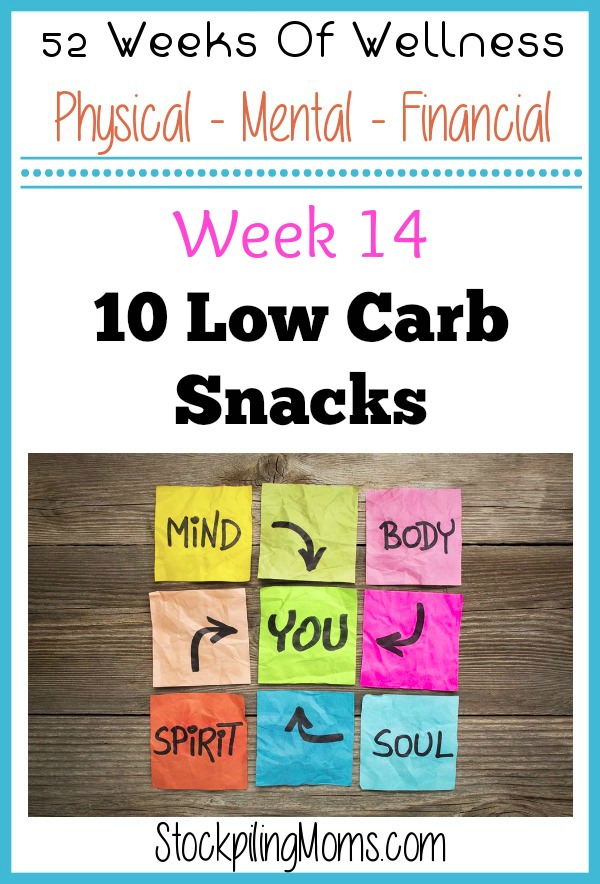 10 Easy Low Carb Snacks
Celery with PB2 – instead of using the full fat version of peanut butter, grab PB2 and mix it up instead. This lower fat variety is also lower in carbohydrates and very satisfying.
Cucumbers & Pickles – These are lower in carbohydrate count than other more fibrous vegetables. Pickles give you the sweet, sour and salty satisfaction you need in snacks. Try different varieties or make your own from scratch.
Fresh Berries & Cottage Cheese – A handful of blueberries, raspberries or strawberries mixed in with low fat cottage cheese is a great satisfying snack that hits the sweet tooth while providing you with a good punch of protein at a low carb and low-fat count.
Hard Boiled Eggs – Yes, these have more fat than some other snacks, but hard-boiled eggs have long been a good standard in nutrition. They contain a lot of things your body needs to stay strong, build muscle and be satiated. Mix the yolk with a bit of spicy mustard and pickle relish for a deviled egg that is still lower in fat, calories and points but even more tasty.
Low Fat String Cheese – Go back to childhood and have fun while fueling your body.
Turkey Jerky – It is best when made homemade so you can control what goes into the seasoning mix. However, there are many high-quality jerky brands on the market that are lower in sugar and also tasty.
Sugar Free Jell-O – This is a classic go to for anyone on a diet of any kind. Low fat, low sugar and low carbohydrate it is one of the most commonly eaten snacks out there.
Lettuce Wraps – Use hearty lettuce to warp lean meats like shredded chicken, turkey or even tuna with a bit of mustard and seasonings for a tasty high protein and low carbohydrate snack.
Guacamole – Serve with veggies or just by itself. Guacamole is a great snack, but also a great substitute for high sugar salad dressings. Add it to your hearty salad with some grilled chicken and get the smooth and creamy texture you are looking for with healthy fats and low carbs.
Pork Rinds – I know this sounds like a strange one but give it a try! I love the BBQ flavor.
Eating healthy this year doesn't mean you have to sacrifice flavor, texture or satisfaction. Think outside the box and grab one of these low carb snacks, or any of the dozens of others out there that are highly popular with those seeking a low carbohydrate lifestyle.
Paleo Recipes:
Paleo Patriotic Watermelon Pizza
Paleo Veggie Filled Fish Rolls
Paleo Grilled Pumpkin Chicken Breasts
Melissa is a football and soccer mom who has been married to her best friend for 24 years. She loves sharing recipes, travel reviews and tips that focus on helping busy families make memories.