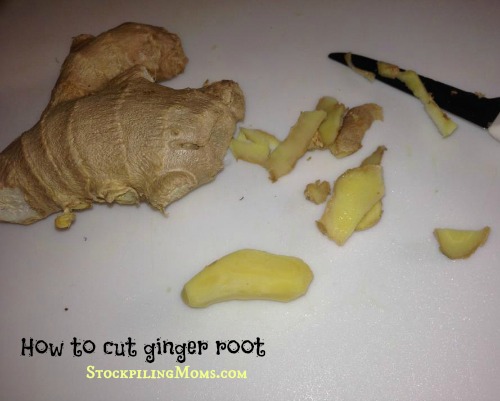 How to cut ginger root. I wanted to share with you how to cut ginger root. I was first introduced to fresh ginger root in college. My dear friend Ganzey who was from Tibet would cook for us traditional Indian food and since I had an apartment off campus I would often volunteer to host. I learned how to cook some amazing dishes and one of the key ingredients was fresh ginger root.
How to cut ginger root:
1. When selecting a piece of fresh ginger root choose a piece that is firm and smooth to the touch and does not have any soft spots or mold present. Fresh ginger root should have a fresh and almost spicy aroma.
2. Peel off the skin on the amount of ginger that is needed. To remove the thin outer skin and expose the yellow ginger inside, hold the piece of ginger in one hand and use a metal teaspoon or small paring knife to remove the skin. Once the skin is removed you will see the yellow fleshly ginger root.
3. Cut the ginger root.
4. Wrap the remaining unpeeled fresh ginger root in plastic wrap or place in a Ziploc bag and store it in the refrigerator for up to 3 weeks.
I personally use fresh ginger root in my green smoothies every day. If you have seen this at the store and had no idea what it is this is a tip that will help you!
Green Smoothie Recipes:
Advanced Green Smoothie Recipe
Other posts you may be interested in:
Melissa is a football and soccer mom who has been married to her best friend for 24 years. She loves sharing recipes, travel reviews and tips that focus on helping busy families make memories.