Stretching your budget with dried beans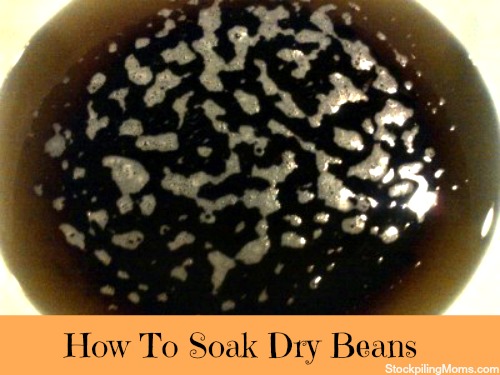 Stretching your budget with dried beans. I wanted to share with you some tips on how to soak dried beans. It is a great way to stretch your family's budget. Purchase your dried beans in bulk. It is also an inexpensive way to add protein to your family's diet.
Stretching your budget with dried beans:
Dried beans are inexpensive and expand when soaked, so you get more for your money! Be sure to remove any rocks or pebbles before soaking. Add three times as much water as beans, soak overnight and then prepare the next day. If you soak for longer than that they can sprout so you want to be careful not to allow them to over soak. After they soak you can FREEZE them in freezer safe bags and then use when you are ready.
By using beans, you add protein to your menu plan. It is also the healthiest way to go because canned beans usually contain lots of sodium and preservatives. If you do use canned beans, be sure to rinse them first before you use them.
A helpful tip is to add a raw potato to your beans when cooking them, be sure to remove the potato before eating and discard. My Mother In Law swears that it takes out the "gas". When I eat her beans I never get gas when I eat her beans so I am going to have to agree.
Bean Recipes:
Tuscan Chili
Southwestern Chicken & Cornbread Salad
Tortellini Bean Soup
Crockpot Pinto Beans
Crockpot Bean Stew
SouthWestern Vegetable Soup
Bean and Pasta SoupSlow Cooker Black Eyed PeasTuscan Chili
Household Tips:
How to clean your drain naturally
How to make a Mini Greenhouse with an Egglands Best Carton
How to make your own dryer sheets
How to make homemade detergent and dryer sheets
How to build an outdoor compost bin
Melissa is a football and soccer mom who has been married to her best friend for 24 years. She loves sharing recipes, travel reviews and tips that focus on helping busy families make memories.