10 Creative Ways to Save Money
If you are looking for 10 Creative Ways to Save Money that doesn't involve clipping coupons every week, this is a great place to begin. After years in the savings game, we know all about the ins and outs of making sure your money doesn't disappear. Creating extra funds when there aren't any is possible when you simply think outside the box.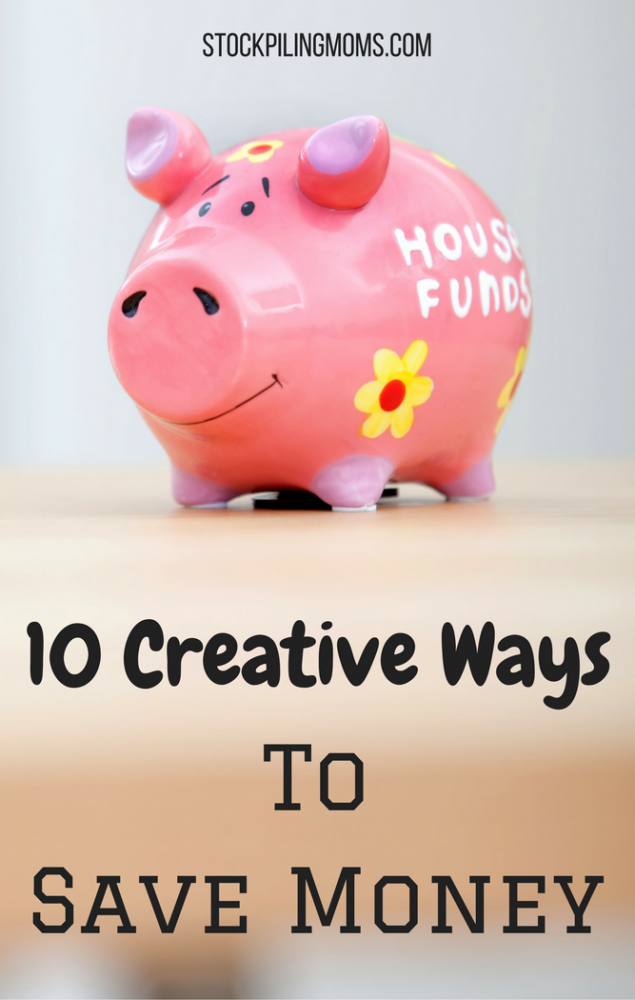 10 Creative Ways to Save Money
Reduce. Reuse. Recycle. – This isn't just about washing out Ziploc bags and drying them to use again. Recycling can also be a rather lucrative business when you pay attention. There are basic things like collecting paper, glass, plastic, and aluminum that you can do on a regular basis with simple bins inside your home. Once those bins are full, take them to a local recycling center and exchange them for cash in hand. Doing this also helps eliminate the cost of trash pickup if you have to pay per pound.
Shop around for the right bank – Did you know that many banks have special promotions that give you money back? Check around to see if you can earn a cashback reward by having a certain amount of money deposited for a month or two. We have opened accounts before just to get the $300-$500 bonus!
Switch out your light bulbs – Okay, so this takes time to make happen, but we experimented and found it to be useful over time. Switching your light bulbs to LED light bulbs can be a great way to save money long term. Not only do they use less energy, but the bulbs themselves last much longer. You can even find quality options at your local dollar store.
Get your hair and nails done at the local beauty school – While we could say skip this and do it yourself, we also realize that some hairstyles and colors require a professional. Getting a manicure or a pedicure can also really make you feel good, and when lower cost, it is a great self-care option. A haircut and style can be as low as $15 compared to the $40 and up at other locations.
Drop the local newspaper delivery – Picking up a newspaper to read with your coffee in the morning is a habit of years gone by. While it is a great idea to still read the newspaper, you can probably save $25-$50 a year just by dropping this service and using their website instead for local news.
Use the money-saving apps when you shop – One of those tasks you must do is grocery shop. I highly recommend using apps like the MPerks option for Meijer, Target Cartwheel, iBotta, or Walmart Savings Catcher. All of these apps help you get lower prices on products, as well as some give cash back when you pay too much compared to other stores. You can cash in on the savings immediately with the Target Cartwheel app or wait and cash out via PayPal or a gift card from others.
Make your own beauty products – Yes, it really can be beneficial to make your own sugar scrubs, lotions, shampoos, and even shaving cream. A few dollars in supplies can last you a long time and create a multitude of wonderful smelling options. We love using essential oils to help give them a boost of aromatherapy, and coconut oil is the base of many products that we make.
Learn to say no – Running around town to lunch with friends is a great way to connect, but when you take on too many of these events you are burning money at restaurants and in gas. Learn to prioritize the things you do so that you are spending less money while still enjoying your time with friends and family. Another tip is to make a special luncheon for one day a month where everyone meets in one place!
Drop the gym membership – We aren't saying to become unhealthy, but we are encouraging you to take advantage of the many options that are free for home workouts. Seriously, if you already have Amazon Prime then you have access to hundreds of great classes!
Read the fine print – How many times do you sign up for something or agree to something without reading that "terms and conditions" page completely? We've all done this more times than we care to admit, and it cost us dearly. Take the time to read the fine print before signing anything. It's also a good idea to take the time to go to your various subscriptions and services and read the fine print to see if you can get fees lowered.
As you can see, this list of creative ways to save money is a simple get started plan. You can easily become more frugal and help your budget without spending hours clipping coupons every week. What is your best creative way to save money?
Check out more frugal tips here:
10 Frugal Ways to Save on Vacation
Melissa is a football and soccer mom who has been married to her best friend for 24 years. She loves sharing recipes, travel reviews and tips that focus on helping busy families make memories.