Tips for Selecting a Deep Freezer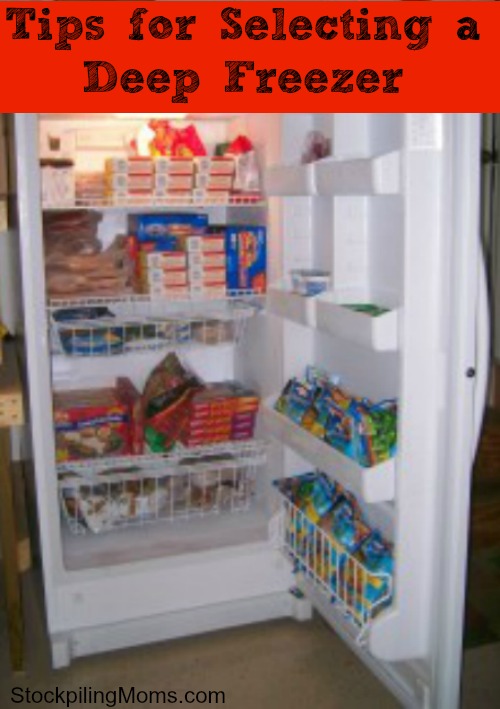 Here are some Tips for Selecting a Deep Freezer. We are often asked about how to select a deep freezer of if we know of any good freezer sales. Shelley and I both have an upright deep freezer and our best advice to you is to factor the following before you make a purchase.
How To Select a Deep Freezer:
The first thing to decide is do you want a chest or upright freezer. In our opinion the ease of having an upright is what made our decision. Being able to open the door and easily see what we have is why we went with an upright. However, if you inventory your stockpile that would help if you chose a chest freezer. A helpful tip is to keep a detailed inventory and check off items after used. Personally, a chest freezer is not something I would ever consider for safety with my son however that may not be a concern for you. I have used both a chest and upright freezer and by far having an upright is easier. However, if you factor the cost of you may find that a chest freezer is in your price range.
Next consider size. In our opinion bigger is better. We both chose a 17-cu foot freezer and can remember thinking how big it was and how will we ever fill it? Now we look back at that and laugh. If we were purchasing again, we would definitely go bigger. If you are considering purchasing a side of beef, freezing milk, loaves of bread or cartons of juice it will quickly fill your freezer in no time.
Finally, a major consideration for us was energy efficiency. We wanted a deep freezer that would be energy efficient. This is something that you may want to consider when making a purchase. The freezer will highlight if it is an energy star appliance or not. Something else to consider is if your deep freezer that has a lock on it. This is something that I personally wanted.
When it comes to making a purchase, our best tip is to compare prices. Look at the stores that you have available to you and shop around. Also, consider any incentives that you store has for you to shop, like a rewards program or other available discounts. We find that September and October seem to be the best time of year as far as sales for major appliances because manufacturers are releasing their new models for the upcoming year and stores want to deplete their current inventory. Another idea is to look for floor samples or scratch and dent appliances for a deeper discount.
My deep freezer for those who are interested is a Frigidaire and is 17 feet.
So, my question to you – Do you have a deep freezer?
If you are new (or even experienced) to freezer cooking you may enjoy these posts:
How to Freezer Cook Series – Part 1 – Sample Menu and Getting Started
How to Freezer Cook Series – Part 2 – Why Does Freezer Cooking Work
How to Freezer Cook Series – Part 3 – Planning Your Meals
How to Freezer Cook Series – Part 4 – Tips and Tricks for Freezer Efficiency
How to Freezer Cook Series – Part 5 – What Can You Freeze?
How to Freezer Cook Series – Part 6 – Freezer Storage
How to Freezer Cook Series – Part 7 – Tips for Thawing Your Meals
How to Freezer Cook Series – Part 8 – Make Your Own Freezer Pancakes
Melissa is a football and soccer mom who has been married to her best friend for 24 years. She loves sharing recipes, travel reviews and tips that focus on helping busy families make memories.