Living in the "land" of Doubles
Living in the "land" of Doubles. We are often asked HOW we are able to save so much money at the store. The answer is simple really, by strategically using coupons and understanding the sales cycle.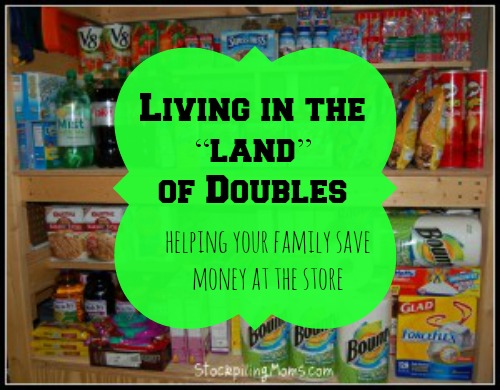 Regardless of where you live if you start watching your sales cycle and create a price book you will be able to see how prices cycle each week. After you have done this for a while you will figure out when a product is at the lowest price during the cycle. Next you match any available coupons when the product is at rock bottom or the lowest price during the cycle and that is when you stockpile.
Now with that being said, we live in the "land" of doubles. Our stores double coupons up to $1.00. So, for example a coupon that has a face value of $.25 doubles to $.50, a coupon with a face value of $.50 doubles to $1.00 which is normal in many areas however in addition coupons that have a value of $.51 – $.99 double to $1.00 in value. Taking it to another level our Kroger doubles unlimited amounts of coupons! So this is what I call living in the "land" of doubles.
However, I do want to say that regardless if you live in the "land" of doubles or not you can still save up to 50% off of your groceries by strategically using coupons and matching coupon during the sales cycle. By living in the "land" of doubles we are able to take our savings to 70%. There are ways that you can increase your savings by remitting rebates and monthly menu planning. You may have to think outside of the box to get your savings to a higher level but it is possible.
What you do need to keep in mind is that Walmart does not cycle. They have "everyday low prices" so you are going to see a more constant price at Walmart versus seeing a cycle of prices like at the other retailers. You can strategically use coupons at Walmart and that would be the best piece of advice for success shopping there. Also, they just changed the Walmart Coupon Policy so you can get overage. This is a great way to reduce the cost of your groceries or take the overage to another store to shop.
We have been asked is it worth driving out of your town for a store that doubles or triples. I really think you have to factor in the high gas costs right now. I personally don't think it is worth it to drive an hour or more to shop a double or triple unless you feel that you savings with justify it. If they do then yes, I would consider it. If you are going to be in an area that doubles or triples and you could work in a shopping trip while there anyway then YES I would think that is worth it.
I hope this helps answers any questions about living in the "land" of doubles!
7 Days of Stockpiling Series:
Day 1 –Utilizing Coupon Clippers
Day 2 – Organizing Your Coupons
Day 3 – How Do I Build A Stockpile?
Day 4 – How To Be An Extreme Couponer
Day 5 – Overage
Day 6 – Utilizing the Freezer
Day 7 – This is it!
Hop on over to Instagram and follow the fun! We love posting memes, family fun, travel, and whatever we are feeling that day! Pinterest is also an amazing place to visit Stockpiling Moms. This is where you can pin all your favorite articles from our Food, Travel & Lifestyle Blog!
Melissa is a football and soccer mom who has been married to her best friend for 24 years. She loves sharing recipes, travel reviews and tips that focus on helping busy families make memories.