How to Make Homemade Pumpkin Puree
Have you ever made your own Homemade Pumpkin Puree? Did you even know that you can? We are going to share with you How to Make Homemade Pumpkin Puree.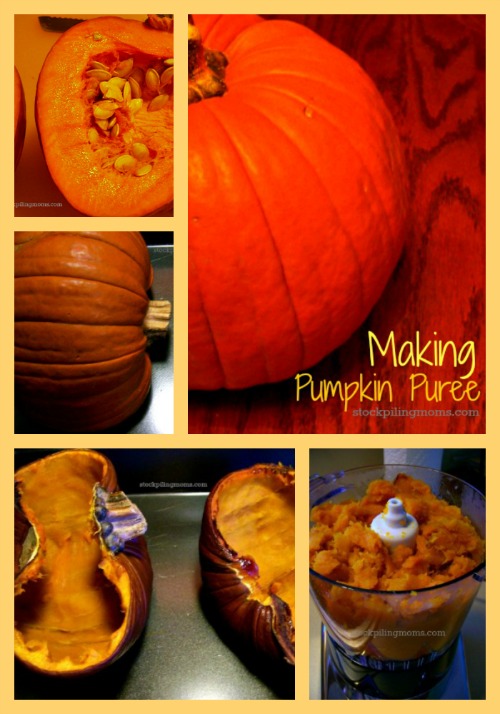 This is a huge money saving tip! I love making my own homemade pumpkin puree instead of buying store bought because I can control what goes in it. Plus I can pick up pumpkins on sale after Halloween and make this for even less. One pumpkin makes a lot of puree!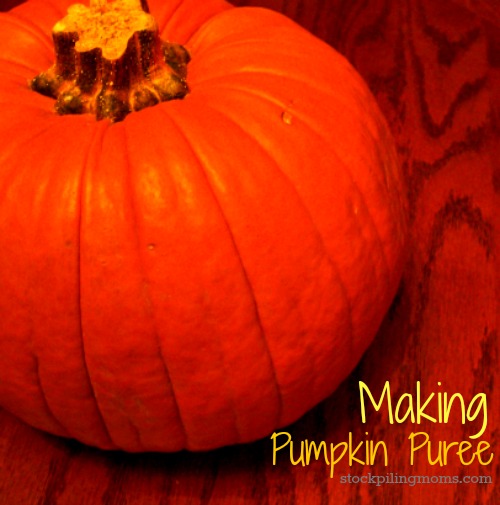 Have you ever wanted to make your own Pumpkin Puree but thought it is way too much work. Well I have found a very simple way to make your own homemade pumpkin puree. Start with a Cooking Pumpkin. Wash it and pat dry. Preheat oven to 325 degrees. Next slice the pumpkin in half. Do not use a carving pumpkin for this recipe. You want to use a cooking pumpkin (found inside the grocery in the vegetable department).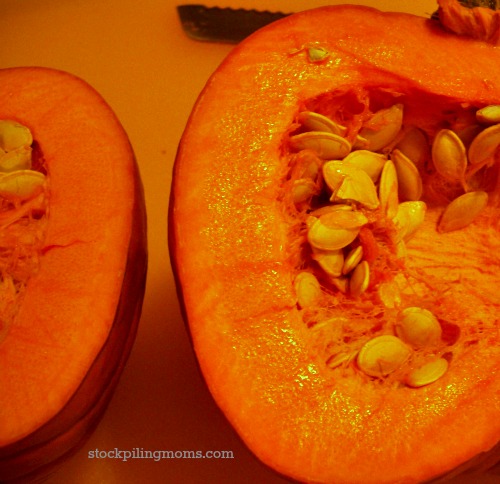 Once you have sliced the pumpkin. Clean out all of the seeds and the stringy insides. Be careful not too scrape too much pumpkin off the sides. Next place the pumpkins inside down on a roasting pan. See the picture below.
Next place the pan in the oven and bake for 1 and 1/2 hours. Your home will smell so lovely as the pumpkin cooks. This is great to do before company comes over. Once done pull the pumpkin out and let it cool for 15 minutes. Then scoop out the pumpkin from the skin and place into a blender.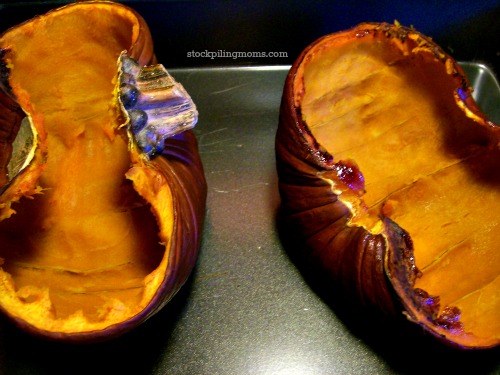 Once in the blender or food processor and put on the cover and puree until smooth and creamy. It is that simple! If you have a vitamix this will work perfectly. Then put in air tight containers and either place in refrigerator or you can freeze it. This will stay fresh in the refrigerator for 7 days and you can freeze for up to 3 months. The amount of pumpkin you get will depend on the size of the pumpkin. I have often found these on managers special and pick them up for $.99! Now that is a deal because I can make several cans of pumpkin for that!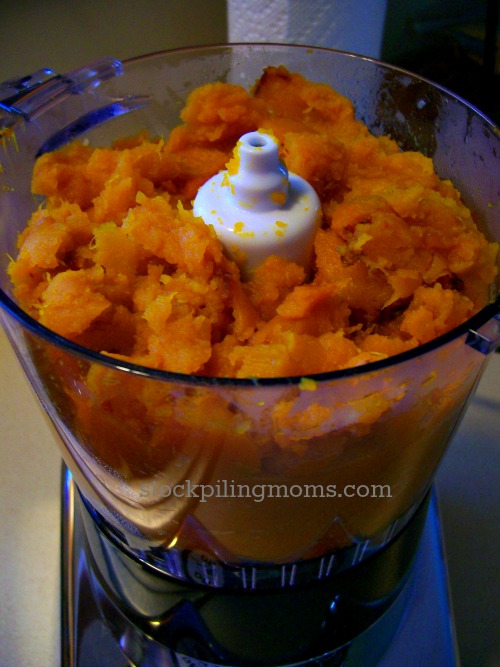 10 Pumpkin Recipes:
Gluten Free Pumpkin Dog Treats
Pumpkin Chocolate Chip Brownie
How to Make Homemade Pumpkin Puree
Melissa is a football and soccer mom who has been married to her best friend for 24 years. She loves sharing recipes, travel reviews and tips that focus on helping busy families make memories.