3 for 3 Lunch Challenge – Lunchbox Ideas
Welcome to our 3 for 3 Lunch Challenge brought to us by Deb from iPackLunch.com. Please be sure to Re-Pin this post so you have great lunch ideas.
Each week I will try to help you stretch your food budget by showcasing 3 different ways to serve 3 main ingredients in your lunchboxes. I will use additional ingredients but will try to keep them limited to common pantry or refrigerator items. At times I will also suggest tools and techniques to help enhance your lunch packing. I have not accounted for any dietary considerations but please swap out for Gluten Free, Nut Free or other types of products as appropriate for your family!
Turkey, Cranberry Sauce and Cucumbers – With the Thanksgiving holiday close at hand, this week I am exploring recipes that you could use with your leftover turkey and cranberry sauce. Happy Thanksgiving!
#1 Turkeyberry Pocket (pictured above)
I laid out Pillsbury (use the brand of your choice) refrigerated pizza dough and cut into 6 squares with a pizza cutter.
On one half of each square I placed a half slice of swiss cheese, 1 slice of turkey folded up and a spoonful of cranberry sauce.
I folded each square and use a fork to seal the edges.
I baked the pockets on a greased cookie sheet essentially as directed on the pizza dough package. Remove from oven and allow to cool completely.
I placed one pocket in the large compartment with some Popcorners Chips.
I tossed cucumbers with some broccoli in a cranberry sauce vinaigrette (see recipe link below) but you could substitute out the broccoli or just leave the cucumber solo! You could also skip the dressing.
Finally I added 2 Enjoy Life Foods Chocolate Chip Cookies.
#2 CranTurkey Pinwheels (pictured above)
I rolled out a slice of wheat bread with a rolling pin and cut the crust off.
I made a spread by mixing cranberry sauce with mayo until it was to my taste. I spread the cranberry mayo on the bread.
I then layered on a slice of swiss cheese and 2 slices of turkey. Starting at one end I rolled the sandwich like a jelly roll. and then cut the "roll" into quarters. I secured them with Thanksgiving themed food picks as a fun accent (purchased at a local cake shop).
Alongside of the pinwheels I have placed additional cranberry sauce in a mini dippers lidded container (shown without lid for photo).
To complete this lunch I added Way Better Snacks Black Bean Tortilla Chips, fresh cucumber slices and some pistachios.
Remember to pack a spoon for the cranberry sauce!
#3 Gobble Gobble Salad (pictured below)
I placed roughly one cup of salad greens into my container first. I then tossed in some produce I had hanging around in my fridge, in this case carrots and broccoli. Use leftover Thanksgiving veggies if you have them!
I then added some cucumber slices on which I added a detail by cutting a leaf shape out with a cookie cutter.
Then I tossed in some cut up turkey. Yes, throw in those leftovers if you have them instead!
Next I created a simple vinaigrette with cranberry sauce, olive oil, Dijon mustard and cider vinegar. Honestly I almost always eyeball ingredients when I cook so I am linking you to a recipe that is similar here. I put the dressing in a mini dipper lidded container (shown without lid in photo). You could substitute for a dressing of your choice instead!
I added assorted nuts; pistachios and coated walnuts since they would top well on the salad. Throw in some croutons if you have them!
I finished this lunch box of with Snyder's EatSmart Garden Veggie Sticks.
Remember to pack a fork!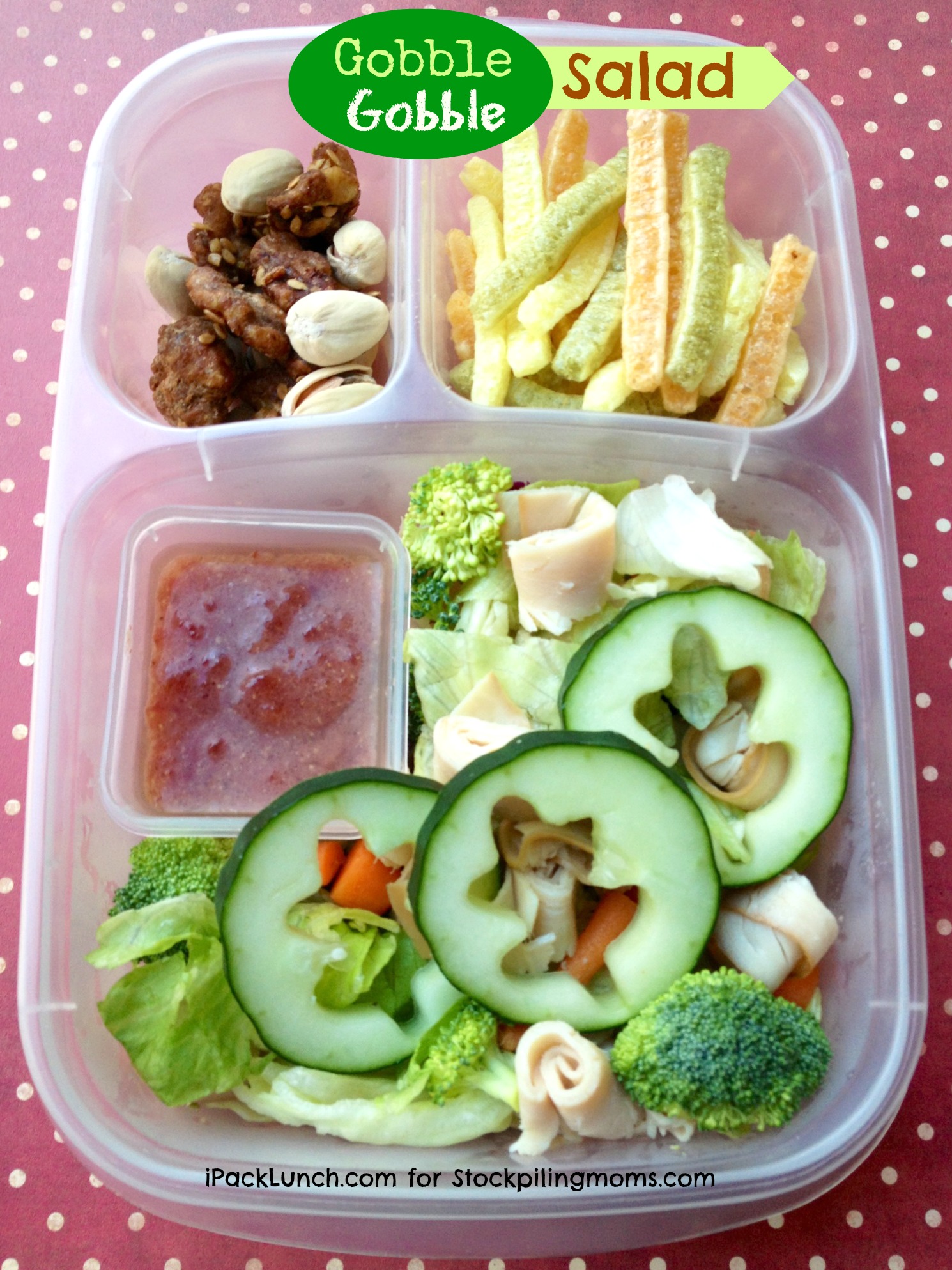 Always substitute for the snack of your choice and make adjustments for dietary considerations as necessary!
Please adjust portions for your family members, lunches shown in photos are just for a reference!
Tip: Remember to add crunchy snacks in the morning so they stay crunchy!
Tip: Food picks can be found in most party stores or stores with a party section. Food picks can also be ordered online.
All three lunches are shown in an Easy Lunch Box (see photo link below).
You may also enjoy:
3 for 3 Lunch Challenge – 9/30
3 for 3 Lunch Challenge – 10/7
3 for 3 Lunch Challenge – 10/14
3 for 3 Lunch Challenge – 10/21
3 for 3 Lunch Challenge – 10/28
3 for 3 Lunch Challenge – 11/4
3 for 3 Lunch Challenge – 11/11
3 for 3 Lunch Challenge – 11/18
3 for 3 Lunch Challenge – 11/25
3 for 3 Lunch Challenge – 12/2
If your looking for more ideas consider:
Turkey and cranberry sauce pita pocket sandwich
Pasta salad with turkey and cucumbers
You may also want to check out:
Here is a how to get started Menu Planning Monthly. We believe it helps us to stay on budget and cook from our Stockpile and save more!
Melissa is a football and soccer mom who has been married to her best friend for 24 years. She loves sharing recipes, travel reviews and tips that focus on helping busy families make memories.