3 for 3 Lunch Challenge – Lunchbox Ideas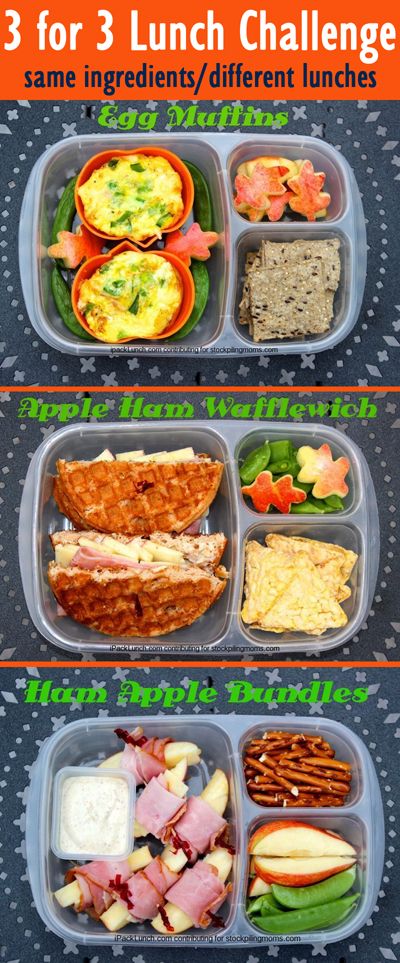 Welcome to our 3 for 3 Lunch Challenge. Each week I will try to help you stretch your food budget by showcasing 3 different ways to serve 3 main ingredients in your lunchboxes. I will use additional ingredients but will try to keep them limited to common pantry or refrigerator items. At times I will also suggest tools and techniques to help enhance your lunch packing. I have not accounted for any dietary considerations but you can swap out for Gluten Free, Nut Free or other types of products as appropriate for your family!
Ham, Apples & Snap Peas – This week I purchased 1 small package of Snap Peas, 4 Gala Apples and several slices of deli ham (I used a wildflower honey ham from the deli but use whatever you prefer). Bonus item – Cheddar cheese. You do not need to purchase the bonus item but it does work well with all of these suggested lunch boxes.
#1 Apple Ham Wafflewich
First toast 2 waffles (I used Van's Natural Foods Apple Cinnamon but use what ever brand you prefer) in the toaster.
I made a spread using greek yogurt, deli mustard and honey (essentially a honey mustard spread) and spread it on one side of each waffle. You could also use a store bought honey or other type of mustard.
Add a slice of ham (or more if you prefer).
Add a slice of cheddar cheese (if you have it on hand).
Thinly slice half an apple and soak apples in citrus water (cold water with a squeeze of lemon juice) to slow browning.
Arrange apples on top of ham.
Add some sliced cheddar (or skip this).
Close up your sandwich and slice in half.
I've added the snap peas raw and sliced in half (and a couple of extra apples cut with a mini metal cookie cutter to make it interesting and soaked in citrus water).
Finally a crunchy snack, in this case PopCorners White Cheddar chips (which is gluten-free but do switch for your favorite snack).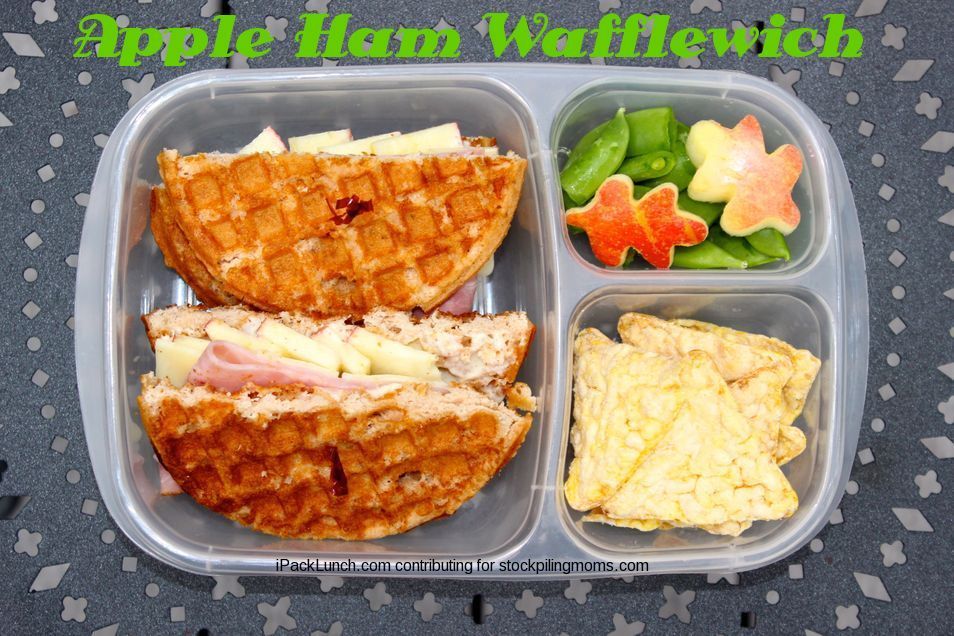 #2 Ham Apple Bundles
One apples was sliced and soaked in citrus water.
One slice of ham was folded then sliced in half creating 2 long strips (6 bundles so 3 slices of ham total).
Start each apple slice at one end of the ham.
Add a small slice of cheddar cheese for extra flavor (if you have on hand).
Roll each apple slice until you get to the end of the ham strip.
Secure with a food pick or a toothpick.
More of the honey mustard (as made above) is added in a small lidded container (lid removed for photo) as a dip for the bundles.
The rest of the apple slices were added along with some raw snap peas.
Finally pretzels were added as they will also work well with the honey mustard dip but substitute for the snack of your choice.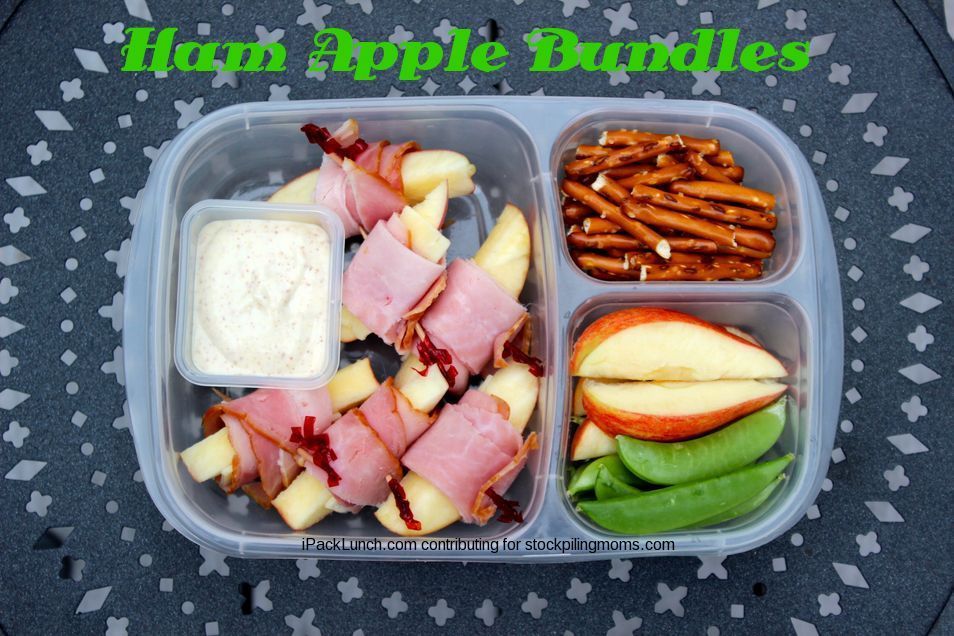 #3 Egg Muffins with Ham
Place 2 silicone cups on a cookie sheet (I used pumpkin ones but there are a variety available at craft stores or online).
Dice one slice of ham and divide among the 2 silicone cups.
Dice one slice of cheddar and divide among the 2 silicone cups.
In a small bowl whisk together 2 eggs with approximately 1 tablespoon of milk, season to taste (salt, pepper, garlic powder, italian seasoning etc).
Pour half of the mixture in each cup (I added some finely diced pre-cooked snap peas to the top for color).
Bake at 350 degrees until eggs puffs up and feels firm to touch.
Remove from over and allow to cool completely.
Place the 2 muffins in your lunch container (or put the eggs in pita pockets and serve sandwich style).
Surround with cooked and cooked snap peas.
Add some sliced apples which were soaked in citrus water (I used the mini metal cookie cutter again here to make it fun).
Finally my crunchy snack for this one is Way Better Snacks Black Bean Tortilla Chips (gluten-free, substitute as preferred).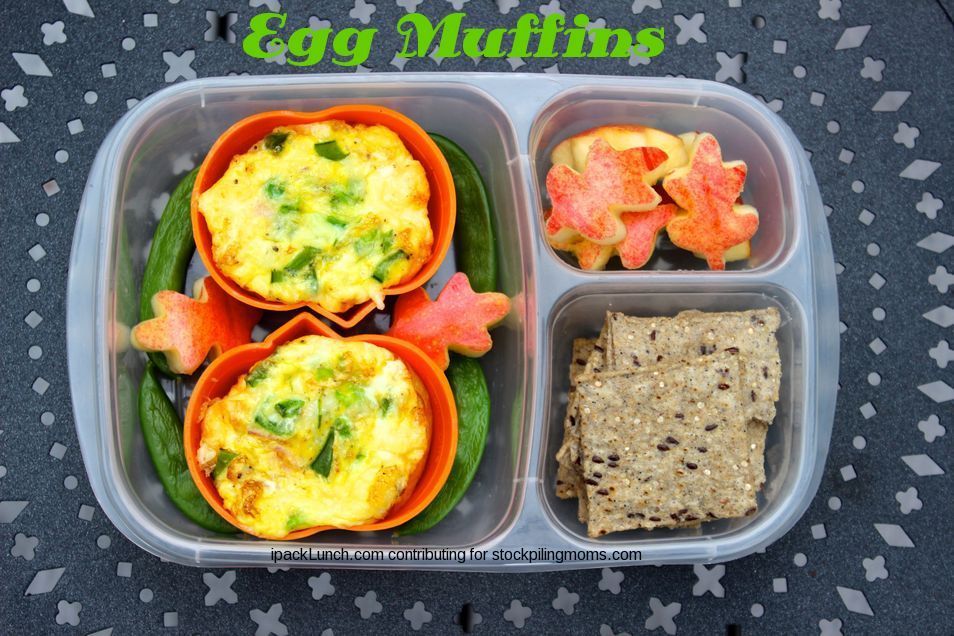 Since apples will brown, even after dipped in a citrus water, I would suggest adding apple elements the evening before or the morning of your lunch day. All of these lunch boxes were very quick and easy to prepare (although the egg muffins do need to cook so factor that in).
Tip: Remember to add crunchy snacks in the morning so they stay crunchy!
All three lunches are shown in an Easy Lunch Box.
You may also enjoy:
3 for 3 Lunch Challenge – 9/30
3 for 3 Lunch Challenge – 10/7
3 for 3 Lunch Challenge – 10/14
3 for 3 Lunch Challenge – 10/21
3 for 3 Lunch Challenge – 10/28
3 for 3 Lunch Challenge – 11/4
3 for 3 Lunch Challenge – 11/11
3 for 3 Lunch Challenge – 11/18
3 for 3 Lunch Challenge – 11/25
3 for 3 Lunch Challenge – 12/2
You may also want to check out:
Here is a how to get started Menu Planning Monthly. We believe it helps us to stay on budget and cook from our Stockpile and save more!
Melissa is a football and soccer mom who has been married to her best friend for 24 years. She loves sharing recipes, travel reviews and tips that focus on helping busy families make memories.