Tips for Practicing Spelling Words with Young Children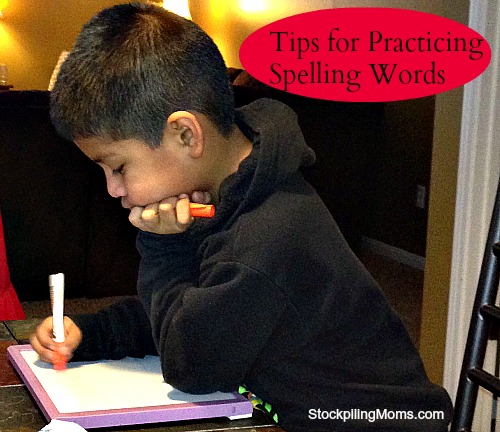 As you know I shared with you a tip for practicing your children's spelling words using sidewalk chalk and I joked about what I will do once it snows. Well luckily our reader Kym shared some tips with me and I wanted to pass them onto you too! This is perfect for Homeschoolers too!
Memorizing spelling lists is THE most inefficient way to learn spelling. Children will lose or forget up to 50% of the words they get correct on a spelling test they studied for in that way.
Instead you should use as many senses as possible when learning new words. Think of each sense as one more layer of learning that anchors the concept in a child's brain. Movement during learning, sound, smell, touch, sight and even taste really help embed new information in a way that it stays and doesn't get lost.
Tips for Practicing Spelling Words with Young Children:
Dry Jello or Kool-Aid:
Put a packet of jello in a plastic shoe box. Allow your child to look at his spelling words on Monday night and trace the letters, while saying them aloud , in the dry jello. Your child will be using sight, touch, and smell in one fell swoop!! There will be no complaining about practicing spelling this way!!
Dry Unsweetened Kool-Aid Mix Mixed with Dry Ingredient:
Use the same as the jello above and mix it with sand, grits, cornmeal, salt, sugar or even rice. Again, it brings the sense of smell into the learning experience, further integrating the learning experience!
Q-Tip Painting
Use Q-Tips dipped in water to "paint" the word on a mini chalkboard. The child must say the letters out loud as they paint and say the word BEFORE the water dries!
White Board or Chalk Board:
Use a white board or chalk board and ask your kids to practice writing the words. Just changing from paper to this will make it more exciting and your kids will enjoy it!
Shaving Creme:
Spread shaving cream on a cookie sheet and have your kids write the words on it. So much fun!
Special thanks to our reader Kym Helms. She taught kindergarten for 4 years and has taught 3rd grade for 18 years. She is a Nationally Board Certified, award winning teacher who loves to save money and use coupons.
Other Posts You May Enjoy:
Practice Spelling Words Using Sidewalk Chalk
After School Snack Ideas
Tips for Homework Success
Creating a Homework Station
Melissa is a football and soccer mom who has been married to her best friend for 24 years. She loves sharing recipes, travel reviews and tips that focus on helping busy families make memories.