7 Simple Tips For Ultimate Retail Savings
In an effort to reach out to more of our readers who aren't strict couponers, we decided to share these 7 Simple Tips For Ultimate Retail Savings. Whether you are a couponing pro, a novice or a college student just trying to make ends meet, knowing how to stretch your dollar is important today.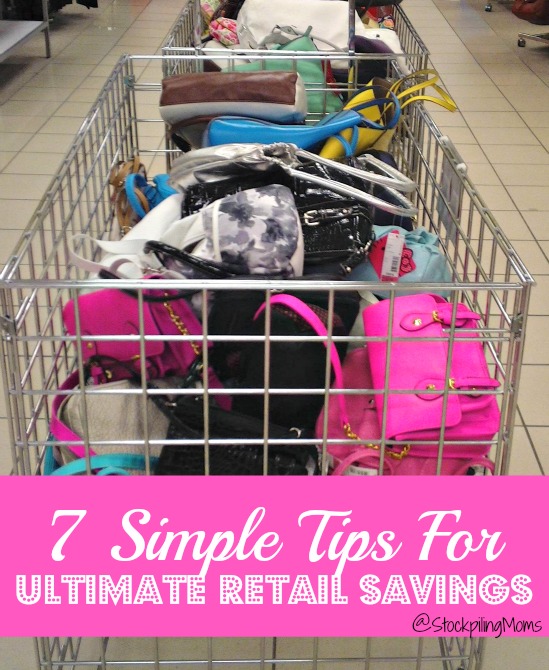 While these do include a few coupons, they are also great things to note for when you are looking for a great deal but don't have time to clip hundreds of coupons. Savings on clothing, appliances, food and makeup all in one simple guide that is sure to come in handy this year.
7 SIMPLE TIPS FOR ULTIMATE RETAIL SAVINGS
SIGN UP FOR REWARDS CARDS & EMAIL CLUBS. One of the simplest ways you can jump start your savings in any retail store is to make sure you have signed up for any rewards program they offer. Most grocery stores and drug stores offer rewards cards. Sign up and make sure to carry it on your key ring for those last minute shopping trips. Retail stores of every kind offer great email clubs. Even stores like Walmart, Target, Victoria's Secret, Bath & Body Works and our favorite Kohl's all offer email subscriptions that send you coupons, store credit and special offers for being a valued customer.
GET TO KNOW YOUR STORE MARK DOWN HABITS. If you shop at the same location on a regular basis, it is easy to get to know the employees. Find someone you recognize in store, be polite and ask them if they mind sharing the store mark down schedule with you. That could be something as simple as how quickly they mark down seasonal apparel, decor or food items, or it could be letting you in on the days each month they will pull clearance to drop the price even lower. This helps you get the best bang for your buck, be able to pick up hot clearance items right when they hit the shelves and mostly have ultimate retail savings.
SHOP OUTLET STORES. Even frugal divas like ourselves like a special treat every now and then. That could be name brand jeans, shoes or even luggage. Whatever your brand preference is, there is likely an outlet store somewhere you can shop at. Many large popular retailers have online outlet sections on their websites. If you prefer the in person method, search your local area for outlet stores of your favorite brands. You can find savings anywhere from 25%-90% off typical retail prices on even the top brands.
WATCH EXPIRATION DATES. This is a great one for food products and some health & beauty aids you know you will use in a short time period. The closer a product is to its expiration date you will find the price lower. Some stores will even discount if you show them a product has an end date within the same month. (It never hurts to politely ask!) Watch your grocery stores for discount produce as well. Grabbing a ton of super cheap produce, prepping it by washing, slicing, chopping or cleaning as needed and bagging for the freezer is a great way to save on your grocery budget. We love this when it comes to fresh fruits that are almost over ripe. They are perfect for portioning into baggies and tossing into the freezer for quick muffins or smoothies.
SPLIT SAVINGS WITH A FRIEND. Do you need that one pair of jeans, but the sale is only applicable if you buy 2 or 3 pair? Grab a friend to go shopping with you. You both save money, get what you want and end up happy in the end. This can apply to things like warehouse club memberships and purchases, sales that require multiple items to be purchased or even vacations.
LOAD THE SAVINGS APPS. Even if you aren't an avid couponer, it never hurts to load your phone with a few easy to use apps. There are several simple apps that give you options of special in store savings or rebates when scanned. Of course we love our daily deal apps as well for those vacation packages, restaurant deals or even last minute spa packages. We love Target Cartwheel, Ibotta, Checkout 51, Savings Star, Cellfire, Groupon, Amazon Local, Living Social and of course Favado for checking all the local sales flyers on grocery day.
SHOP POST HOLIDAY CLEARANCE. Did you know that it isn't just candy and holiday plates you can grab at 75% off post holiday? Watch post holiday sales not only at your discount retailers, but at clothing retailers and department stores. Seasonal apparel often includes things like solid colored socks, underwear (yes even holiday bras and panties at stores like Victoria's Secret), pajama bottoms, t-shirts, candles and more.
You don't have to be an extreme couponer to get great deals on everything from your makeup to the shoes on your feet. These 7 simple tips for ultimate retail savings will come in handy as you work to provide for yourself or your family on a limited budget. Remember thinking outside the box and asking your local store for information are some of the most important keys to success in saving money.
Ways To Save:
How to Shop at Whole Foods without Spending your Whole Paycheck
5 Ways to Increase Your Savings at Target
7 Ways to Save Money Without Couponing
How to get the most out of your Sam's Club Membership
Stockpiling Posts:
How to use the freezer to stockpile
Stockpiling Moms can be found in all your favorite places. Hop on over to Instagram and follow the fun. We love posting memes, family fun, travel, and whatever we are feeling that day. Pinterest is also an amazing place to visit Stockpiling Moms. This is where you can pin all your favorite articles from our Food, Travel & Lifestyle Blog.
Melissa is a football and soccer mom who has been married to her best friend for 24 years. She loves sharing recipes, travel reviews and tips that focus on helping busy families make memories.