Holiday Gift Guide for Kids 2021
We are sharing Holiday Gift Guide for Kids 2021 to help you with your gift giving list! Christmas is right around the corner and if you are having a difficult time coming up with creative gifts we are here to help!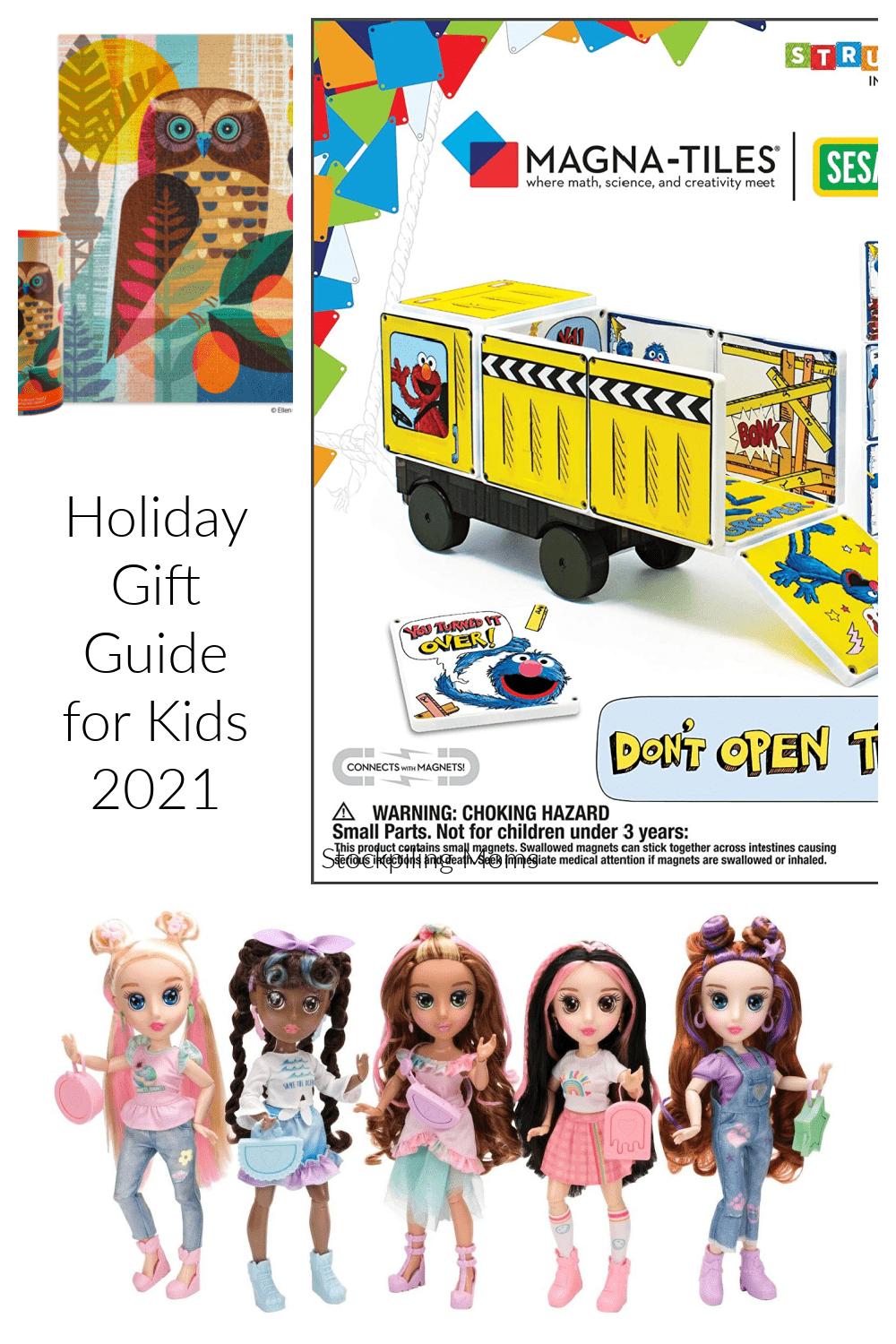 There is nothing worse than striking out when it comes to gift giving. Don't find yourself out wandering around on Christmas Eve shopping for a last minute gift
Holiday Gift Guide for Kids 2021: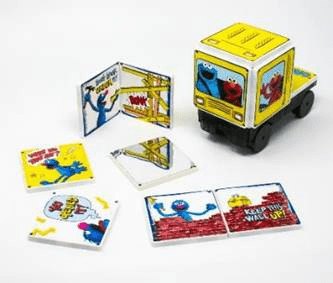 CreateOn – The Monster at the end of his Story Magna-Tiles – Did you know that lovable, furry, old Grover is afraid of Monsters? He is and if you get to the end of our The Monster at the end of This story Magna-tile Structure Set, you will see there might be nothing to fear.
He ties ropes to pages, he nails pages to pages, he builds brick walls, but if you build the Magna-tile set you will help him see there's nothing to be afraid of. Take a ride on this interactive, book building set with a couple of your favorite Sesame Street characters, Grover and Elmo. They are ready to help find that Monster through twists and turns of emotions and surprises.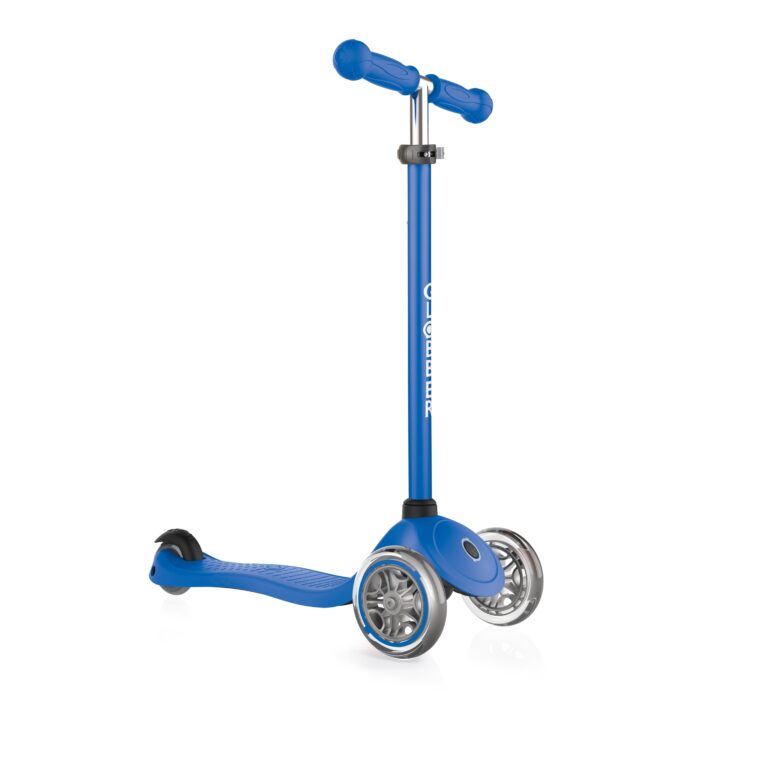 Primo Scooter – This is a great gift for the little ones on your Christmas list. It features a 3-height adjustable scooter for kids aged 3+. This 3-wheel scooter has a long covered rear brake. Its reinforced body supports up to 50 lbs. It comes in a choice of five colors including red, navy blue, lime green, pink and sky blue. I am sure this will be a hit with all the kids on your list. Our kids have always loved scooters.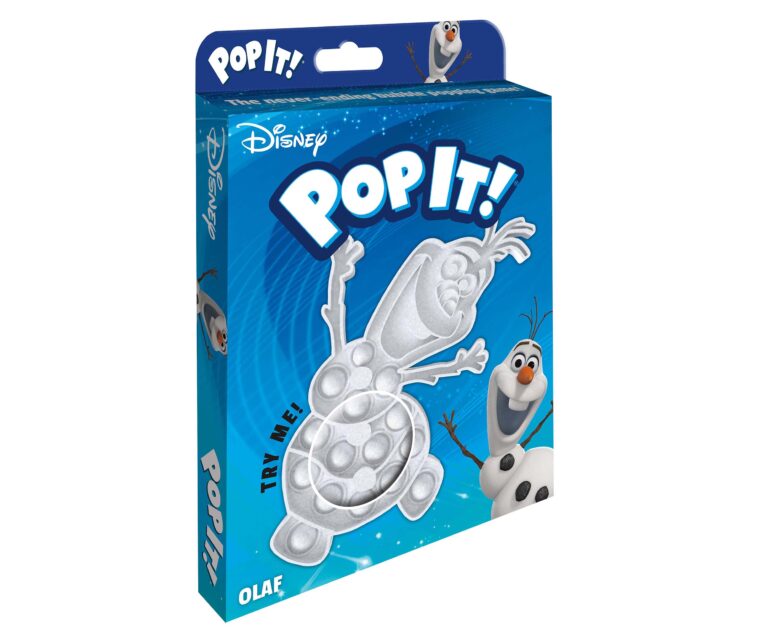 Licensed Pop It!s – Collect your favorite pop culture characters with the new licensed collection including Pop It!s in the shape of Darth Vader, Baby Yoda, Spider-man, Iron Man, Mickey, Minnie, Ariel, Olaf, Stitch, and the alien from Toy Story. These are sure to be all the rage this gift giving season! Priced at $9.99. They make great gifts and keep kids busy! What more can you ask for. They also have other sizes.
Pop It Mini – These small Pop It!s can fit in your pocket or be clipped to a backpack. They are available in circle or square shapes and come in a variety of colors including glow-in-the-dark, camouflage, pink, blue, multicolored and more. Priced at only $4.99.
Pop It XL – With all the fun and fidget of the original Pop It! but bigger, Pop It! XL is three times the size of the original! Priced at only $19.99.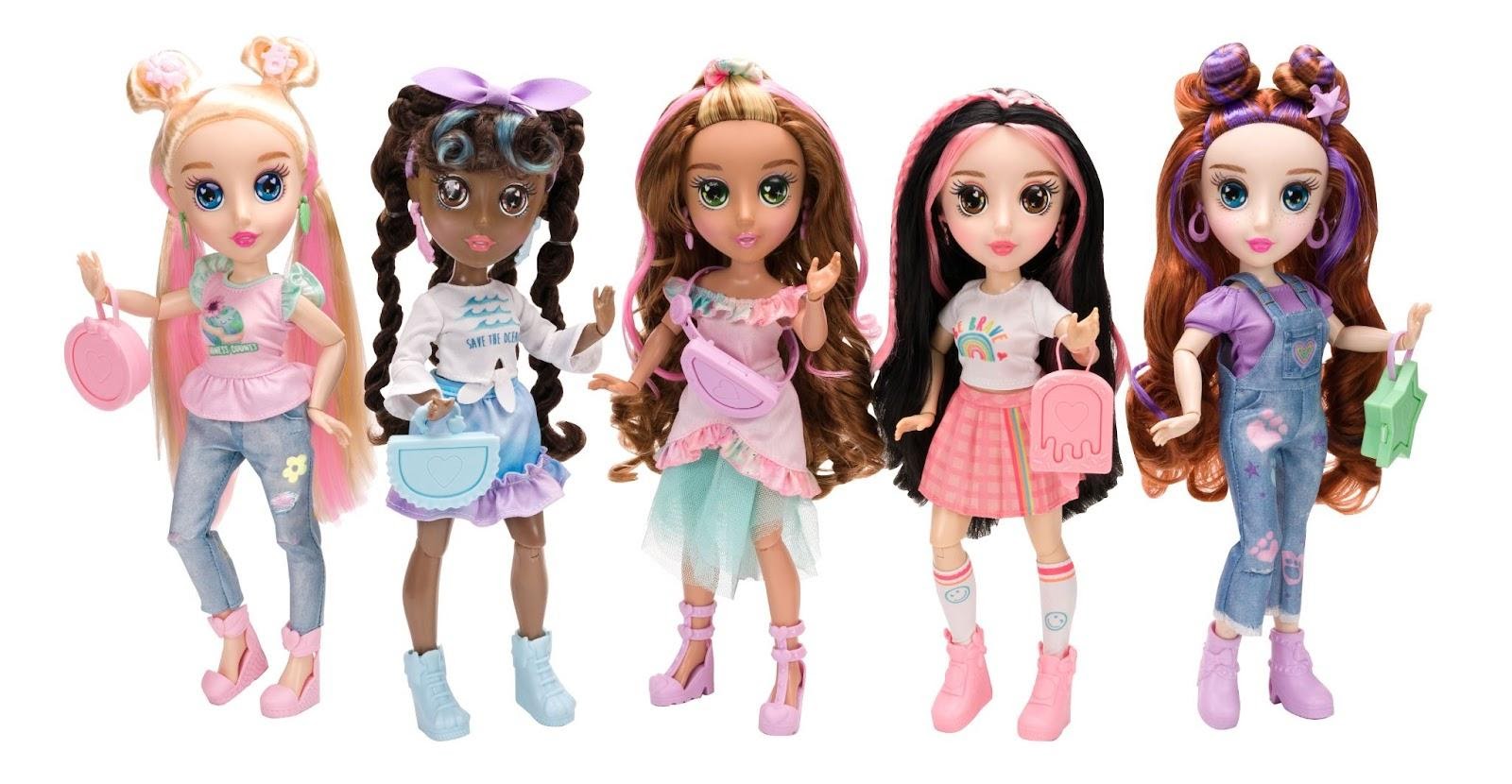 The B-Kind dolls – Brianna, Koral, Ivy, Nora, Daisy – promote positive messages of kindness and creativity and are eco-friendly from the recycled materials they're made with, to the eco-fashions they wear, to the reusable packaging they come in, down to the ink used being made from soybeans.
Each doll has their own passion along with a unique DIY activity for kids to create, including bff bracelets, reusable tote bags, colorful hair extensions, and more! I love them! Priced at only $29.97 and suited for ages 6+. The B-Kind dolls are available on Walmart.com as well as in stores at Walmart.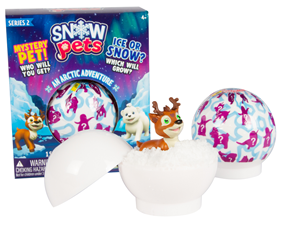 Snow Pets Series 2: An Arctic Adventure – This is a great gift idea and the price is right! Your kids can discover a new snowy friend with their own special personality in the Snow Pets Series 2 Single-Pack! Your new Snow Pet is going to be an animal that LOVES the cold! Maybe you'll meet Penelope the Penguin, or Norbert the Narwhal! 5 New characters are waiting for you! The price is $4.99. Suitable for ages 4 years and up. Available at Michaels and Learning Express. This would be great for Gift Exchanges.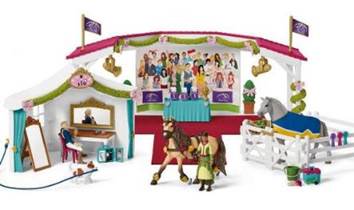 Big Horse Show with Dressing Tent – The Schleich® Horse Club big horse show is taking place at Lakeside! Sarah and Tori are cleaning their Tennessee walking mare and Lusitano stallion with a hoof pick, curry comb and brush from the grooming box.
From the back of the arena, they fetch decorative hearts, bows and flowers to put on the bridle, harness and spats. In the tent, the girls make themselves up in front of their mirrors with the lipstick, make-up brush and compact from their make-up case. Outside, the arena is decorated with plants, bows, vine bunting and flags. It's showtime! This is every horse lover's dream gift! Priced at $122 on Amazon.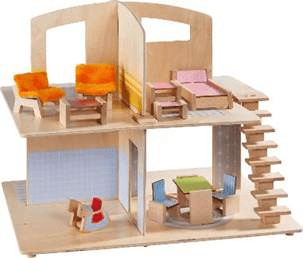 Little Friends Dollhouse Town Villa – Home is where the heart is, and the Little Friends agree! No wonder, because in their spacious modern villa they have everything they need. This set is easy to assemble, locks into place and is easily carried by one of the "window" holes. Includes four rooms of furniture, wooden staircase and re-positionable décor. It is the perfect gift for the little ones in your life for Christmas.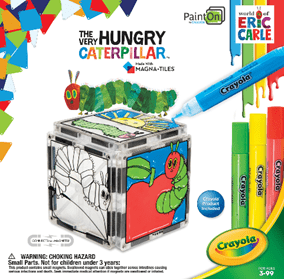 CreateOn Paint On Very Hungry Caterpillar Magna Tiles – Experience the award-winning story of "The Very Hungry Caterpillar" with PaintOn Magna-Tiles®. Paint your own Eric Carle characters & bring them to life with Crayola®, then build your own structures or display them as a suncatcher.
Not only do children learn through hands-on play using unique artwork from Eric Carle's classic tales. They will also develop fine motor skills, and nurture creative thinking and artistic development. Explore, learn & play with all of our innovative PaintOn sets. This is the perfect Christmas gift for your little ones. MSRP: $24.95. Age Range: 3+.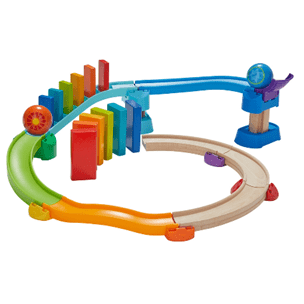 HABA Kullerbu Kringel Domino Play Track Starter Set – The little dominoes on the domino steps fall down one after the other in the most beautiful rainbow colors. The dominos can either fall upwards or downwards, depending on the setup. It goes click-click down the domino stairs and speedily the second ball rushes around the curves before it pushes over the large dominoes. This is a fun set with lots of hand and eye coordination. MSRP: $69.99. Age: 2-8.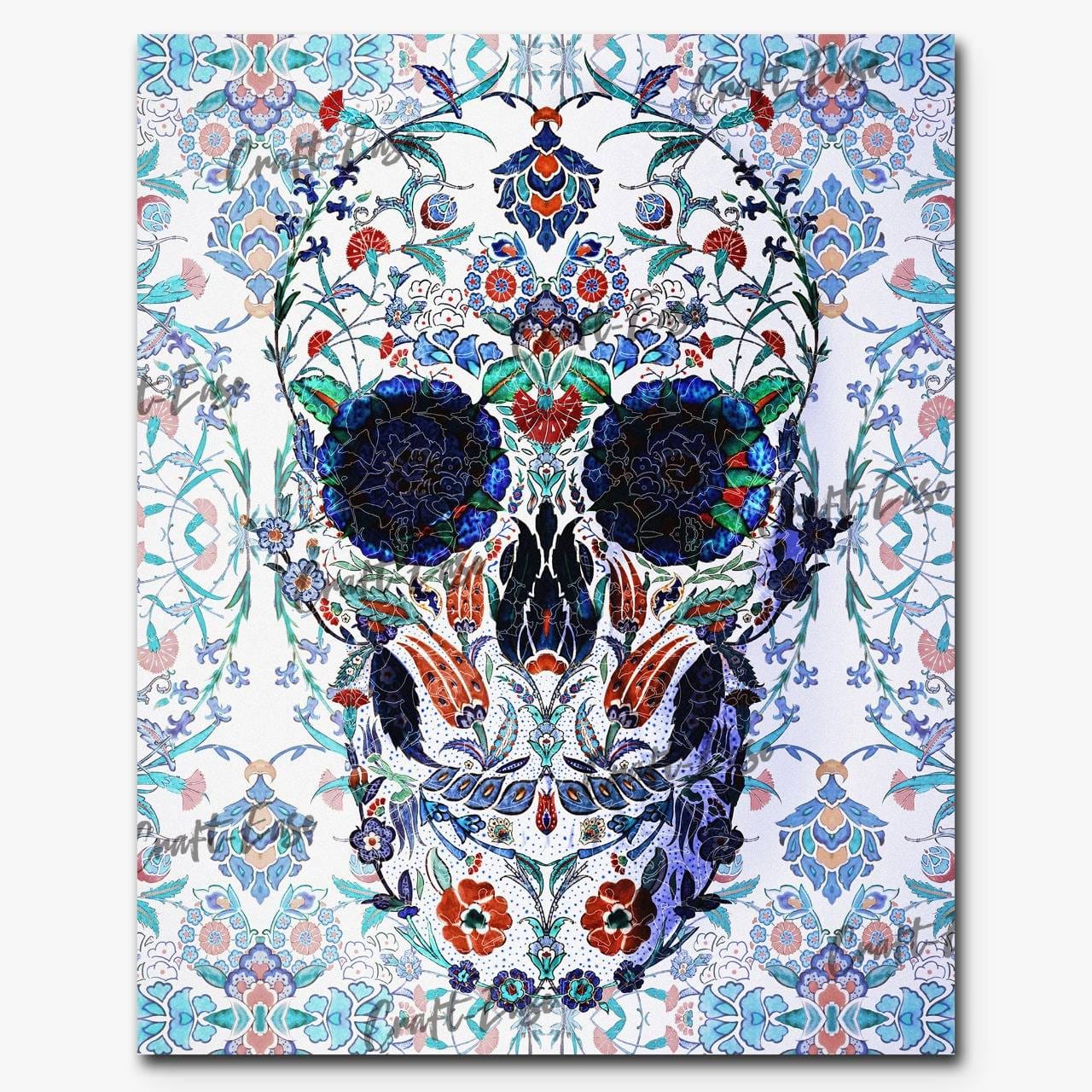 Paint by number or a diamond painting kit – If you haven't tried one you are missing out! This has become a favorite since the pandemic hit for us. It is a great way to pass the time and use your creativity.
Craft-Ease, only works with independent artists, licensing their art and promoting them online. they promote Art Therapy to their customers, paint by numbers and diamond painting is a very relaxing activity that can help alleviate stress and helps to cope with anxiety. You can shop online at Craft-Ease.com.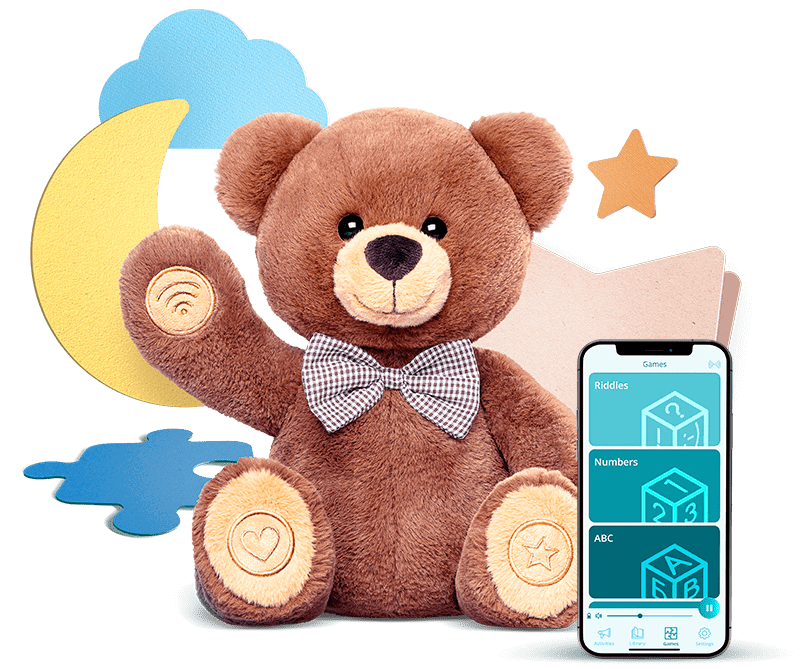 Smart Teddy – Your littles are going to love this! Let's be real—no parent likes telling their kid to brush their teeth for the fortieth night in a row. Smart Teddy can do it for you! He actively guides them towards healthy, positive activities. Through the Smart Teddy technology, you can choose an activity and have Smart Teddy lead your child through it.
Smart Teddy was designed by parents, not tech bros—these activities have been carefully chosen to match your family's needs. From mealtimes to hygiene to potty training to good daily habits like picking up toys, Smart Teddy can do it all! Smart Teddy can even help kids learn to manage their emotions, speak to a trusted adult when they're having a problem, and much more.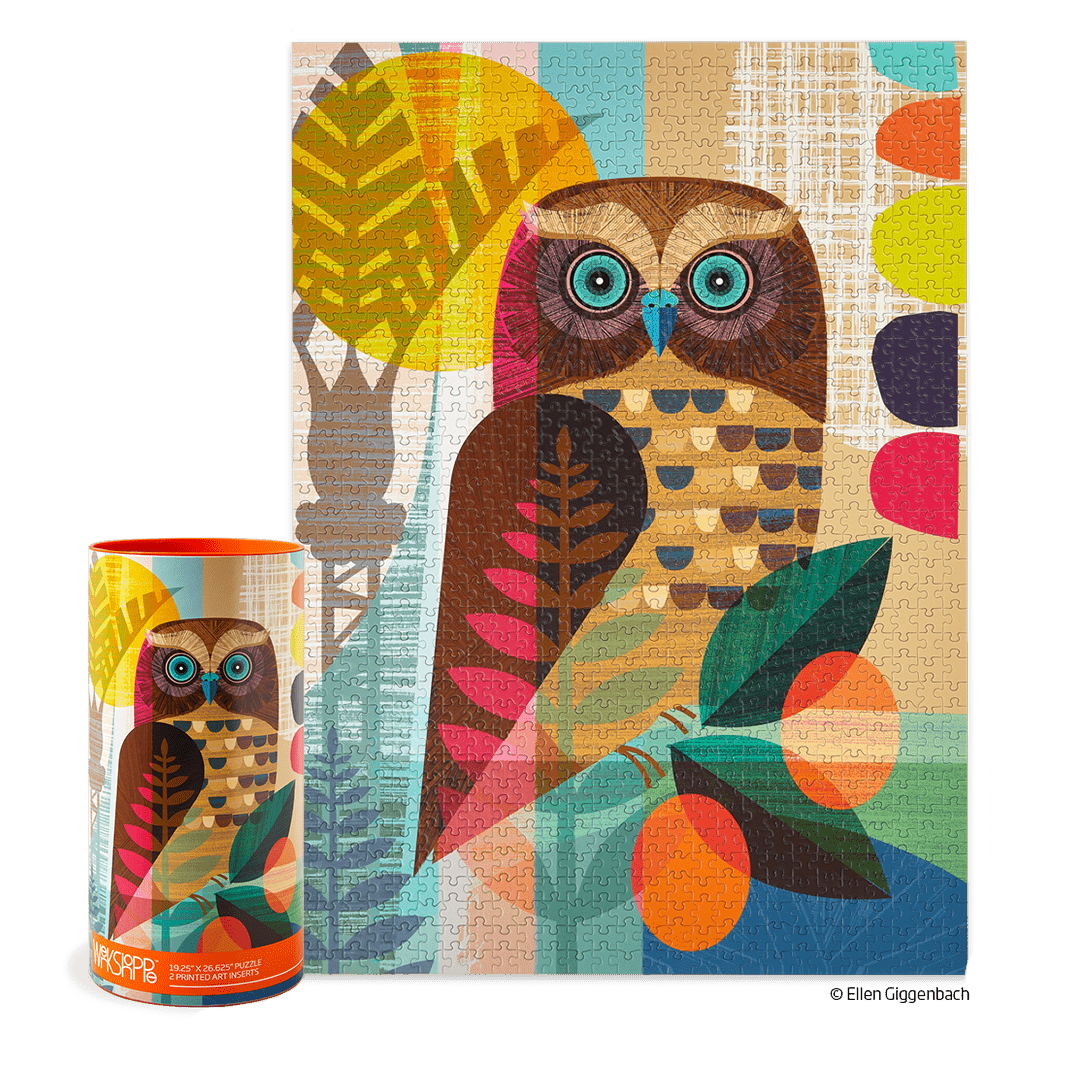 Jigsaw Puzzles – They are the perfect winter pastime. WerkShoppe is an online gathering place where artistic collaborations with emerging and established artists are turned into beautifully made jigsaw puzzles. I just love this! Their puzzles are made in the USA and use only the best, most eco-friendly materials possible. In addition, a portion of each purchase is donated to art education and engagement programs.
Their newest 300-piece puzzles are perfectly "designed to travel" in their signature cylindrical packaging. Just throw them in a weekender or overnight bag and go have fun! Our 1000-piece puzzles are just the excuse one needs to unplug, and press pause. All of their puzzles retail between $26 and $36 and can be found here.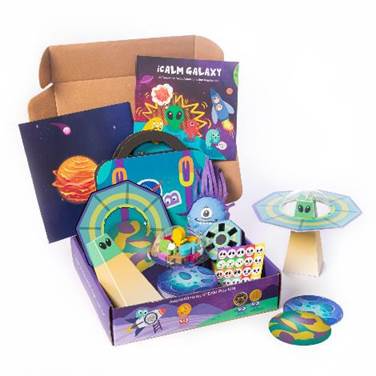 MEandMine Calm Galaxy – iCalm Galaxy Board Game is designed by a group of psychologists, therapists, pediatricians and parents. This box is part of MEandMine Emotion Line. It provides a playful and tangible way for young kids to identify emotions and explore 3 major types of calming skills to deal with strong and upset emotions. Priced at $29.95. This is a great gift idea.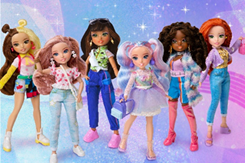 The GLO-Up Girls fashion doll line from Far Out Toys builds on the massive cultural phenomenon of #GlowUp – a hashtag with more than 28 billion video views on TikTok. The dolls feature elevated styling and offer the full "GLO-Up" experience including spa, nails, hair, makeup and fashion choices. Each doll comes in stylish pajamas and more than 25 surprises to give your doll a total GLO-Up. In addition, each doll comes with a real beauty mask with the doll! There are six different characters that will be introduced in Series 1, with a retail price of approximately $19.99 USD each. This ia great gift idea!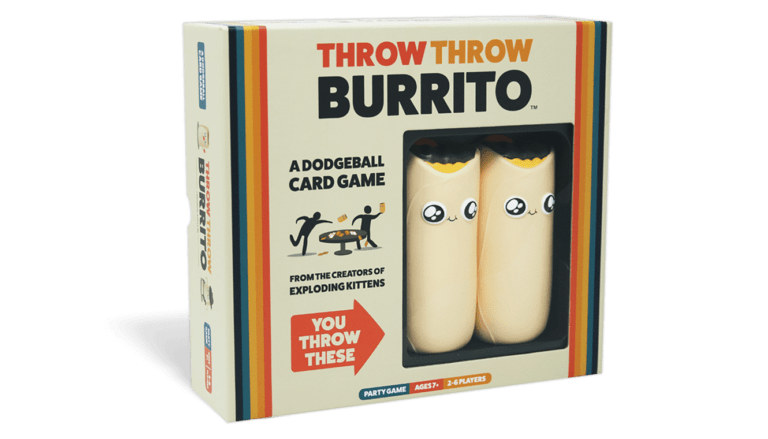 Throw Throw Avocado and Throw Throw Burrito – These two are great choices! The world's first dodgeball card game. These games can be played on its own or combined to create an all new combo game. It combines dodgeball and cards, giving players of all ages the chance to hurl squishy avocados at their friends and family. These are a lot of fun and teens love them. Priced at only $24.99.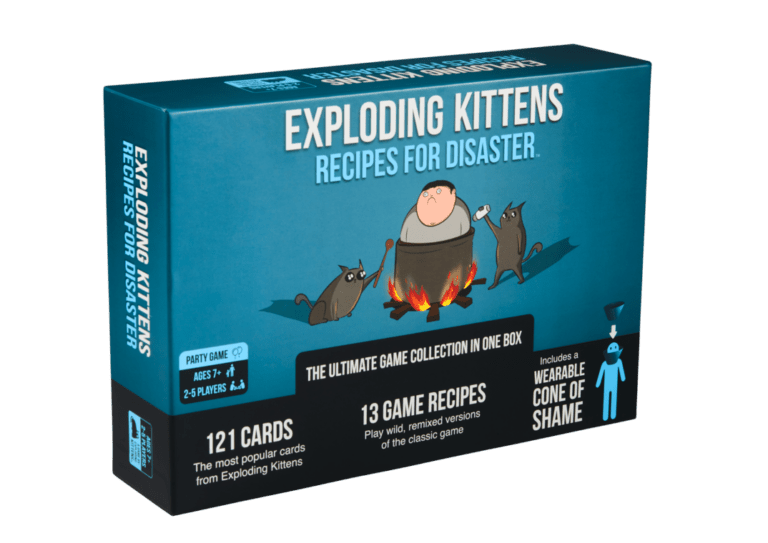 Exploding Kittens: Recipes for Disaster – This is the ultimate Exploding Kittens collection in one box. The game combines 121 of the best cards from the Exploding Kittens. Both new fans and experienced Exploding Kittens players can use the game's 13 Recipe Booklets to create their ideal game experience by altering the level of competition, number of opponents, and more. Choose your game experience – play the Lightning Kittens Recipe for a quick 2 minute game, play the I See Everything Recipe for a psychic experience, play the Black Hole Recipe with all Imploding Kittens, and so many more! Only $24.99.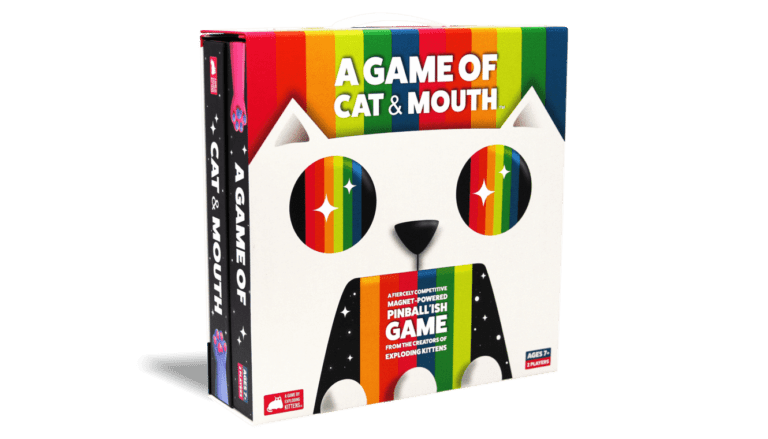 A Game of Cat & Mouth – This game is all about fast-flinging and quick thinking with a touch of precision. In Exploding Kitten's first two-player game, the first player to land all of the balls of one color onto their opponent's side wins! It's like air hockey, but instead of air and hockey, it's cats and rainbows! It's cutthroat multiplayer pinball. Priced at only $19.99!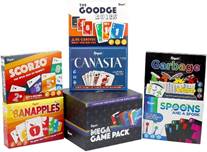 Regal Games – has put six of their new and best-selling games in one pack! Get ScorZo™, The Goodge Rules™, Banapples™, Spoons and a Spork™, Garbage, and Canasta in a convenient storage case. All games are perfect family fun games that will liven up any family game night. The games are for 2-6 players, and most are for ages 8+. This is the perfect family gift!!!
Far Out Toys' Ryan's World Road Trip – Hit the road with Ryan and the Combo Crew! In this adventurous and educational board game, you will visit all the states and regions of the USA and Washington DC! This is great idea for the little ones on your list. Up to 4 players can play this game. Great for game night with family or friends! Recommended for children ages 3 and up. Priced at $19.99.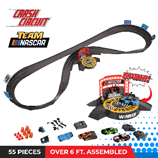 NASCAR Crash Circuit Road Course – The NASCAR Crash Circuit ULTIMATE Road Course is designed to ensure high-speed racing and thrilling crashing action. The circuit originally comes with 2 vehicles. This bundle gives you more with 2 extra vehicles, giving you 4 cars total, and a Winner's Circle – cars spin on the Winner's Circle! Recommended for ages 5 and up. Priced at $49.99. This is perfect for the NASCAR fans on your list.
We hope you enjoy this Holiday Gift Guide for Kids 2021. Be sure to check out all of our Holiday Gift Guides.
Stockpiling Moms can be found in all your favorite places! Hop on over to Instagram and follow the fun! We love posting memes, family fun, travel, and whatever we are feeling that day! Pinterest is also an amazing place to visit Stockpiling Moms. This is where you can pin all your favorite articles from our Food, Travel & Lifestyle Blog!
Melissa is a football and soccer mom who has been married to her best friend for 24 years. She loves sharing recipes, travel reviews and tips that focus on helping busy families make memories.