We are sharing Holiday Gift Guide 2022 to help you with your gift giving list! Christmas is right around the corner and if you are having a difficult time coming up with creative gifts we are here to help!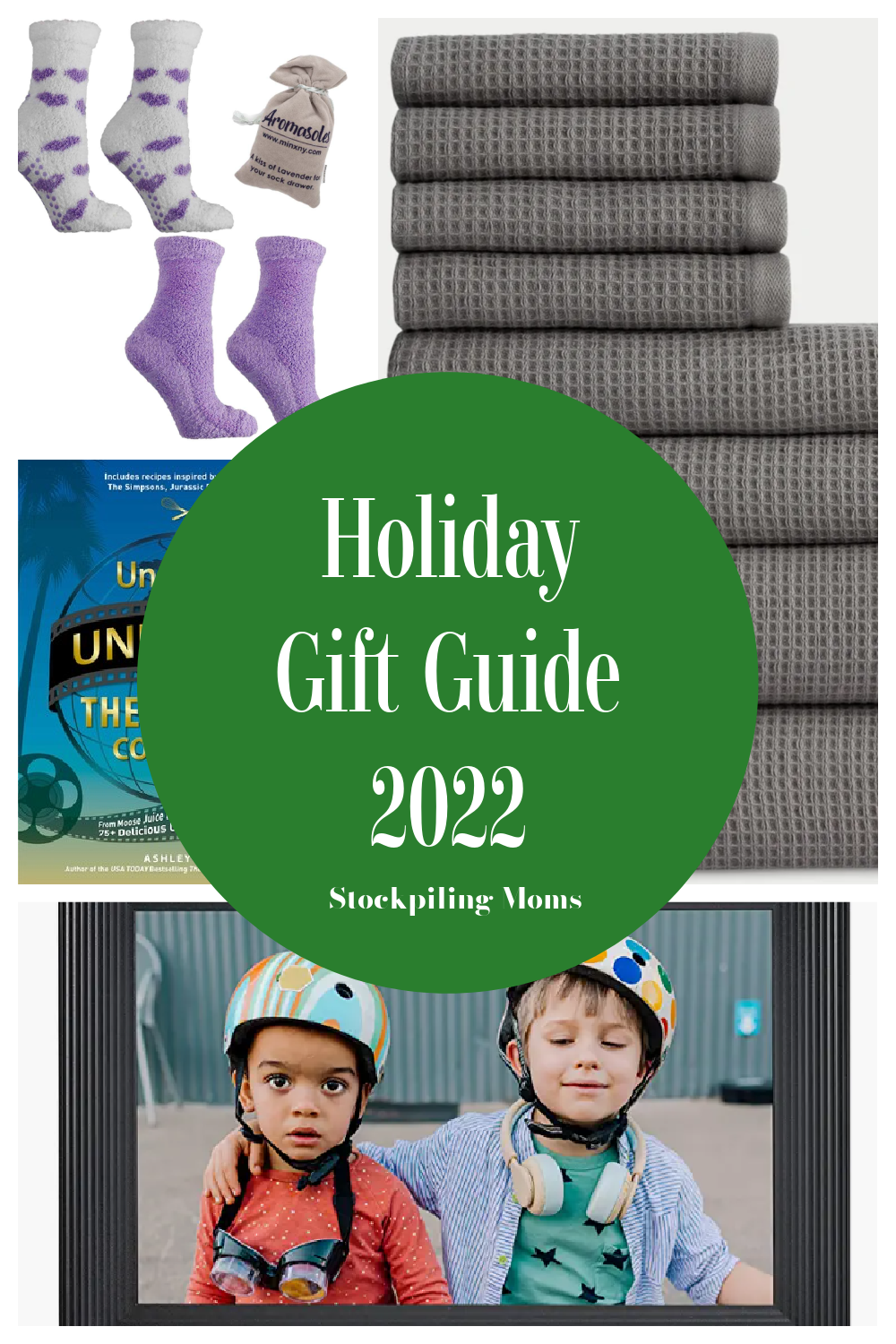 There is nothing worse than striking out when it comes to gift giving. Don't find yourself out wandering around on Christmas Eve shopping for a last-minute gift. Especially this year with the difficulty in obtaining items shipped.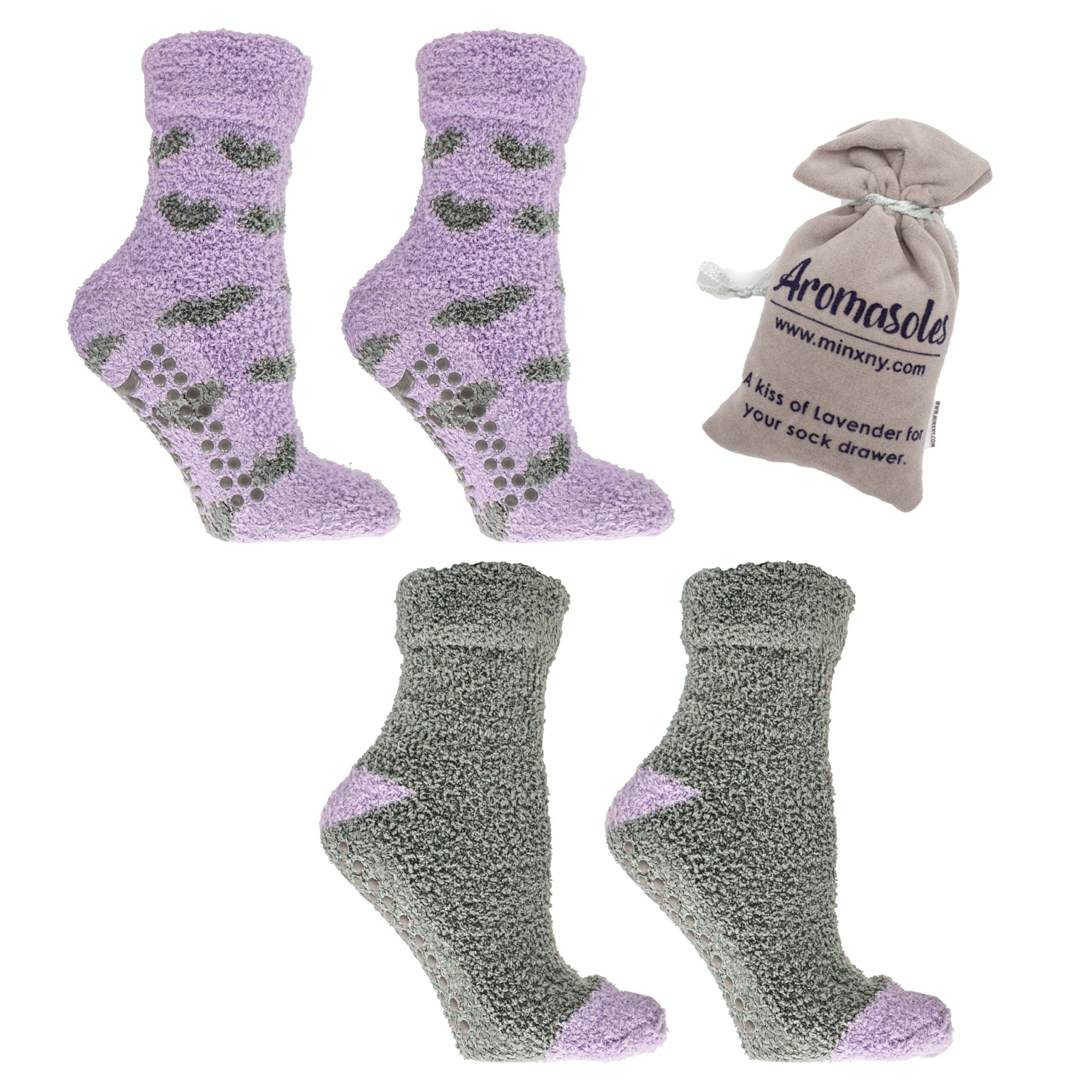 These luxury slipper socks feel and smell just as good as they look. Each pair is infused with high-quality essential oils like lavender, rose, eucalyptus, and bourbon. The perfect gift and priced at $19.99 for two pairs!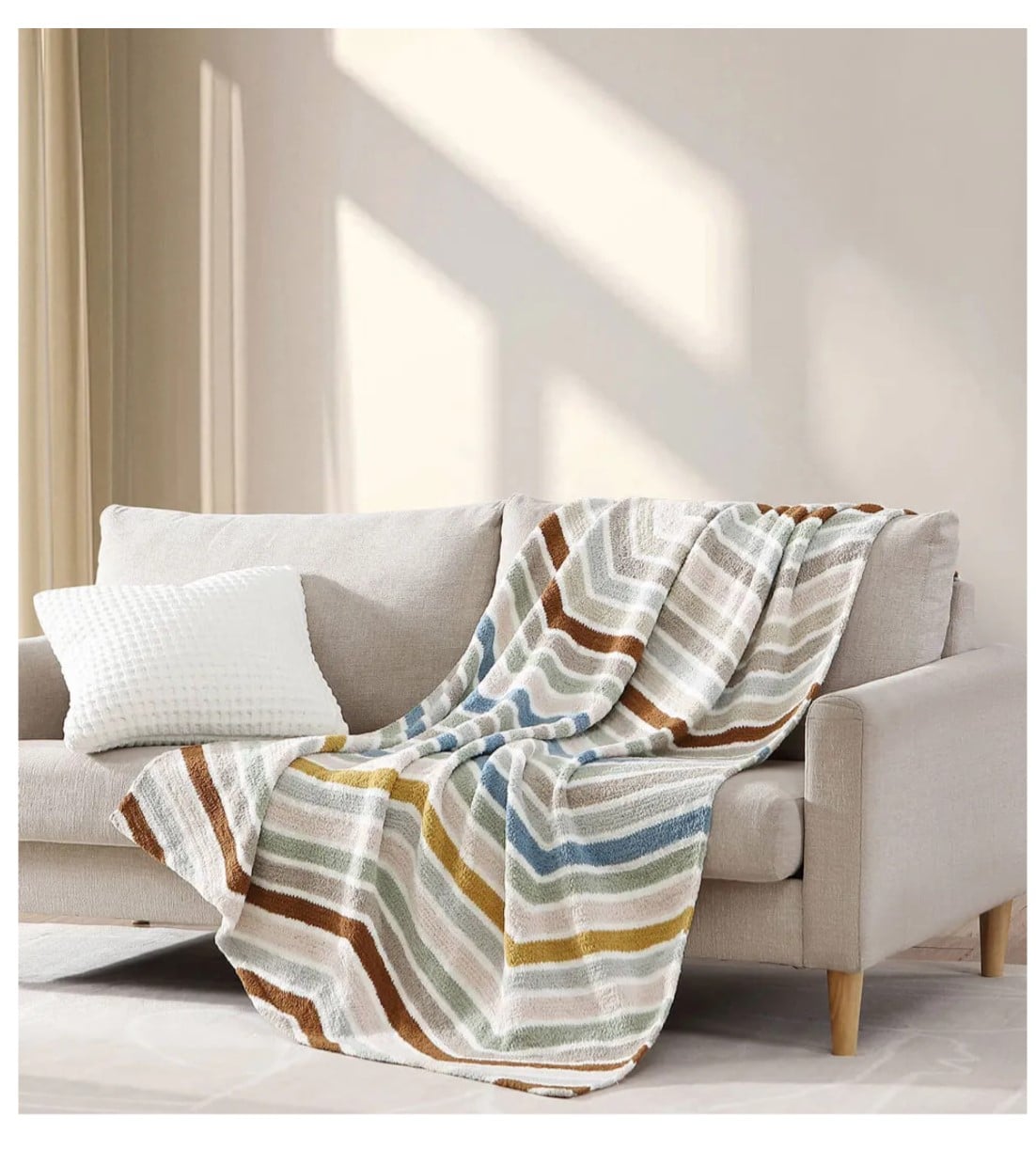 Cusco Throw by Sunday Citizen – Hands down the best throw I have ever had you absolutely have to order one. Refresh your bedroom and living room with this lightweight, oversized throw for full body coverage. Made from a dreamily soft Snug fabric, featuring a wavy design with joyful yet subtle tones. This one is bound to elevate any neutral backdrop. It is lightweight; cozy yet breathable. Made with one layer of Snug fabric and machine washable. Priced at $140, I promise it is worth every penny.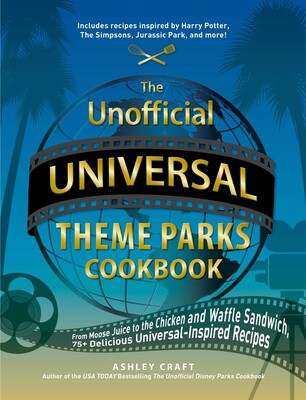 The Unofficial Universal Theme Parks Cookbook is the perfect gift idea! Fans of The Simpsons, the Minions, Jurassic Park, and more are guaranteed to go wild for this new book, which features favorite snacks, main dishes, drinks, and desserts from Universal Studios Orlando, Universal's Island of Adventure, Universal's Volcano Bay, and Universal Studios Hollywood. Bring the thrill of Universal straight to your kitchen! Available on Amazon for only $19.99.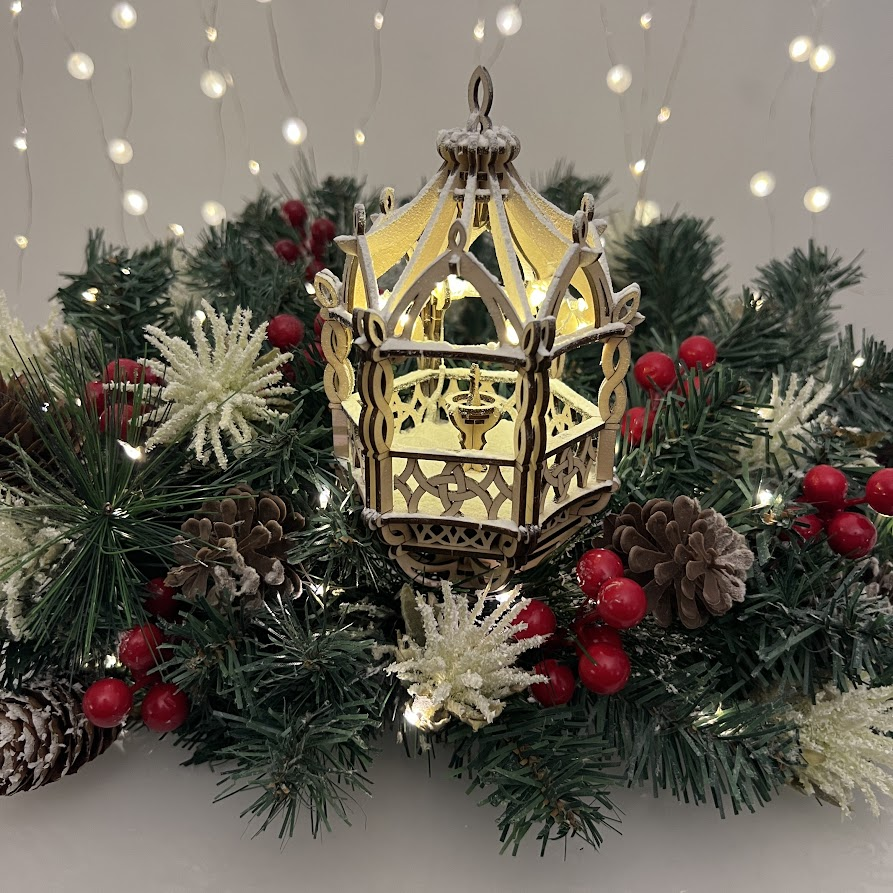 Tiny Treehouses are a great project to take on and have something distinctive to show off afterwards! For families who enjoy all the hands-on activities and crafts. Tiny Treehouses are the 3-D puzzle and craft that are as much fun to put together as they are beautiful to look at. The DIY wooden model kits are intricate and incredibly detailed, but easy enough for children to help put them together, thanks to the incredibly simple-to-follow instructions. And when the Treehouses are complete – they can become part of your holiday or year-round decor! All Tiny Treehouses come with LED lights to give the miniature homes a brilliant luminescence at night. This makes a great gift idea for crafty person on your list. Prices start at $39.00.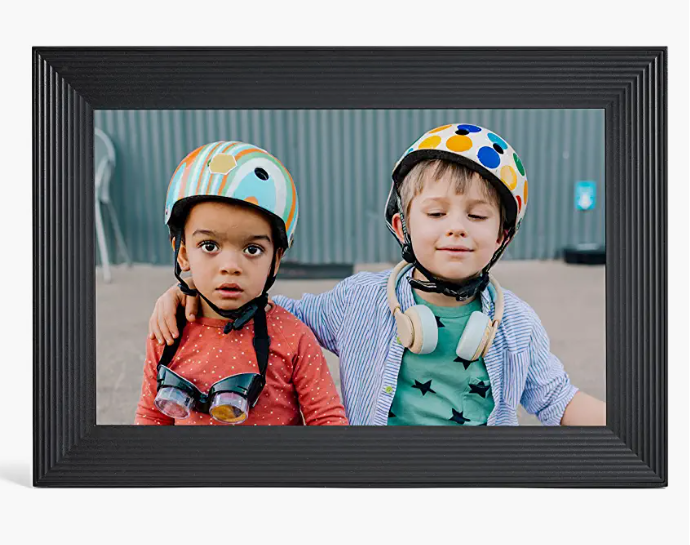 Aura Frames are the highest quality digital photo frames on the market and the best-rated on Amazon with over 6,000 positive reviews. This is the perfect gift for new parents and grandparents! I think also great for college students. Powered by WiFi and a collaborative photo sharing app, Aura's connected picture frames let you share unlimited photos across a private network of shared frames, making sure Grandparents (aunts, uncles, etc.!) never miss those first steps – without creating a social media footprint for the baby. Available on Amazon and priced at $149. It is truly the gift that keeps on giving all year long!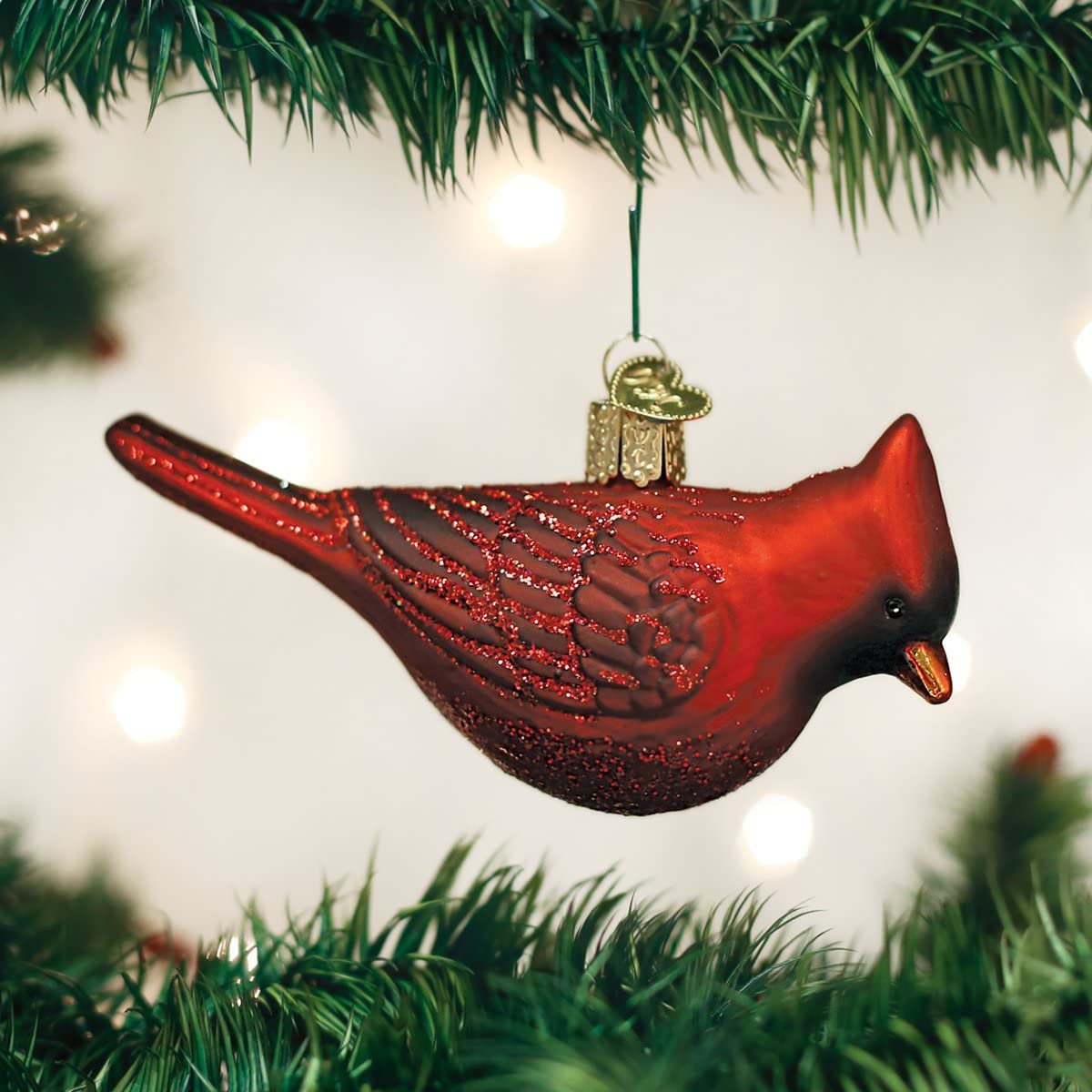 Old World Christmas Ornaments – I love Old World Christmas! The quality is amazing and they offer such a variety. Great for embellishing more than just a tree (centerpieces, windowsills, etc.), Old World Christmas offers the most extensive, best-loved collection of 1,400+ proprietary ornament designs, ranging from classic Christmas to pop culture trends that can hang on a tree! As the premier brand of Christmas ornaments in the country, their vast selection of finely crafted ornaments offers many choices for any personality, style, career, hobby or interest. Right now you can find many of them on sale! Check them out on amazon.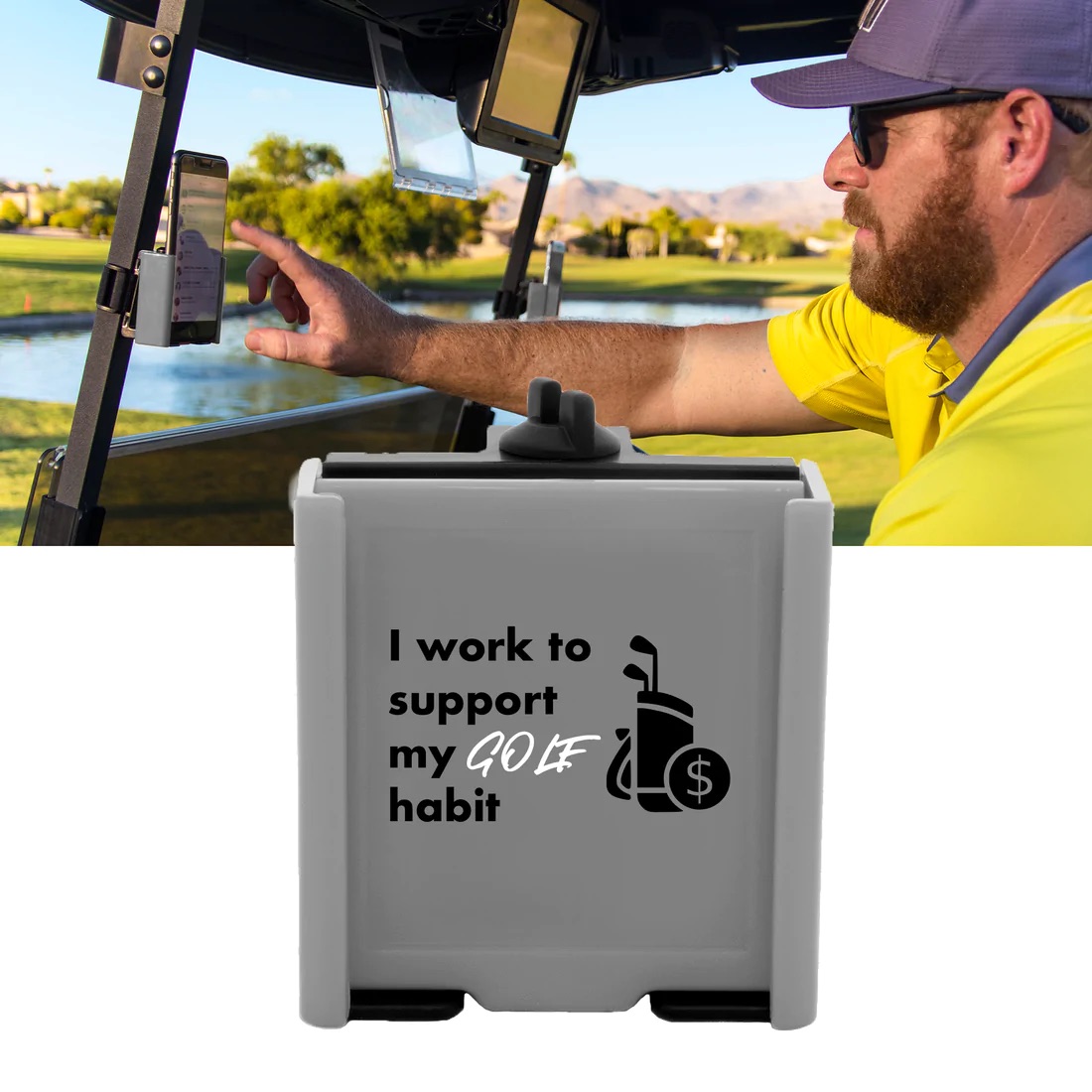 DESERT FOX GOLF Phone Caddy – This is the perfect gift for the golfer on your list! The best phone holder designed specifically for golf carts. Keeps your phone safe and at your fingertips. Adjusts to fit all modern smart phones and all popular cases. Installs in seconds and rugged enough to keep in your bag between rounds. Available on Amazon with a variety of funny sayings for only $24.99. My hubby will love this!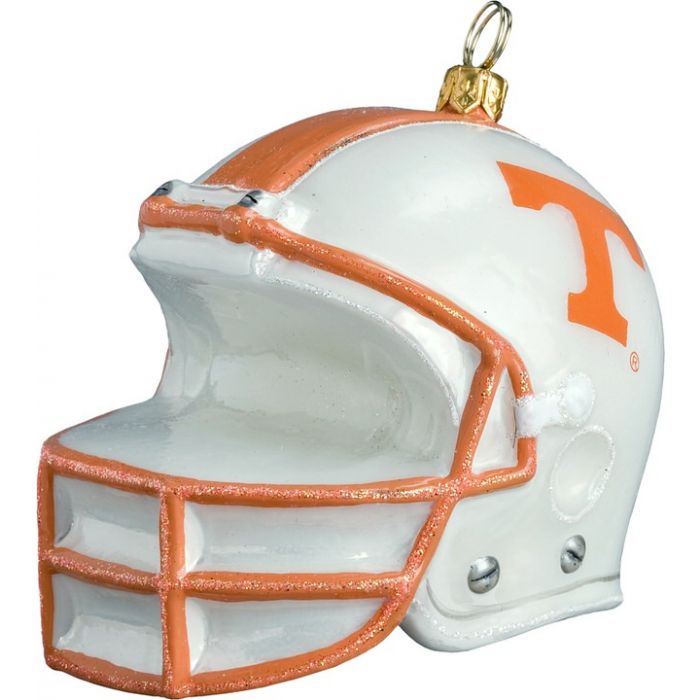 Christmas Ornament
– Tennessee-founded company,
Joy
to
the
World
has added 50 new ornaments for the holiday season this year to their collection. The best part is the glass ornaments are completely handmade from start
to
finish in Europe by master artisans, taking an average of seven days from sculpting
the
clay
to
sprinkling
the
glitter on
the
finished product. They are high quality and make great gifts for collectors. My husband is a HUGE University of Tennessee fan, so this is the perfect gift for him! Check them out and see which one you fall in love with.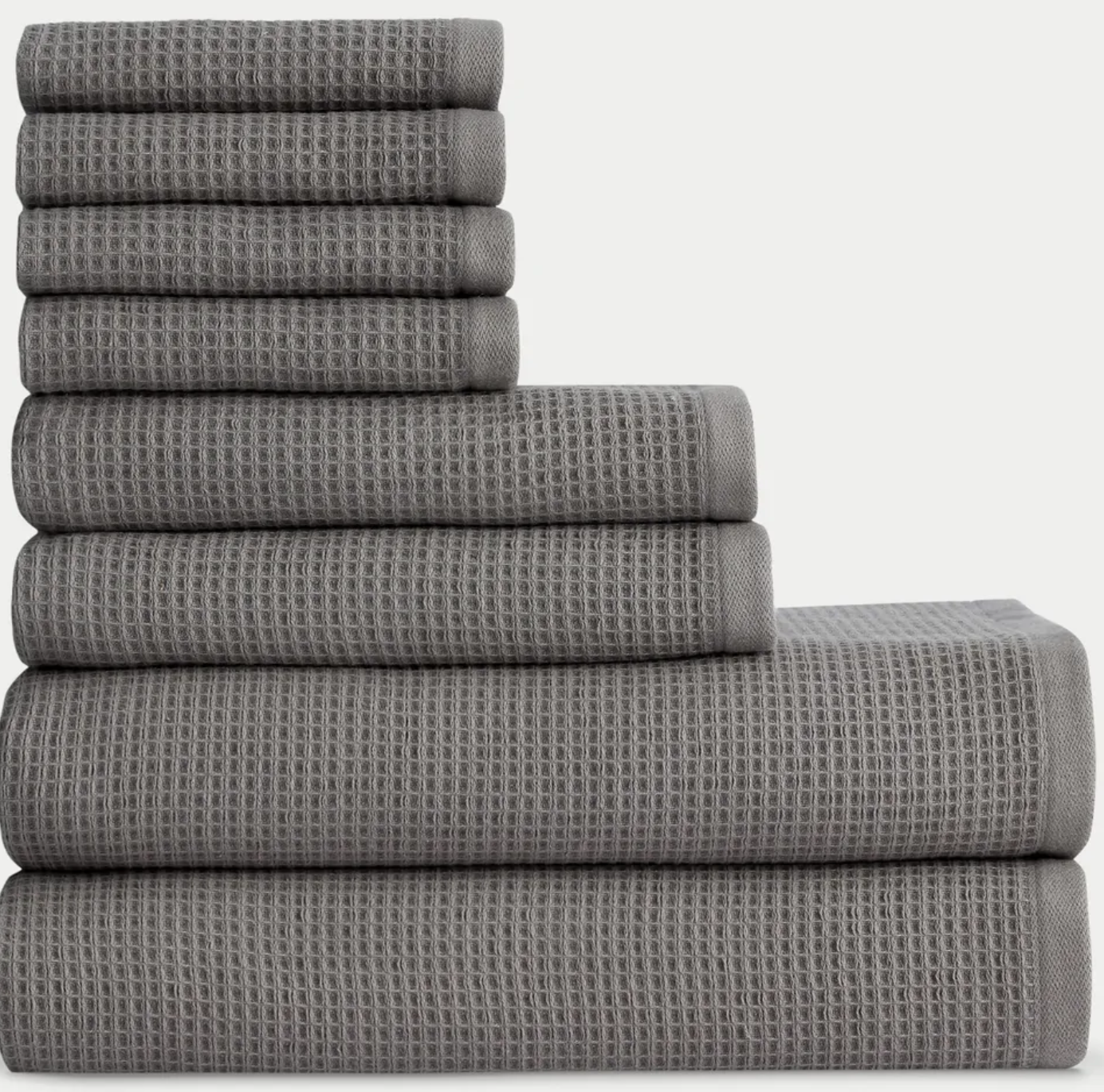 Waffle Towel Bundle – One of Oprah's Favorite Things for 2022! Turn your bathroom into the modern sanctuary of your dreams with our fully customizable Waffle Bath Bundle. Luxurious to the touch, ultra-absorbent, and ideal for stepping out of the shower, this bundle includes 2 Waffle Bath Towels, 2 Waffle Hand Towels, and 4 Waffle Wash Cloths, all from our Waffle Bath Collection. Made from 40% Premium Viscose from Bamboo fabric and 60% Cotton, this unique blend is extremely soft for spa-like comfort. Priced at only $154. It is worth the investment.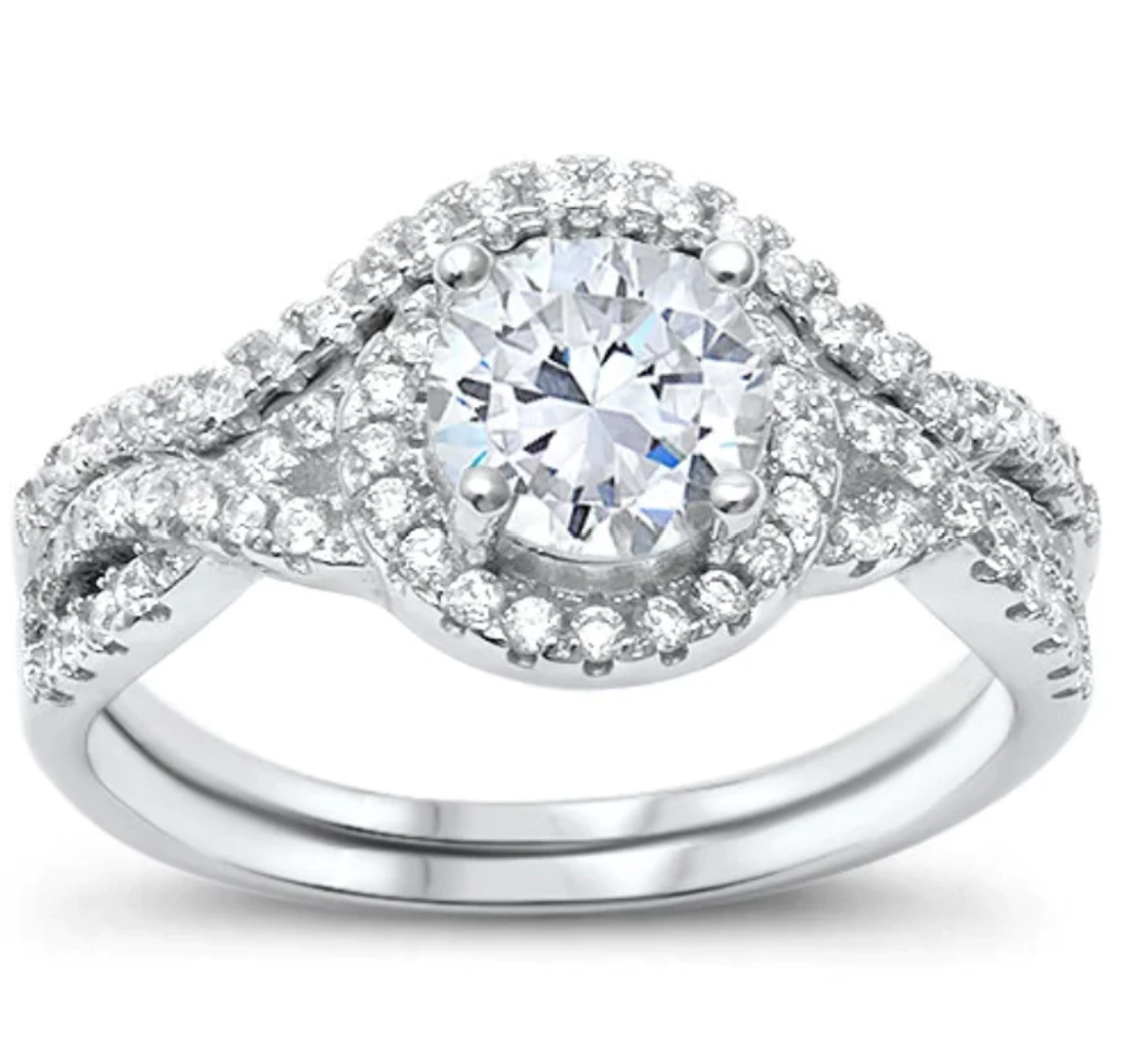 Starlette Galleria's Eliza Ring – This stunning 1-carat round cut center stone, surrounded by an intricate double halo with pavé stones, and then a band that delicately trails off into an infinity shape. Comes with an added wedding band that perfectly conforms to the round shape of this ring. With the same fire and brilliance as a real diamond, this simulated diamond ring is strikingly beautiful.
The setting is made of certified 925 sterling silver and plated in rhodium, so it will never turn your finger green or leave any types of markings behind. The stones are made of 100% simulated diamond material (AAA CZ). The infinity wedding set is perfect for travel, pregnancy, weddings, engagements, anniversaries, or to treat yourself. Forever doesn't have to cost a fortune. If you can't tell the difference between this ring and a real diamond ring, you will not be alone. This beautiful halo infinity wedding set has been a best seller for over a year.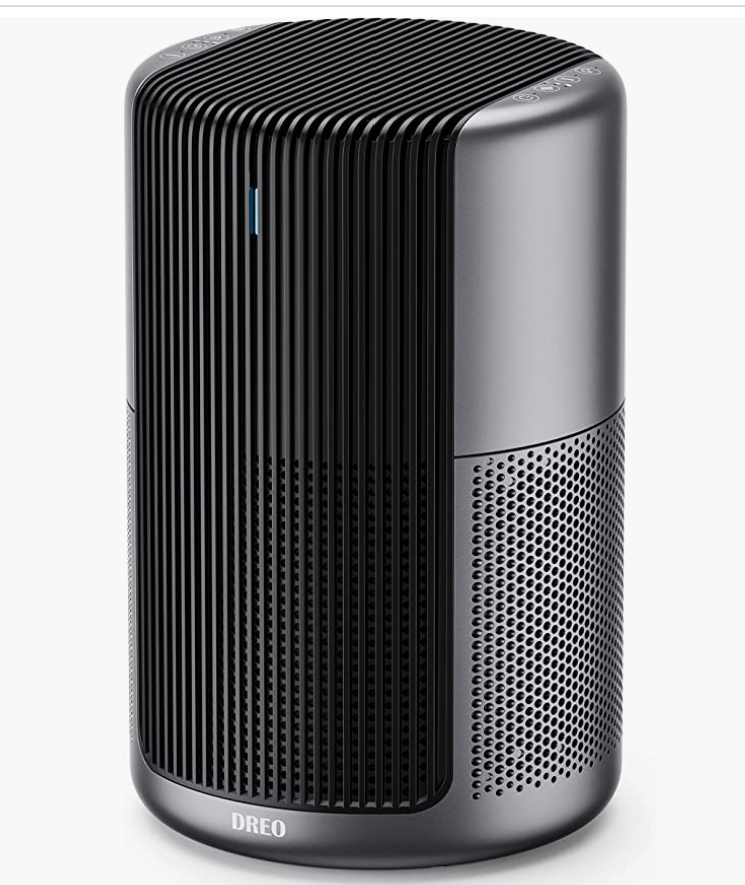 Dreo Macro Pro air purifier – brings air quality to the next level. Backed by class-leading authorities including AHAM, ECARF, SGS, Reddot, IF, and ENERGY STAR. Dreo air cleaner keeps your home free of allergens and pollutants, all thanks to its exceptional cleaning efficiency. If you have a pet, experience allergies or just want to experience the benefits of an air purifier this is a game changer!
It purifies up to 1358 sq ft: Perfect for living rooms, bedrooms, studios, offices, etc. Macro Pro 360°air intake drags pollutants from all sides and circulates clean air up to 5 times per hour in large rooms. Powered by a pioneering brushless motor, this air purifier takes only an hour to clean a 1358 sq ft room. Available on Amazon on sale for 10% off, now $98.99 instead of $109.99. Check it out!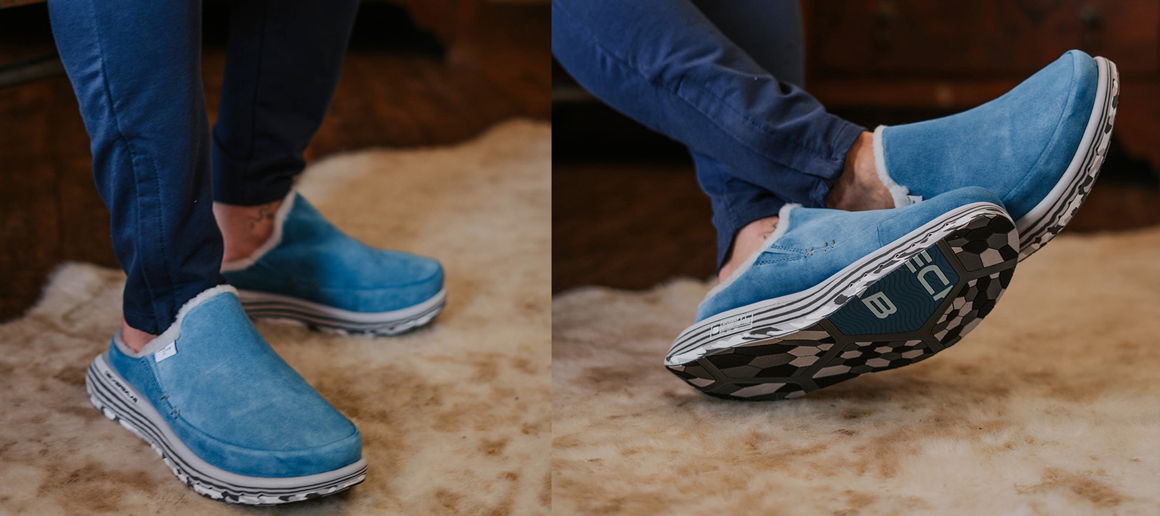 Deckers X Lab KO-Z EZ SCUFF – These snuggly slip-on slippers are perfect for leisurely wear and are built upon a 5-layer gradient density Xponent+ midsole that is prime for meandering the neighborhood. The premium shearling upper naturally thermoregulates the foot and is outfitted with a hint of stretch to hold your foot for stability gently and to hold your foot for stability and optimal circulation gently tidal circulation – all while you rest upon an ergonomic and removable looped wool and recycled EVA memory foam insole.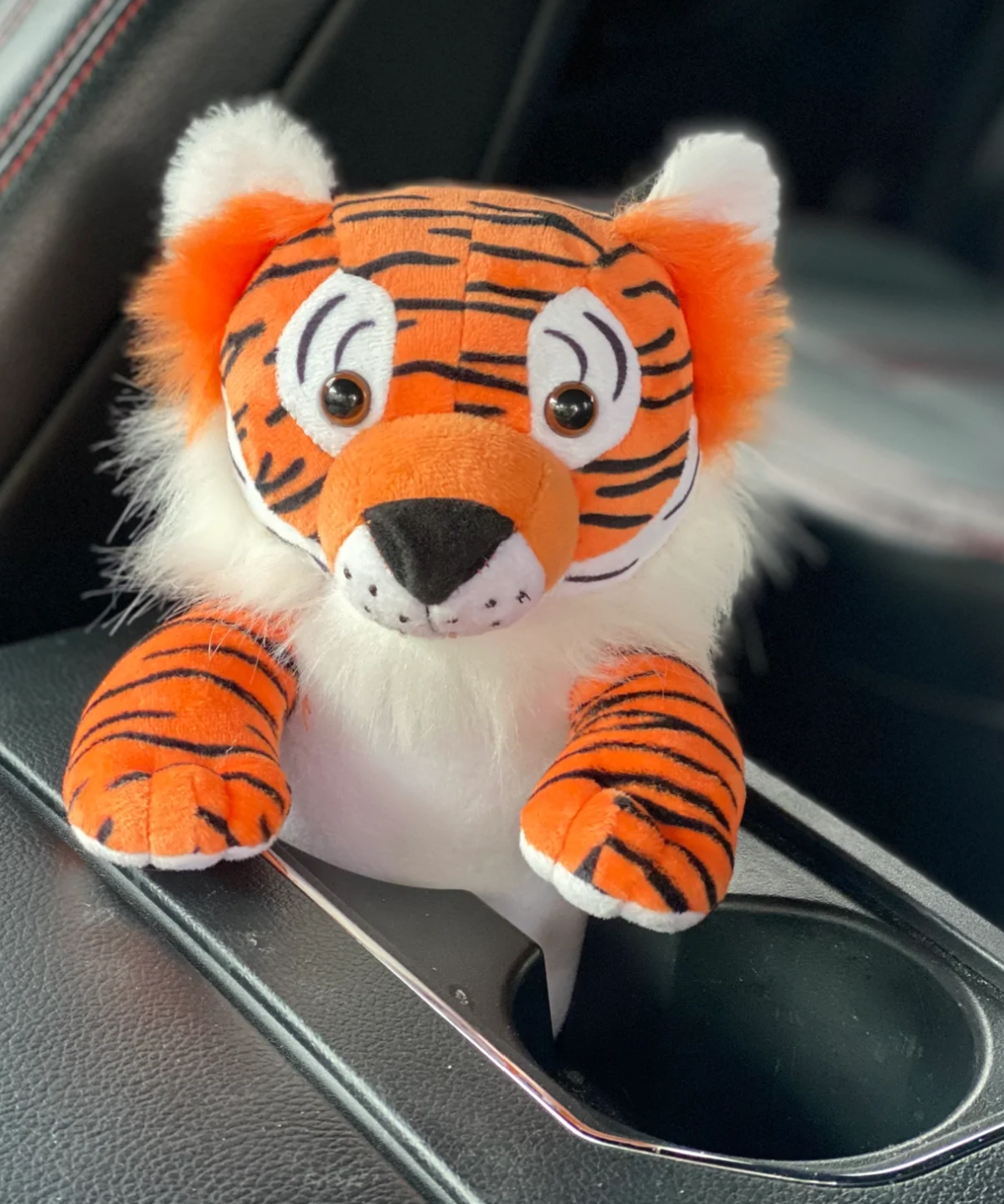 Riderz are the first stuffed animal toy designed to fit in a cup holder. Parents can stick them in the cupholders in the family vehicle, on strollers, shopping carts, car seats, even in the water bottle pockets on backpacks. This would be perfect to keep in your car so your kids always have a toy on the go. Priced at 19.95 this would be a great gift for a new baby!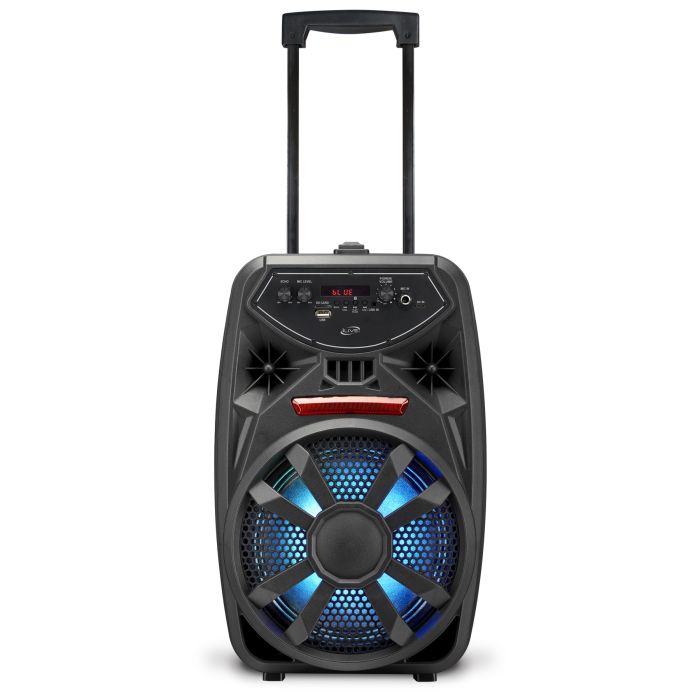 The Everything DASH Diet Meal Prep Cookbook – This cookbook includes 200 make-ahead recipes to help readers incorporate the DASH (Dietary Approaches to Stop Hypertension) diet into their lifestyle. With recipes designed to help lower blood pressure, prevent diabetes, and lose weight, readers will learn the basics of the DASH diet, how to meal prep fresh and frozen meals, and how to add variety every step of the way. With a bonus two-week meal plan, this cookbook presents an accessible, satisfying approach to healthy living. It is great for anyone who wants to consider a healthy lifestyle in 2023. Priced at $18.99.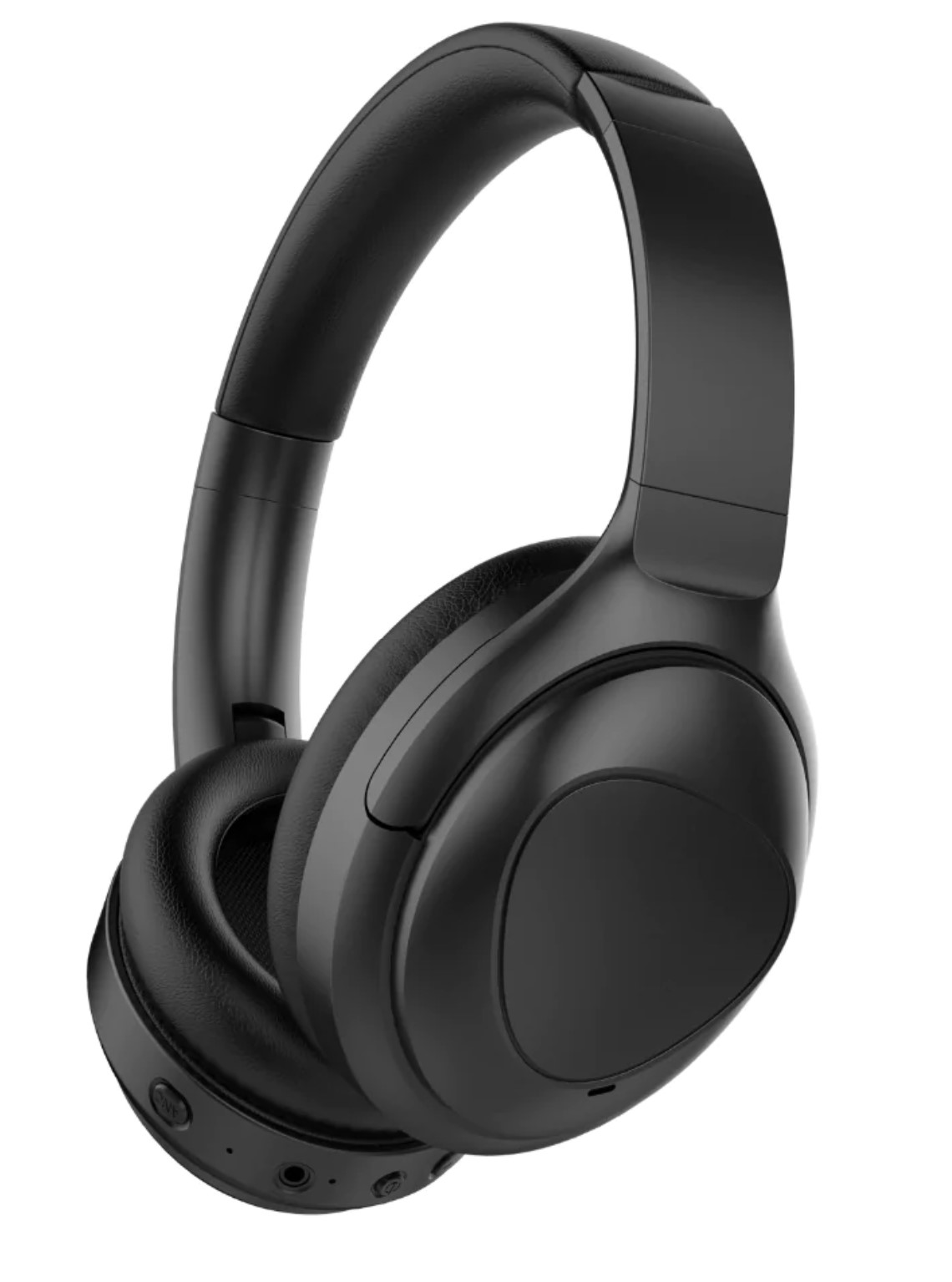 PuroPro Hybrid Active Noise Cancelling Volume Limited Headphones with Built-In Mic – Premium Active Noise Canceling Technology: Significant noise reduction for your daily life. Two levels of ANC allow the user to adjust to ambient noise as needed. Level 1- will provide a deep noise reduction of 32dB. Level 2- will provide a general noise reduction of 15dB. This allows for the enjoyment of music, movies, podcasts, and videos regardless of your environment. This is the perfect gift for every teen or adult on your gift giving list. Priced at $149.99.
Cry Babies First Emotions – Cry Babies First Emotions Dreamy is an adorable interactive baby doll that will amaze you with over 65+ expressions, movements and baby sounds! Discover different ways to care and play with Dreamy! Tickle her belly to make her laugh, lay her down to put her to sleep, she cries real tears, give her a baby bottle when she's hungry and more! Priced at $45.00 this is a great value and a toy that your kids are sure to love.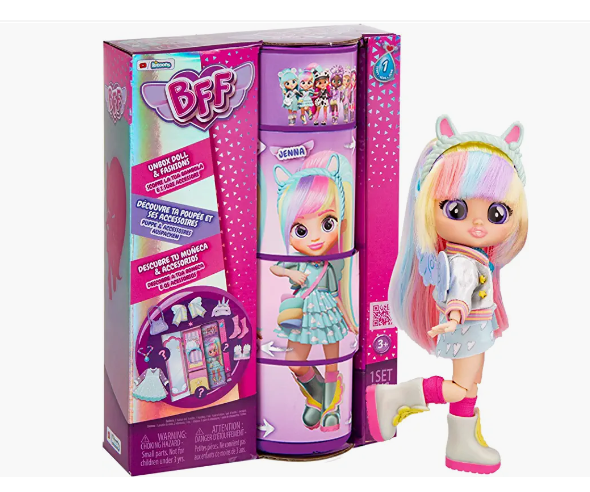 BFF by Cry Babies – Meet the ALL NEW BFF by Cry Babies! Now your favorite characters from Cry Babies are all grown up! Phoebe has stylish purple hair, glass eyes and 6 points of articulation ready for any adventure! She wears a trendy outfit with her special necklace! She sports a yellow romper with a metallic purple jacket, combat boots, and high socks! Accessorize her with her purple purse, dino inspired headband and matching BFF necklace! Check her out striking different poses by rotating the cylinder. Unbox and discover her closet with 9+ surprises! Look for all the BFF Fashion Dolls, including Stella, Dotty, Jenna, Phoebe, Kristal and Katie! The perfect toy for children ages 4 years old and up for imaginative play! Give as birthday gifts and gifts for any special occasion! Only $19.88 a Walmart.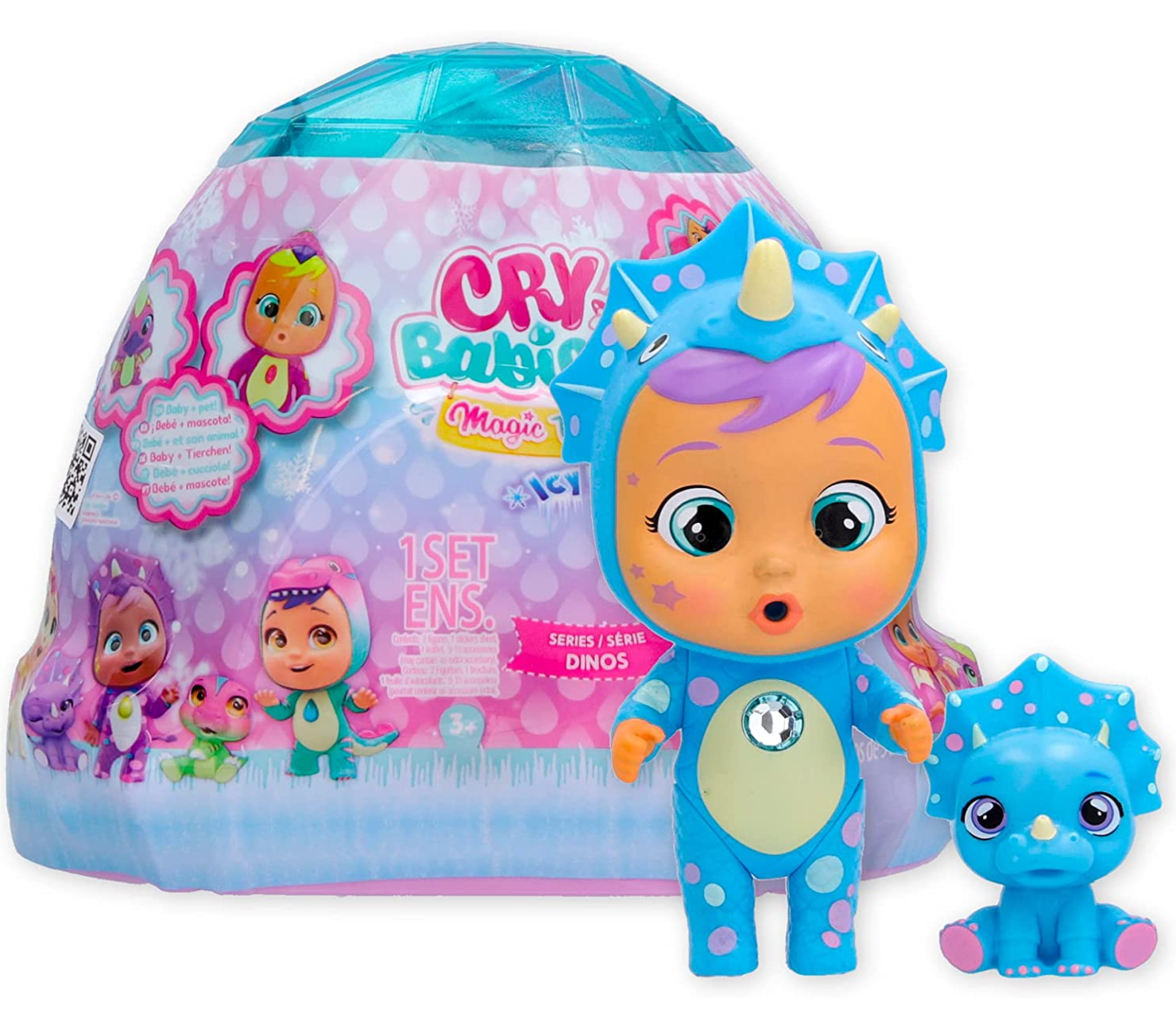 Cry Babies Magic Tears Icy World : DISCOVER: 10+ surprises and accessories! Includes: a baby bottle, a pacifier, a bonfire, a pair of shoes, a pair of skates, a piece of clothing, two unique accessories and a sticker sheet There are 8+ dolls to collect! Plus their matching dinosaur pet! Use your Magic Tears character's tears on the egg and watch it hatch! Reveal your matching dino pet! THEY CRY REAL TEARS! Feed them their baby bottle and give their belly a squeeze to watch them cry! Priced at only $13.49!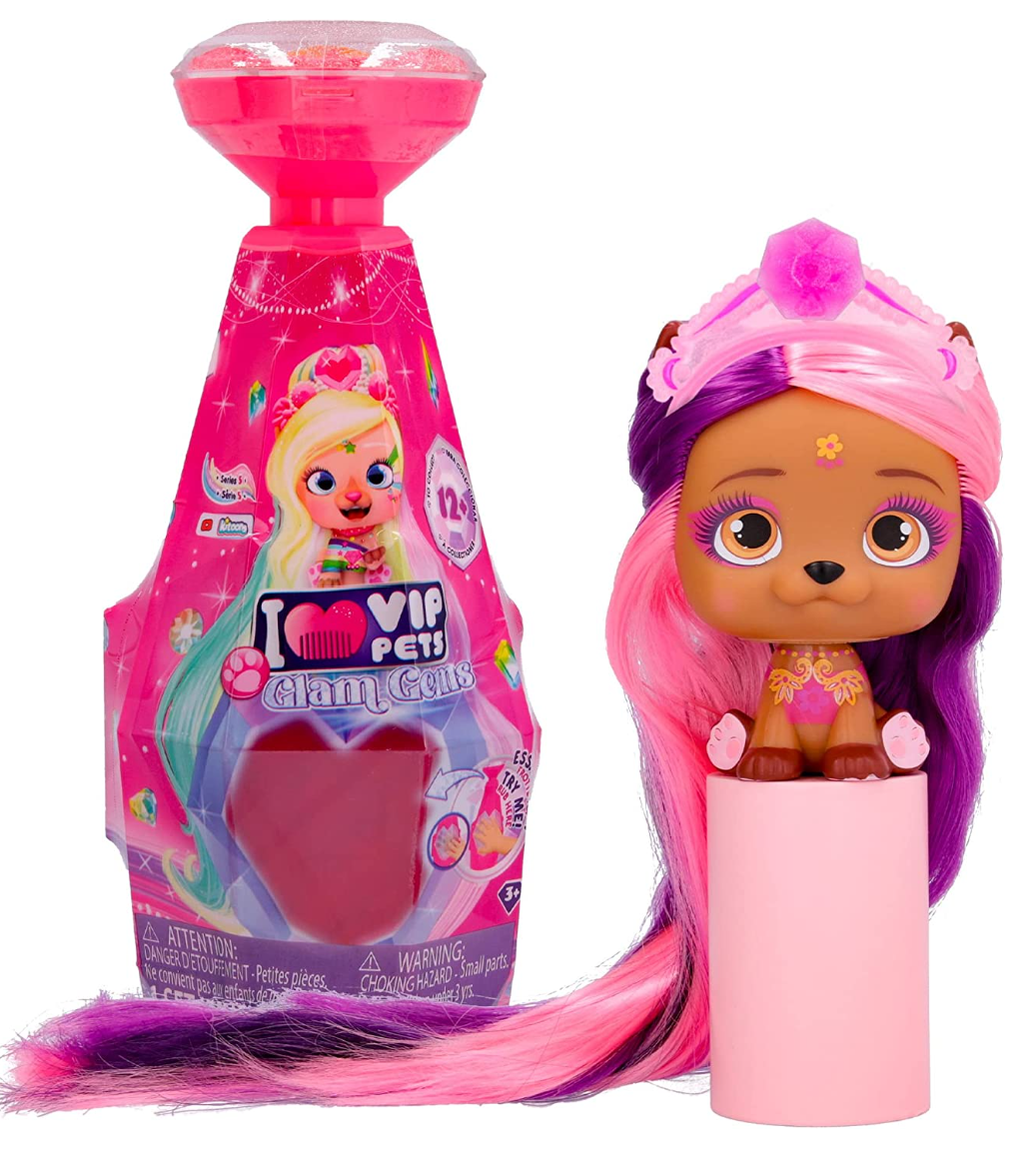 VIP Pets – Place your hand over the heart shaped diamond on the vessel to reveal your surprise VIP Pets character! Use thee included accessories like the gem hair extension to style 12 inch of long hair and finish any hair do with the gem tiaras! Priced at only $11.00 this is a great stocking stuffer!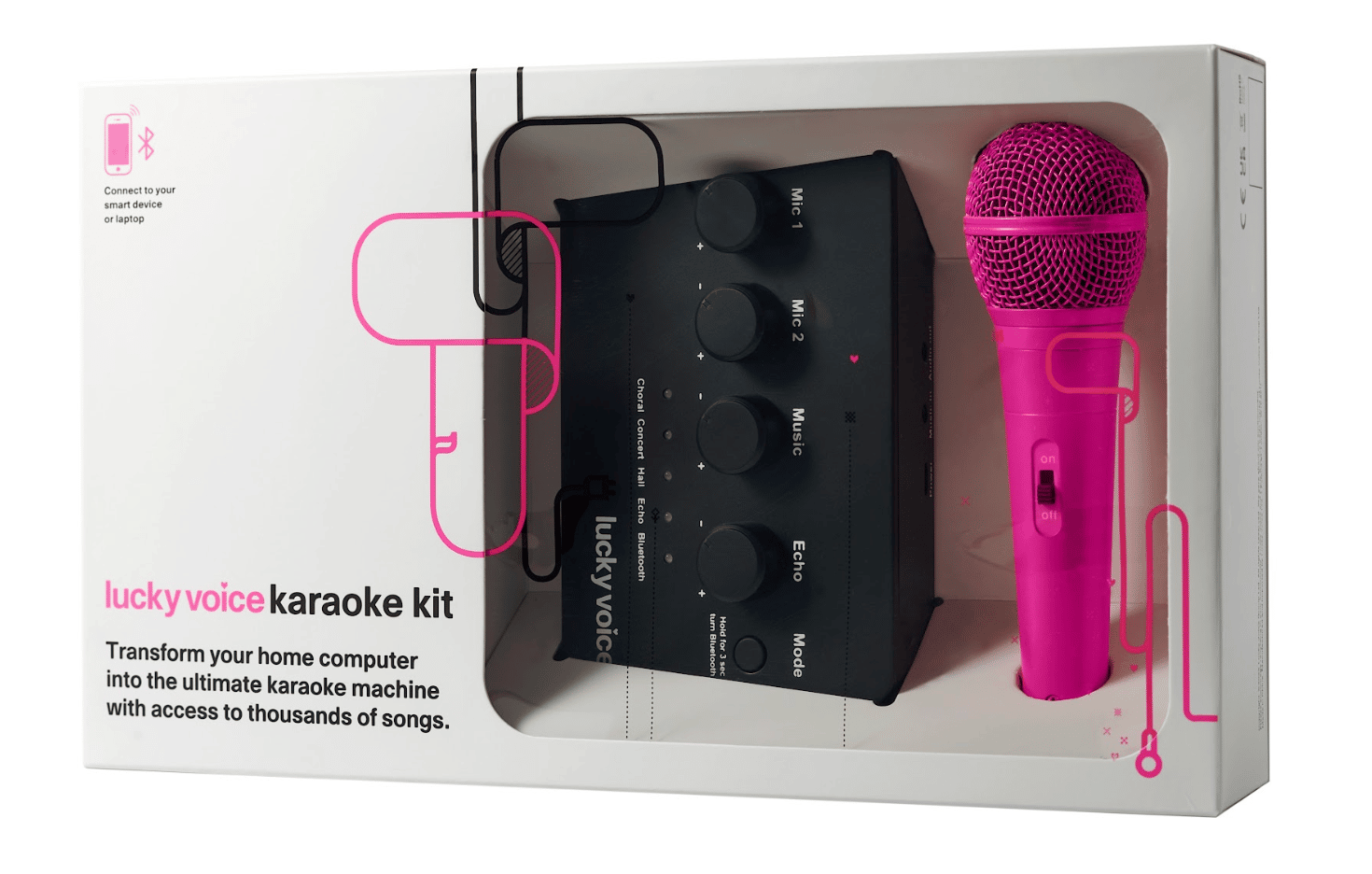 LUCKY VOICE has just landed in the US and is available at Nordstrom, Macys and Bed Bath & Beyond and now available at Amazon. This is a great gift idea for the kids/pre-teens on your list! Choose between two device options and sing your heart out with family and friends! It includes a Bluetooth mic and karaoke in a box! With 5 funky voice effects, 4 hours of singing per charge and a built-in speaker. It is USER FRIENDLY! Simply give it a charge, connect your smart device and you're ready to rock! Kids LOVE it! Your Gold Karaoke Wireless Microphone includes a voucher to access our online singing platform – with access to thousands songs, there's hours of fun for everyone! You connect to your smart device via Bluetooth to stream thousands of songs. You can access thousands of songs and lyrics at Lucky Voice Online Karaoke website, android and iOS apps.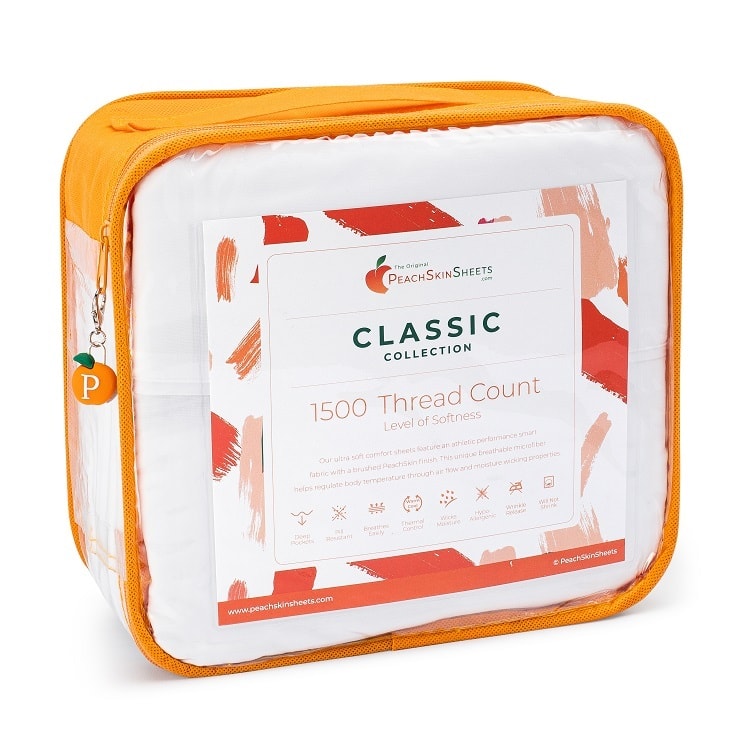 PeachSkinSheets – We love these sheets! They are seriously hands down our favorite and the price is right! The perfect gift for the women in your life. They are GREAT for hot sleepers! Breathable, ultra-soft, anti-pill and anti-snag bed sheets featuring thermal control and moisture management properties…warm sleepers stay cool, and cool sleepers stay cozy.
The durable athletic grade performance SMART fabric wicks away moisture to keep you drier and more comfortable. Best of all, they have a luxurious 1500 Thread Count level of softness with a brushed PeachSkin finish on both sides.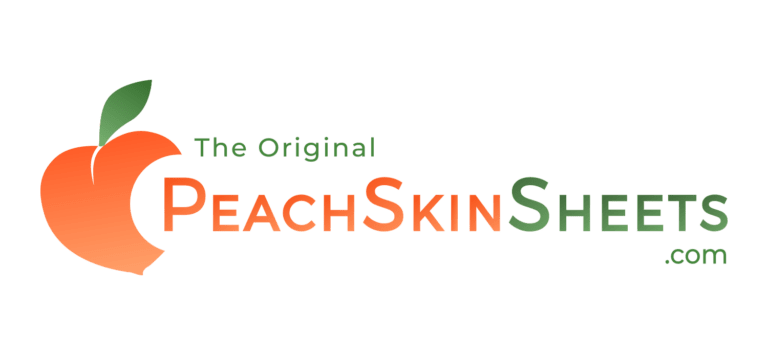 PeachSkinSheets have a wrinkle release that is activated in the dryer on medium-to-medium high heat in about 20 minutes after washing. Available in Split King, Split Head, Cali King, King, Queen, Full, Twin and XL Twin and XL Full. Seriously they feel like they are hugging you while sleep! It is amazing and the only problem is you won't want to get up in the morning.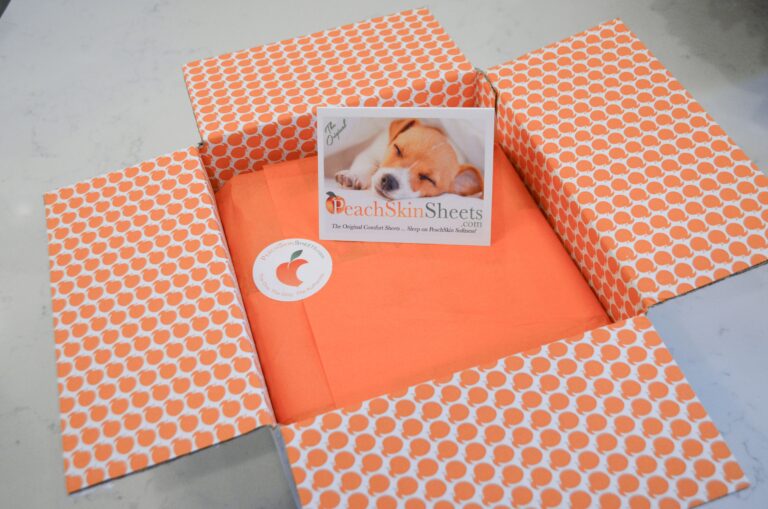 Plus, the price is fabulous! Prices start at $65! They always have 3 Colors of the Month priced at $65 for any regular size sheet set and $85 for split king and duvets. The regular sale price is $85 for any size set while split king/adjustable and duvet specialty sizes are $105. Check out all of the awesome colors available! Here is the link to the current Colors of the Month. We are in LOVE with these sheets! They are the most comfortable sheets we have ever slept on!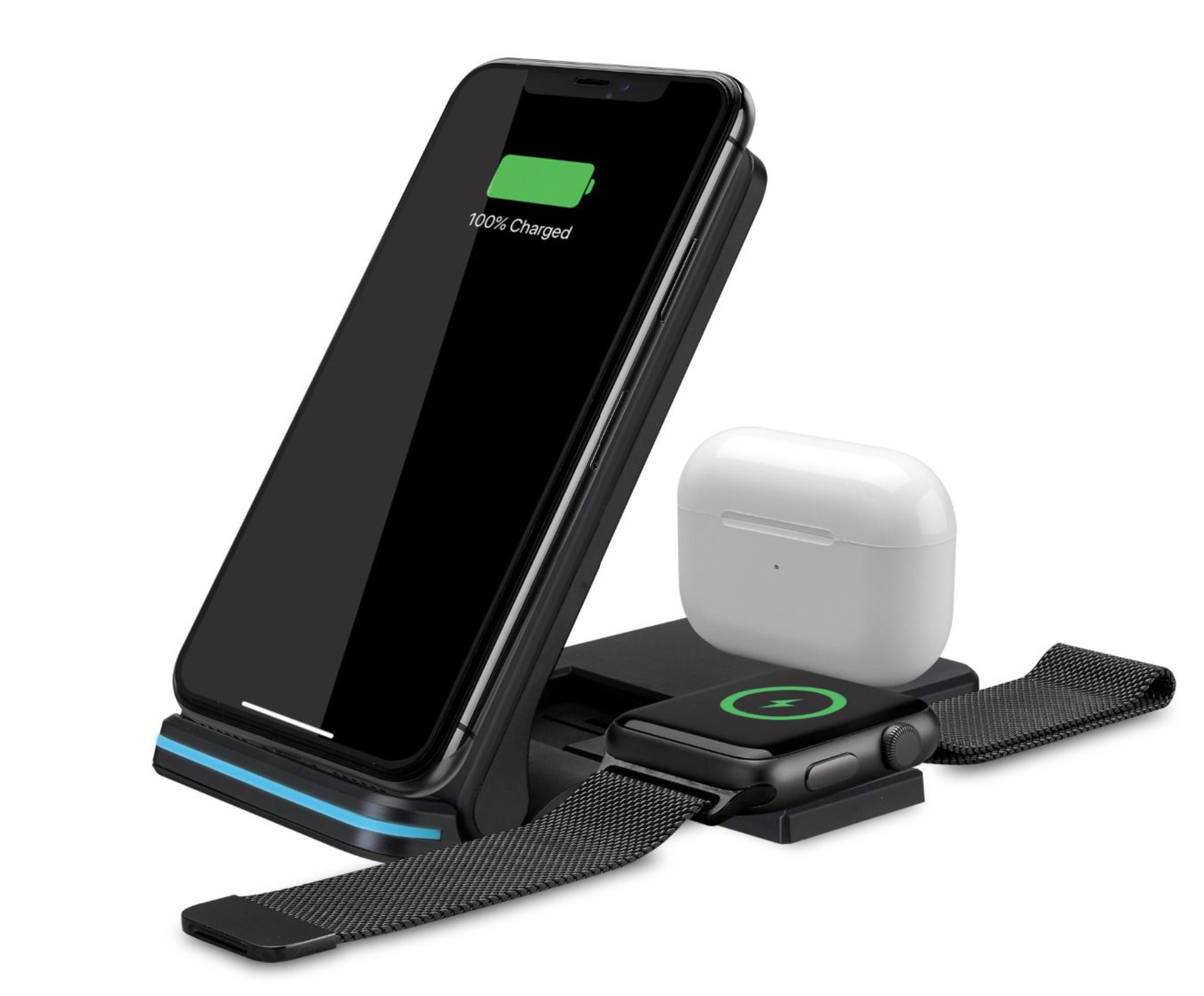 Charging Stand – This 3-in-1 Charging station supports iPhone and Android devices that are wireless charging enabled. It is the best gift idea for everyone on your list! This stand powers and organizes your devices in an efficient and orderly manner. The smart watch charging stand keeps your watch fully charged and Air Pod lightning charging port keeps you powered up for all-day listening. Priced at $59.99. This is great for all the techies on your shopping list.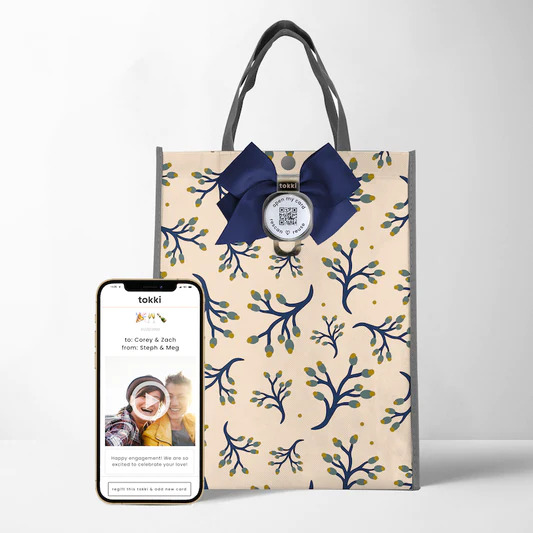 Tokki is reinventing this holiday season with beautiful, reusable gift bags that hold QR-coded customizable and personalized cards. Think of a cute video from a man telling his wife why he adores her alongside a sweet gift, a neighbor receiving cookies with the recipe and photo of them being made, or a message and present from Santa and grandma to her grandchild across the country. The message possibilities and new traditions are endless! Tokkis provide consumers with a 3-in-1 gift wrapping solution, including a stylish bag made with three recycled water bottles, no need for tissue paper (not recyclable!) with a snap-close top and a customizable, shareable QR greeting card unlike any other. Tokki creates a path to track where your gift bag goes. This is a really cool gift wrap idea, and it is more sustainable for our environment too.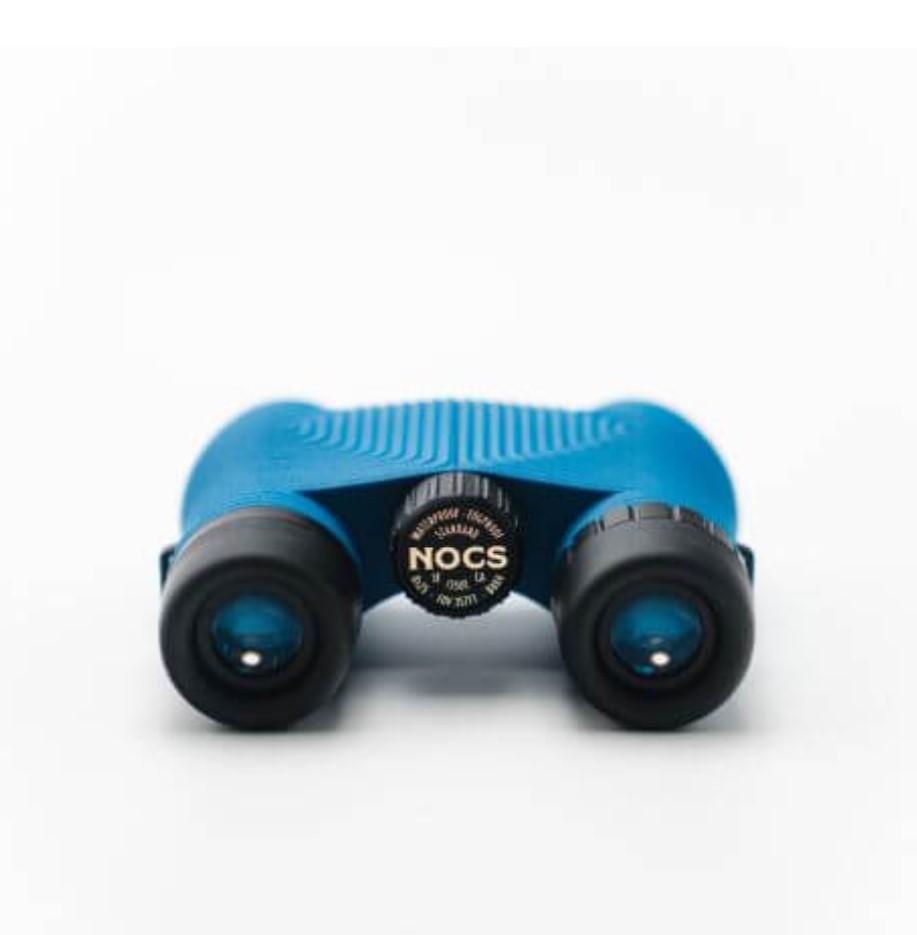 Earthy Tones & Modern Binocs – Nocs Provisions in 5 New Colors. These binoculars from Nocs Provisions are now available in five new colors. Inspired by Mother Nature, these shades remind you to look around and enjoy the view once in a while. The Standard Issues are great for all your adventures. Super compact and crystal-clear optics make these perfect for days on the water, in the mountains, or for city sightseeing. Fully waterproof and fog proof, these are made to be taken everywhere. The Zoom Tube is the ultimate lightweight exploration tool. Small enough to pack for any excursion, yet with optics that pack a serious punch. Rugged and water-resistant, the Zoom Tube is built to get out deep into the field and help explore your surroundings. New Colors: Split Tone, Iris Purple, Icy Mint, Forest Service Green, and Caribbean Blue. Binoculars are my dad's FAVORITE gift of all time! I think he would love these fun colors too!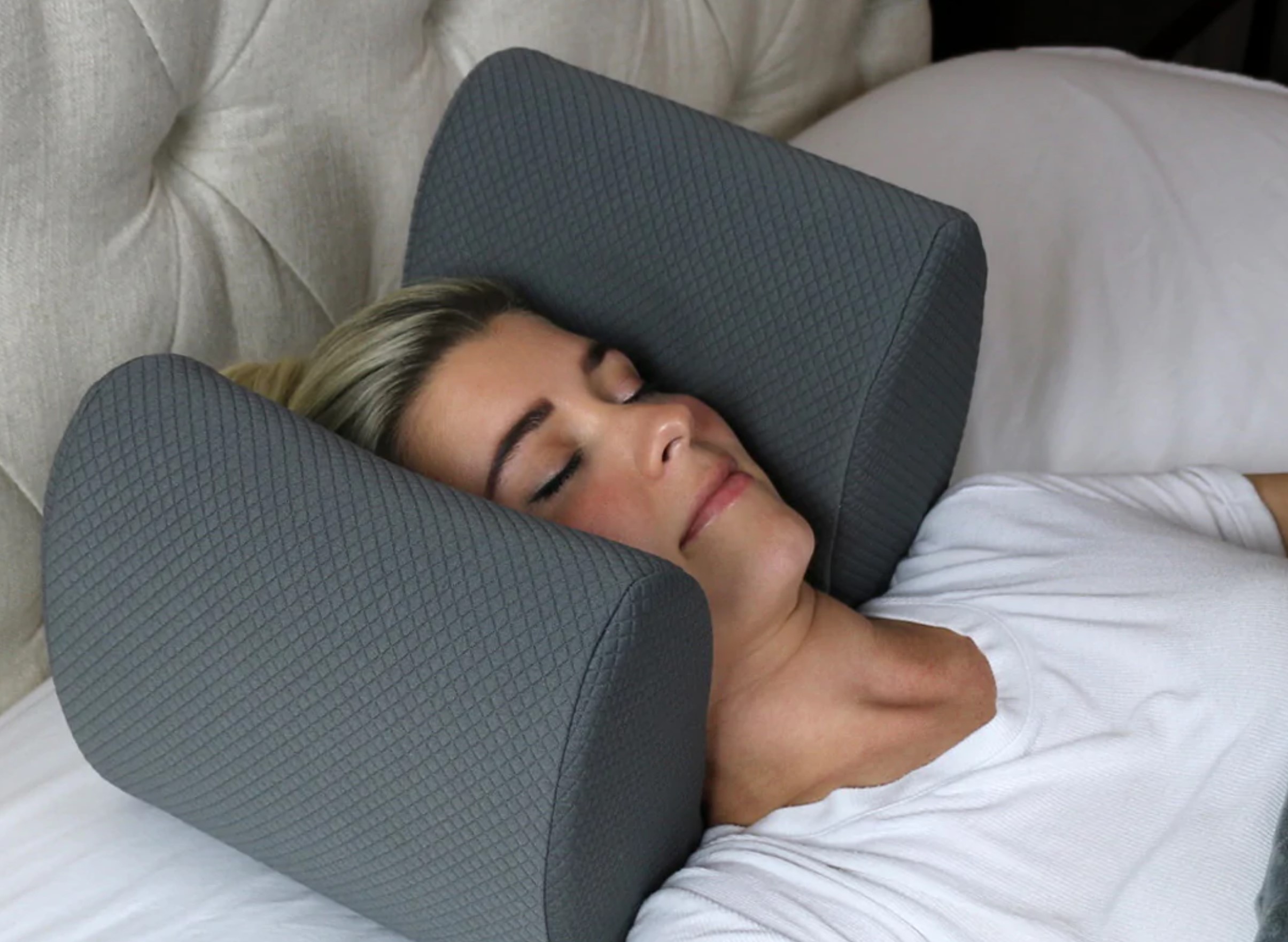 Soli Pillow
–
Soli
– as in solitude – is a unique memory foam pillow with soft speakers built into it so you can listen to white noise, music, podcasts, or audio books while you sleep and block out external noises keeping you awake at night. The Soli Pillow is designed to provide ideal head and neck support and incredible comfort in any position, side or back, so you can relax and fall asleep in a peaceful oasis. The embedded soft silicone headphones conform gently to your head with zero pressure or discomfort and deliver hifi sound over your ears. Soli Pillow has a 10-hour battery life and comes with a charging cable. This is a unique gift idea for sure! Priced at $99.99. The gift of sleep is the most valuable. Check this out for your loved ones.
We hope you enjoy this Holiday Gift Guide 2022. Be sure to check out all of our Holiday Gift Guides.
Stockpiling Moms can be found in all your favorite places! Hop on over to Instagram and follow the fun! We love posting memes, family fun, travel, and whatever we are feeling that day! Pinterest is also an amazing place to visit Stockpiling Moms. This is where you can pin all your favorite articles from our Food, Travel & Lifestyle Blog!
Disclosure: We were provided some of these items for our consideration. All opinions are 100% our own. Some links include affiliate links.
Melissa is a football and soccer mom who has been married to her best friend for 24 years. She loves sharing recipes, travel reviews and tips that focus on helping busy families make memories.