5 Thoughtful Graduation Gifts
With Graduation Season in full swing I thought I would share with you several thoughtful Graduation gift ideas. If you are trying to think of something outside of the box we have some suggestions for you. Of course all Graduates enjoy cash and gift cards. However sometimes you want to include a gift with your cash or something that the Graduate will remember. Check out these 5 Thoughtful Graduation Gifts.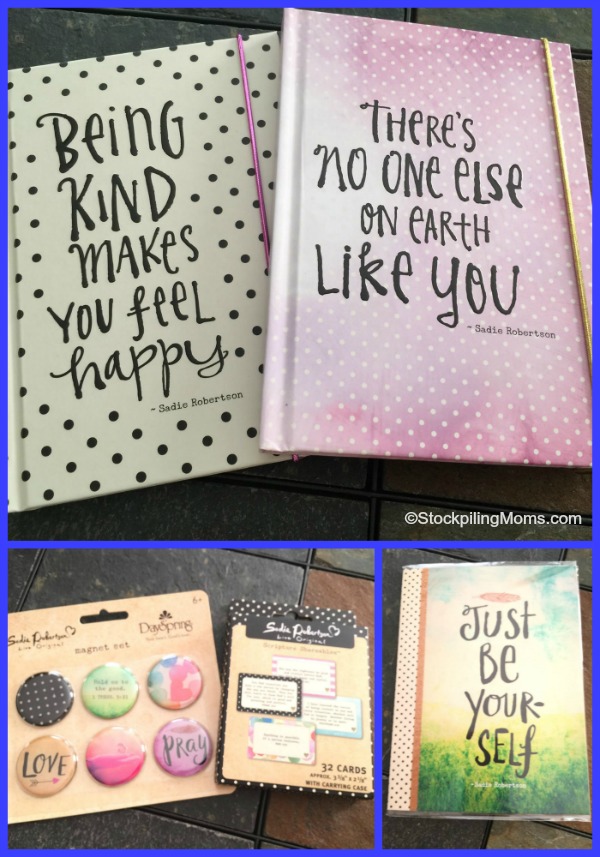 5 Thoughtful Graduation Gifts
I am in total love with DaySpring's new Sadie Robertson product line. It is an inspiring blend of fashion, function, faith, and positive messages from Sadie. She represents the modern girl next door—expressing her love of polka dots, stripes, vintage, and Americana in this high-energy collection of notebooks, binders, locker accessories and more. I personally fell in love with the inspiration and motivational products that feature bright colors and positive messaging such as "you are beautiful," "let your smile change the world," "just be yourself," and more, it's a fresh new way for teens and tweens to live out their faith in a way that inspires others. I think the journals would be the perfect Graduation gift with a little cash tucked inside.
Composition Notebook – Spread the happy with this charming note keeper. Featuring positive messages on the back, it's perfect for flashing toward a friend in the hall to help brighten their day. $3.99
Spirals – Improve the day's outlook, while improving those studies! The Spiral notebook comes in fun colors while sporting Sadie's positive quotes with trend-forward designs. $3.99

3 Ring Binder – The perfect way to carry meaningful words of faith and see them every day. This sturdy and chic binder keeps the school year organized and thoughts positive. $6.99
Journals/Assignment book – What teen wouldn't love a fun journal to record their favorite quotes, adventures, and scriptures throughout the year? Perfect for keeping assignment details and due dates organized. $8.99 to 14.99

OSTER® JusSimple™ Juicer – Introducing a simple, easy way to juice! With the Oster® JusSimple™ Juicer, fresh-squeezed juice, extracted from whole fruits and vegetables, provides the body with essential nutrients, antioxidants and immune boosters in one delicious serving. Rinse 'n Ready™ filter makes cleaning fast and hassle-free with a unique, easy-to-clean mesh coating that eliminates scrubbing to make every juicing experience amazingly easy. Power up to 1,000 watts, soft and hard settings and extra-wide chute conveniently juice a variety of fruits and vegetables without having to cut and chop. The benefits of whole foods can effortlessly be attained as deliciously-fresh juice is collected in a 32-oz. pitcher with froth separator. Juicing is simple with the Oster® JusSimple® Juicer. (MSRP: $99.99 – $129.99). This would be a fantastic Graduation gift. Many college freshman gain weight when they go to college but if you prepare them with a way to make nutritious snacks like green smoothies then you can really set them on the right path for success.
Candy Bouquet – If you are looking for a unique way to give cash then consider making a candy bouquet! You can add "cash" to the gift for the best of both worlds. A little something for the sweet tooth and a memorable way to give the cash too!
Gift Card Bouquet – This is a great graduation gift! If you are considering gift cards as a gift why not create it into a fun Gift Card Bouquet! It is easy to make and best of all this bouquet will last forever!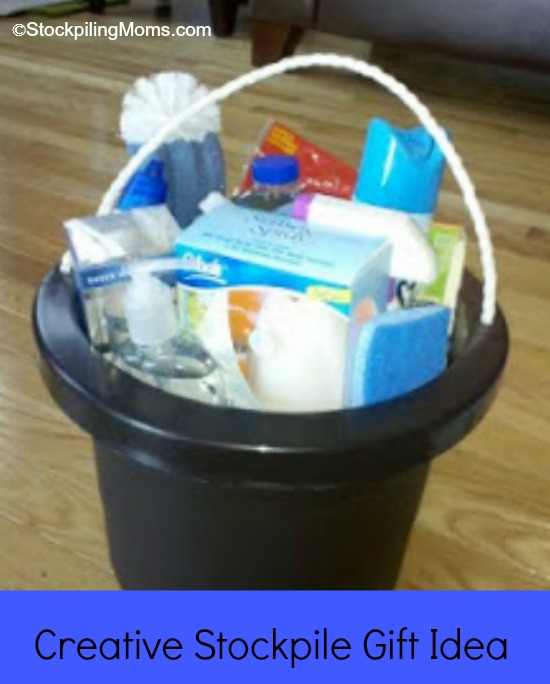 Cleaning Bucket – This is a really useful gift idea. If you have a Graduate who is moving out to their own apartment or dorm then this is a gift I would suggest for sure! Of course you can also add a little cash to this gift as well 🙂 The Graduate will love not having to buy all of these cleaning supplies and it is a great gift to give from your stockpile.
Hopefully these 5 Thoughtful Graduation Gifts will help you when it comes to giving gifts this year!
DIY GRADUATION FAVORS AND TIPS:
Graduation Dorm Room Kit Party Favor
Money Saving Tips For Party Planning
5 Tips for Frugal Party Planning
Melissa is a football and soccer mom who has been married to her best friend for 24 years. She loves sharing recipes, travel reviews and tips that focus on helping busy families make memories.