High Energy Healthy Snacks For Kids In Sports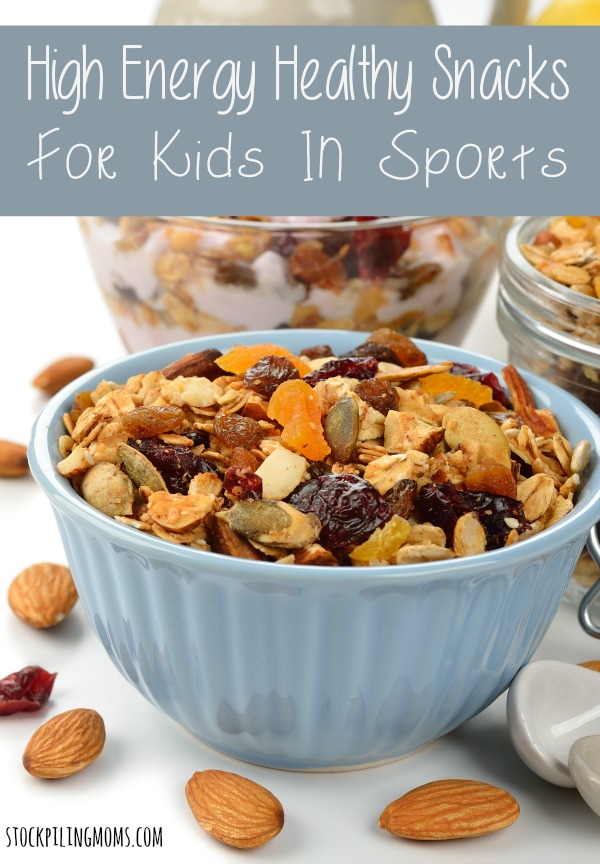 We have pulled together some great High Energy Healthy Snacks For Kids In Sports. Mom's are always keeping their eye out for their kids health and well being. That doesn't end when your son or daughter steps onto the court, field or track this fall whens sports programs gear up. One of the most important things a mom an do for her kids while they are in sports programs, is to feed them good foods that fuel their energy.
High Energy Healthy Snacks For Kids In Sports
Bananas: Not only do they give a natural sugar energy, they are packed full of nutrients that rebuild what is burned during activity. With intense workouts there is a loss of fluids. Along with that comes a loss of potassium. Bananas are an excellent source to help give natural sugar energy, they heal what is lost in the workout process.
Peanut Butter: Full of protein and kid friendly this is another popular source of energy. Make sure to get the natural, no sugar added varieties for optimum health. Or try your hand at making your own homemade nut butters.
Almonds: The last few years more and more information has come out about the health benefits of almonds. Not only are they a great source of protein and energy, they are full of antioxidants.
Baked Sweet Potato Fries: For kids that want something more traditional junk food, baked sweet potato fries are an excellent choice. Not only are they sweet and feel like a real "treat", they are full of beta carotene and antioxidants. We have a great homemade sweet potatoes fries recipe for you that is great for the freezer
Granola: Avoid the highly processed varieties that are full of chocolate or covered in chocolate. Instead make your own homemade granola with organic oats, raw honey, chopped nuts and dried fruits.
Dried Fruits: Raisins have long since been a popular treat for kids. Grab those famous little boxes, or other great high energy dried fruits like apricots, blueberries and apples.
Carrots with Hummus: For a crunchy and savory snack go for baby carrot, celery or other fresh vegetables and some hummus. Packed with protein these are a satisfying snack that fills your kids up, and provides energy and strength
Grilled Chicken: Sometimes you simply need some regular protein. Keeping grilled chicken strips handy in your freezer to heat and eat is a great snack solution before practices.
Fruit Smoothies: Frozen banana slices, strawberries, blueberries, mango and a few pieces of spinach or kale blended with almond milk or low fat milk or juice make a great high energy smoothie.
This year don't let the constant activities get your kid down. Make sure they are eating a well rounded diet full of nutrient dense foods. These high energy healthy snacks for kids in sports are perfect for adding the protein, complex carbohydrates and energy they need so much. Don't forget to keep plenty of water on hand for re-hydrating too! Their bodies need fuel and water to keep going and stay strong. If your kids don't like "plain" water – then try out these 10 healthy water recipes.
Sports Ideas:
Check out these Game Day DIY Projects:
Melissa is a football and soccer mom who has been married to her best friend for 24 years. She loves sharing recipes, travel reviews and tips that focus on helping busy families make memories.