Tips For Staying Whole 30 While Eating Out
Here are some Tips for Staying Whole 30 While Eating Out. If you are following our Whole 30 journey, then you know the guidelines can be a bit restrictive. When you are going out to eat, it can prove daunting trying to figure out what is okay to eat in a restaurant.
The choices can be overwhelming, and you may be worried that you will just end up falling off the wagon and going backwards in your healthy lifestyle goals. We have some great tips to help you stay Whole 30 while eating out with your friends and family.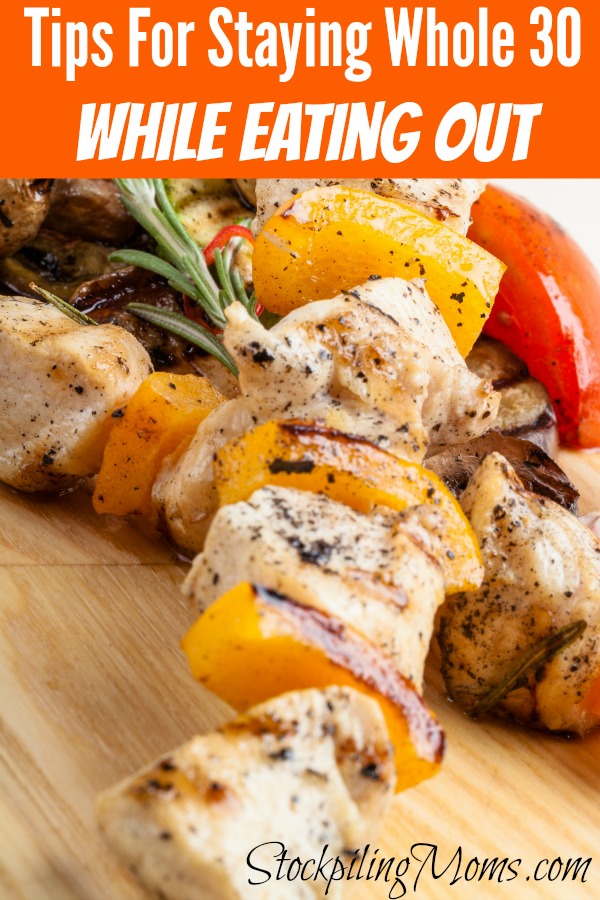 Tips For Staying Whole 30 While Eating Out
Check out the menu online before you dine. One of the best ways to go in prepared is to check out the restaurant menu online prior to eating out. This gives you a chance to look at not just basic menu items, but their ingredients, as well as cooking methods. While you may not be able to find all of the answers you want, you may be able to weed out what appears to be a safe choice. You can also contact the restaurant directly to ask about their options for special menu requests.
Follow the GBB rule. Grilled – Baked – Broiled. When you are looking at a menu, one of the best things to do is to look for items that are grilled, baked, or broiled. Most often, these items are less likely to have breading or a coating that will cause issues on your Whole 30 plan. However, beware that some baked items will also be a hazard. Things like casseroles are definitely a no since they will often include a lot of ingredients that are overly processed. Always ask if the item is basted with butter when ordering.
Fresh salads without dressings are a good idea. Instead of ordering the classic salad dressing, opt for a slice of lime or some guacamole instead. These are safer choices that are unlikely to have the additional sugar you will find in even the healthiest dressing options on a restaurant menu. Avocado offers the creaminess you want, and a bit of lime helps moisten the salad greens making it easier to eat. Do not hesitate to bring your own Whole 30 approved salad dressing. Also be sure to order your salad without ingredients that are not Whole 30 approved (bacon, corn, croutons, cheese).
Focus on what is approved. Instead of worrying about all the things on the menu that you aren't allowed, focus on the things you know are okay on the Whole 30 plan. This is one time where indulging in a nice steak is a great choice you know a grilled steak is less likely to have offending ingredients in the preparation. You can enjoy a traditional baked potato or baked sweet potato in most restaurants. Feel free to bring your own ghee to enjoy on your potato! Add some steamed or grilled vegetables on the side and you have a super easy meal that is delicious and doesn't make those around you wonder why you are ordering "weird food". Be sure to confirm the sides are also dairy free.
Skip dessert. This may be the hardest part of your meal, but it is easy to beg off on dessert when you fill up on the healthier items on the menu. Very rarely will you find a restaurant that offers a Whole 30 approved dessert. Instead, order a cup of black coffee and enjoy some time with your friends and family. You may be able to order a cup of fruit or berries.
These tips for staying Whole 30 while eating out are easy to follow. Not only can you manage a great meal out with friends and family, but you'll also do so without compromising our progress thus far.
Whole 30 Dining Out Options:
A tip is to look for gluten free menus when dining out however remember that many items contain sugar, soy and dairy so you have to be careful.
Chipotle: Order the carnitas bowl with lettuce, carnitas, tomato salsa and guacamole. Feel free to bring your own plantain chips! At this time these are the only compliant items.
Texas Roadhouse: Order any steak without the seasonings and butter brush, a traditional baked potato or baked sweet potato and salad without croutons. Feel free to bring your own dressing and ghee.
Chick-fil-A: Chick-fil-A Cobb Salad with no corn, cheese or bacon and grilled nuggets without marinade. Bring your own salad dressing.
Cheesecake Factory: Cobb Salad without Blue Cheese, Bacon and Dressing. They added walnuts, cucumber and carrots on my salad. Bring your own salad dressing.
Moerlein Lager House: Salmon, Roasted Brussels Sprouts and Roasted Potatoes – Ask for your food to be prepared without butter and white wine. This was the best meal I ate dining out on Whole 30. Ask to speak to the chef once you are seated. This is located in Cincinnati, OH.
Carrabbas: Johnny Rocco Salad – Wood-grilled shrimp and sea scallops served over mixed greens tossed with roasted red peppers, kalamata olives. Order without ricotta Salata and Italian vinaigrette dressing (be sure to ask for your salad to be dairy free). Bring your own salad dressing.
Malone's: Salmon Spinach Salad – Made with fresh baby spinach, tomato and hard cooked egg. Request no provolone cheese, raspberry vinaigrette or candied walnuts. They added chopped walnuts on my salad. Be sure to bring your own dressing. This is located in Lexington, KY.
Stockpiling Moms can be found in all your favorite places. Hop on over to Instagram and follow the fun. We love posting memes, family fun, travel, and whatever we are feeling that day. Pinterest is also an amazing place to visit Stockpiling Moms. This is where you can pin all your favorite articles from our Food, Travel & Lifestyle Blog.
Melissa is a football and soccer mom who has been married to her best friend for 24 years. She loves sharing recipes, travel reviews and tips that focus on helping busy families make memories.