How to help a cough with Vicks VapoRub
Want to know How to help a cough with Vicks VapoRub? It is true! This may seem like an old wife's tale, but we swear by this tip!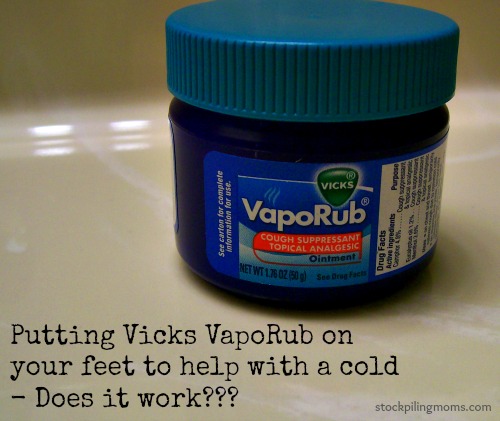 The smell of Vicks VapoRub always reminds me of being sick as a child. The moment I would start to cough as a little girl I was getting my chest rubbed with Vicks and my tootsies would get a rub down and socks put over them. When I would wake the next morning, my cough was better, and I always seem to feel better. Now that I am a mom, I use Vicks VapoRub on my children's feet whenever they start to get a cold and it helps them.
All you need to do is apply a generous amount of Vicks VapoRub on the sole of their feet and put a sock over it. They will sleep so much better and usually wake feeling more refreshed. I also still do this for myself. Last week I wasn't feeling good and coming down with the latest virus going around and lathered my feet and woke feeling much better. So next time you are feeling under the weather, or your children are, be sure to go grab the little blue container of Vicks VapoRub 🙂
Do you know why? Your skin is the largest organ of your body. When you apply Vicks through the soles of your feet that is a thinned skinned area which helps you absorb it quickly 🙂 Your feet have the largest pores. It is like an IV into your body. Your feet also contain reflexology points where you can target certain body parts for more direct healing.
From a reader: Love that Vicks tip! A few weeks ago, my husband was keeping us all up through the night with a hacking cough. I even drove around at 3 am for about 45 minutes trying to find a store or pharmacy that was open. Never did find one, but I came home and rubbed Vicks on his feet, and he didn't cough again until morning. It really works!
Be sure to check out these other tips:
Winter Detox
Choosing a Good Probiotic for Your Health
5 Tips for avoiding the January Blues
Candida Yeast Overgrowth Detox
Detox Your Body – Remove Toxins and Lose Weight
Shelley is a boy mom, marine wife, and is blessed with an amazing family. She loves sharing recipes, travel reviews and tips that focus on helping busy families make memories.