Great Convenience Foods For Healthy Diets
One of the biggest stumbling blocks in weight loss is food. Finding the right convenience foods for healthy diets is really important for busy moms. When you are working hard to lose weight, make sure your family is fed and happy, as well as juggle a job or household management it can be overwhelming. A few great healthy alternatives for snacks, breakfasts, fast lunches, or even meal replacements are a must. Hope this article about Great Convenience Foods For Healthy Diets helps you plan!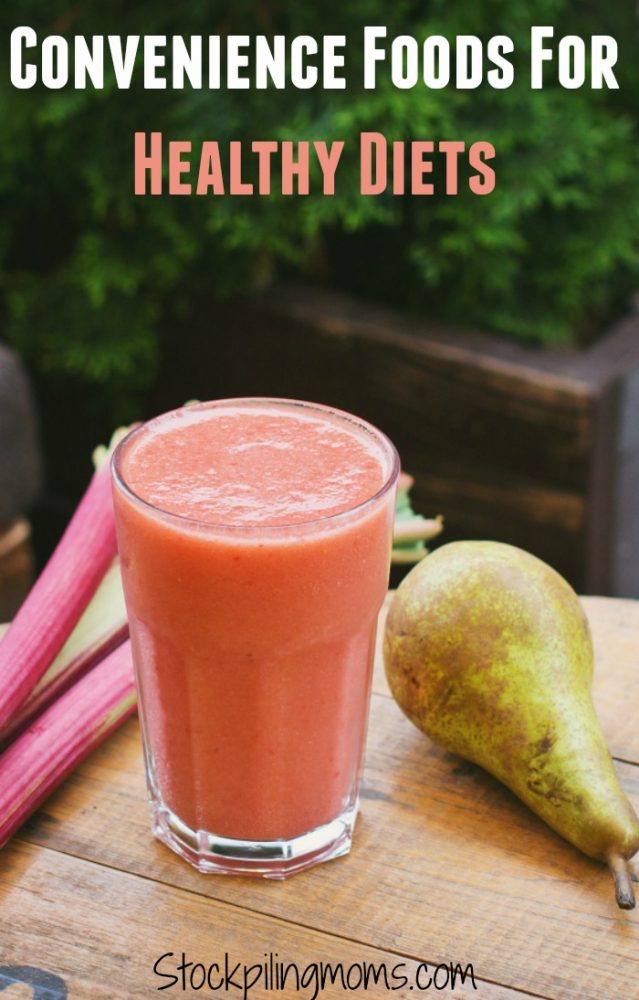 Great Convenience Foods For Healthy Diets
This post contains affiliate links.
These convenience foods for healthy diets won't all fit into every dietary category. Some are gluten-free, others are simply calorie controlled. Some are sugar-free or low on the glycemic index. The main theme is that all of them are easy to portion control, and are a better option than stopping at a drive thru for a fast snack or meal.
For convenience, I am separating these by categories you may be familiar with. Snacks for times when you are super busy but need a quick bite to eat. Meal helpers that make your fresh produce and lean meats easier to create a whole meal.
Snacks
This list includes a few of my favorite items that are easy to grab and have on-the-go. Eating healthy doesn't have to always require long hours in the kitchen. Instead, you can grab a few of these items for your pantry for early morning breakfast when you are headed out the door fast, or have in your bag for soccer games, shopping trips, or road trips that might otherwise lead to poor choices.
Meal replacement bars: These are good for replacing breakfasts, but also a good snack for protein and energy between meals when you have to go longer than normal and get hungry. They are usually calorie controlled and high in protein. My favorites are Larabar, Simply Protein, and Zego Bars. These all have gluten-free and paleo options, as well as many nut-free, allergen-free, and diabetic-friendly versions for special diets.
Kale Chips: These have become super popular in recent years since they are so high in nutrients and are made by baking rather than frying the kale. While not everyone is a fan, there are multiple options available in everything from salt & pepper to garlic and Parmesan flavors. I prefer to make my own homemade kale chips, or buy Raw Food Classic's varieties.
Roasted Nuts: For convenience, I buy nuts like almonds, sunflower seeds, and pistachios and then divide them into portion baggies so I know I am not overeating. No matter what your diet is, nuts are a great choice as long as you don't have tree nut allergies. You can also make your own homemade trail mix, but that can get high in calories fast depending on what you add to the mix.
Fresh veggies & fruit: There is nothing as yummy as a piece of fresh fruit, but many don't like to take the time to prepare things like watermelon, cantaloupe, or pineapple for snacks. While I usually would say it is a waste of money to buy preapred items, if it helps you stay on track it is a good investment. Fruit that has been portioned or at least cubed, as well as veggie trays in your grocery deli area are a great choice for healthy convenience foods.
Turkey Jerky: While I tend to avoid processed items when possible, especially those high salt and preservatives, turkey jerky is a must on my list. High in protein and tons of flavor, it is often just what I need in a portion controlled container. I prefer Krave Jerky, Old Wisconsin Turkey Snacks, or Nick's Sticks. These offer the best flavor and fewer preservatives.
Eggs: Once a week, I prepare hard boiled eggs to have for easy breakfasts or snacks throughout the week. This is fast and easy for me to cook and pop into the refrigerator. They are ideal for super fast meals on-the-go, and can even be dressed up with a sprinkle of seasoning.
Greek Yogurt: While there are tons of great flavors of Greek Yogurt out there, for health reasons, I recommend using non-fat plain yogurt and simply adding in some fresh fruit and honey for sweetening. This is a great healthier option that helps you get dairy and protein into your diet without a ton of fat and sugar.
Meal Helpers
Real convenience foods for healthy diets are what will help you cook meals for your family fast, easily, and without tons of expense. I have a few specific items that help me accomplish this easily without sacrificing my calorie needs or their flavor preferences.
Quick cook grains. I love quick cook quinoa and of course brown rice. I prefer a quick cook version, and there are tons to choose from. These can cook in a rice cooker in just a few minutes while you prepare the rest of your meal. I also love using rice pasta in pasta dishes since it is gluten-free.
Frozen potatoes. Alexia is my go-to brand for quality frozen potato products. I prefer sweet potato fries, tots, and hash browns as they offer more nutrition. They are fast and easy to pop into the oven and cook while grilling chicken.
Frozen organic vegetables. Nothing helps your meal come together faster than popping a bag of frozen veggies in to cook. I spend just a bit more to buy organic vegetables and always have some on hand for a healthy side. We prefer broccoli, green beans, brussels sprouts, and mixed vegetables.
Organic salsa. A jar of salsa with a few chicken breasts is all you need to make the always versatile Crockpot Salsa Chicken we love. I keep a few jars of various types of organic salsa in the pantry to add to chicken, beef, or to top a baked potato. It offers tons of flavor, veggies you need, and has practically no calories.
Organic jars of pasta sauce. I love the ease of creating a simple dish using some rice pasta, brown rice, or potatoes with a sauce and lean protein along with a side of vegetables or a salad. If you don't like creating your own sauces, check out various organic sauces available in the grocery store. Things like marinara, alfredo, and even curry are all good options that offer tons of flavor and are pantry stable.
These are my favorite convenience foods for healthy diets! I hope you like this list and find it useful in your own diet plan this year.
Stockpiling Moms can be found in all your favorite places! Hop on over to Instagram and follow the fun! We love posting memes, family fun, travel, and whatever we are feeling that day! Pinterest is also an amazing place to visit Stockpiling Moms. This is where you can pin all your favorite articles from our Food, Travel & Lifestyle Blog!
Melissa is a football and soccer mom who has been married to her best friend for 24 years. She loves sharing recipes, travel reviews and tips that focus on helping busy families make memories.