Can you use essential oils to care for your baby?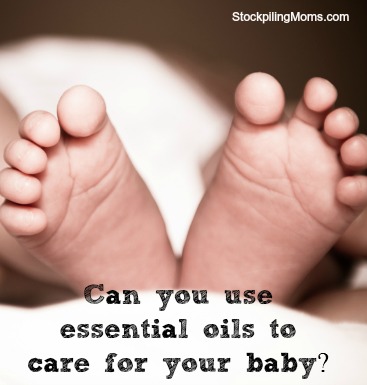 Can you use essential oils to care for your baby? I wish I had the knowledge I do today when Peyton was born. If you are expecting a baby or know someone who is the single BEST gift you could give is essential oils. Essential Oils Most Commonly Recommended for Babies: Grapefruit, Lavender, Lemon, Mandarin, Melaleuca, Orange, Roman Chamomile and German Chamomile.
Can you use essential oils to care for your baby?
Safety Precautions: Because a baby's skin is so delicate you MUST dilute all essential oils before applying them to the skin. A good rule of thumb is to dilute one drop of essential oil with 1 Tablespoon of carrier oils. Carrier oils include jojoba oil, avocado oil, sunflower oil, extra-virgin olive oil, etc.
Avoid diffusing very strong oils such as cinnamon, peppermint, or oregano in a baby's room. It is a good idea to cover the baby's feet with socks after applying essential oils and to avoid applying oils on the baby's hands so that the oils don't end up in the baby's mouth.
Using the oils internally for children under 6 years is not suggested by doctors. It is suggested to use all essential oils with a carrier oil for children if under the age of 6. Always consult your pediatrician before using essential oils.
Can you use essential oils to care for your baby?
Tummy Pain: Mix 1 drop Roman Chamomile and 1 drop Orange with 2 teaspoon carrier oil. Add 1 teaspoon of the mixture to warm bathwater and stir the oils into the water with your hand before bathing the baby.
Stuffy Nose: Diffuse 2 drop of melaleuca, lemon or lavender at bedtime and again the day. Mix 1 drop melaleuca, lemon, or lavender with 1 Tablespoon carrier oil; a small amount to massage upper chest and back at each diaper change.
Fussy Baby: Mix 1 drop lavender with 1 Tablespoon carrier oil. Gently massage a few drops into the abdomen stroking clockwise to follow the direction of the colon.
Cradle Cap: Combine 2 Tablespoons almond oil with 1 drop lemon and 1 drop geranium. Apply a small amount of this blend on the baby's head.
Crying: Place a drop of lavender or Roman chamomile or Lavender on a tissue (or rub on parent's hands), and let the infant smell the oil. DO NOT LET THE BABY TOUCH THE OIL.
Diaper Rash: Combine 1 drop German chamomile and 1 drop of Lavender with 1 drop of whole milk. Add the mixture to bathwater, and swish around with hand before bathing the baby. Keep oils away from the baby's eyes and face.
Teething: Mix 1 drop of Roman Chamomile or Lavender with 1 TBSP of carrier oil. Use a small amount to gently massage on the outside of the face along the jawline.
Disclosure: We are NOT providing medical advice. Always consult your pediatrician for medical treatment. The advice shared in this page has not been evaluated by the FDA. The products and methods recommended are not intended to diagnose, treat, cure or prevent any illness or disease, nor is it intended to replace proper medical help.
Essential Oils Posts:
Uses and Benefits of Lavender Essential Oil
Use and Benefits of Lemon Essential Oil
Uses and Benefits of Slim and Sassy Essential Oil
How to remove sour smell from wet clothes
34 Uses for Lemon Essential Oil
Melissa is a football and soccer mom who has been married to her best friend for 24 years. She loves sharing recipes, travel reviews and tips that focus on helping busy families make memories.