How to make a Sports Survival Kit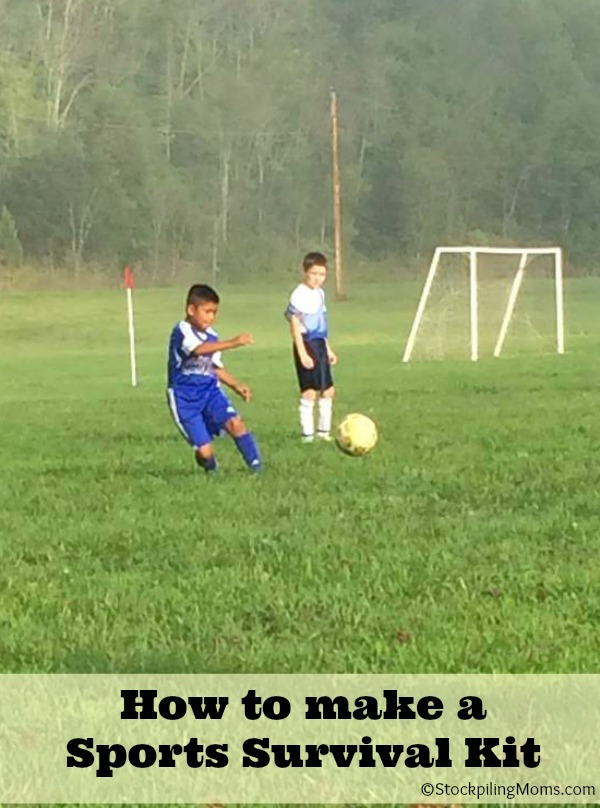 Do you have kids on sports teams? If the answer is yes you are going to want to make a Health & Wellness Kit to take along at all of your practices and games, just in case! Check out these ideas for inspiration! If you are an active family that is on the go you are going to need to be ready for anything, including minor accidents – cuts, scrapes, lacerations, burns, insect bites and sprains just to name a few. If you have a child who plays sports or for that matter if you have a child who doesn't play sports this kit will come in handy. It is always best to be prepared in case of accident or injury so you can treat it, so it doesn't turn into something worse.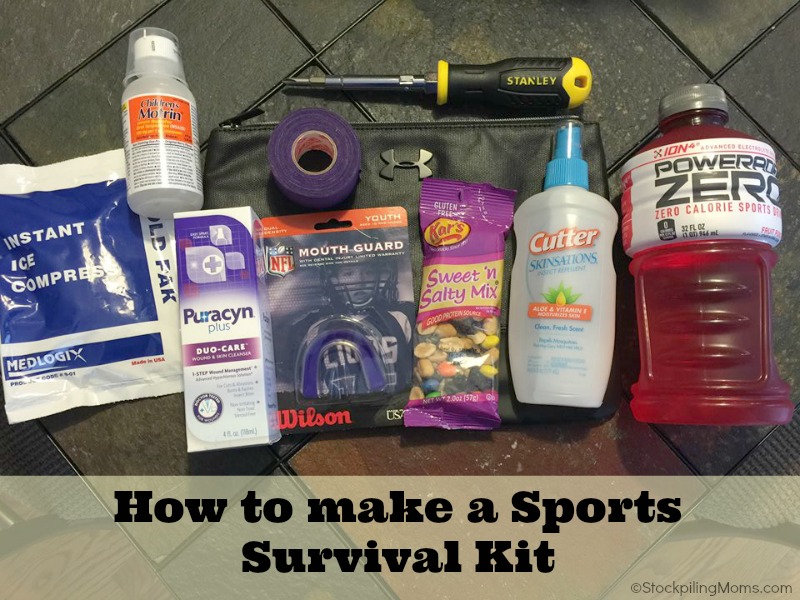 With spring on the horizon that means you will be outdoors soon, and you may find yourself dealing with a minor first aid incident. A sports survival kit may come in handy on the soccer field, baseball field, at a swim meet or even on the playground. We would love to know what you do to keep your kids from being sidelined. When it comes to keeping Peyton healthy on the go, I rely on my Sports Survival Kit. I have turned to it so many times to handle emergencies and injuries. Here is a roundup of essentials every parent with active kids needs to keep on hand, whether they're on the court, field, mat, vacation or backyard.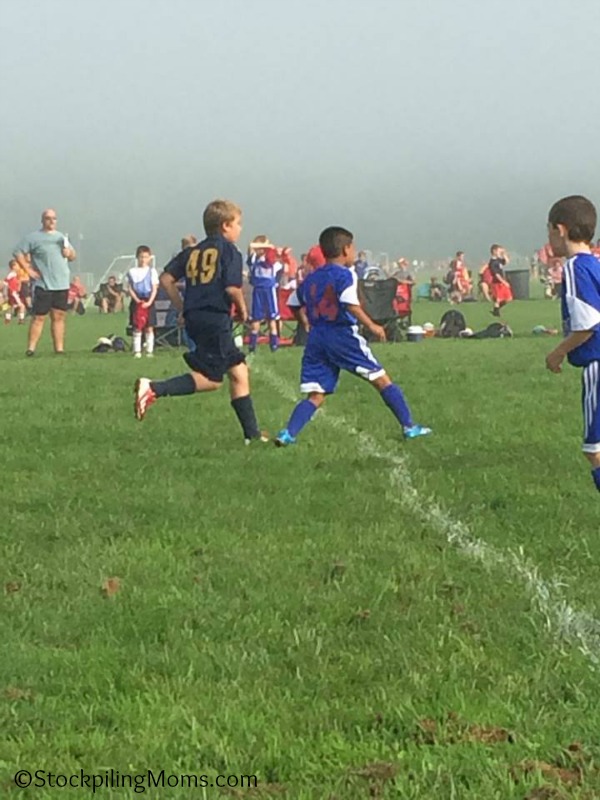 How to make a Sports Survival Kit:
Puracyn® Plus Duo-Care™ Wound & Skin Cleanser. Puracyn Plus is a completely new "first step in first aid" for effective wound cleaning — more effective than soap and water, less irritating than peroxide and alcohol, doctor-tested and completely safe for use virtually anywhere on the body (even the eyes, ears and mouth!), and it won't sting like many other methods will! Cleaning a wound is a critical step, and the advanced, science-based hypochlorous solution in Puracyn® Plus not only cleans better, but is quick, safe and steroid free. Perfect for on-the-go, its one-step spray application eliminates the need for running water and messy ointments for thoroughly cleaning minor wounds. It's a must-have for every family.
Pain Medicine: I always take a bottle of pain medication for the adults and one for the kids. You never know when your child may be injured, have a headache or even become feverish while on the go. It is always better to be prepared.
Ice Pack: In case of an injury, it is important to apply ice quickly. We learned this the hard way last year when Peyton and another member on his team collided. He ended up with a swollen eye and by applying ice quickly we were able to reduce the swelling and bruising.
Bandages: I like to pack band-aids, gauze and adhesive tape so that I am prepared in case of an injury or wound.
Hand Sanitizer: This is a must. We often don't have access to running water or even bathroom facilities while we are at soccer games and tournaments. Taking your own hand sanitizer is a must for soccer Moms.
Wipes & Tissues: I always bring wipes with me. They are perfect for wiping hands and in case we can't find a bathroom, or the kids eat fruit after the game we have something to clean up the mess with.
Allergy Medicine: I always take a bottle of allergy medication for adults and children. When we are outdoors, we often find that our allergies flare and by being prepared we are able to deal with whatever allergens may come our way.
Snacks and Drinks: It is important to stay hydrated and keep your blood sugar level when you are playing sports. In fact you can drink a sports drink to relieve a headache without medication while you are on the go. This trick works well!
Nose Bleed Kit – This comes in handy on sideline! Trust me, you will want one in your bag.
Optional: Mouth Guard, 6 Way Screw Driver (we use this for assembling our tent at games and tournaments) and Insect Repellent.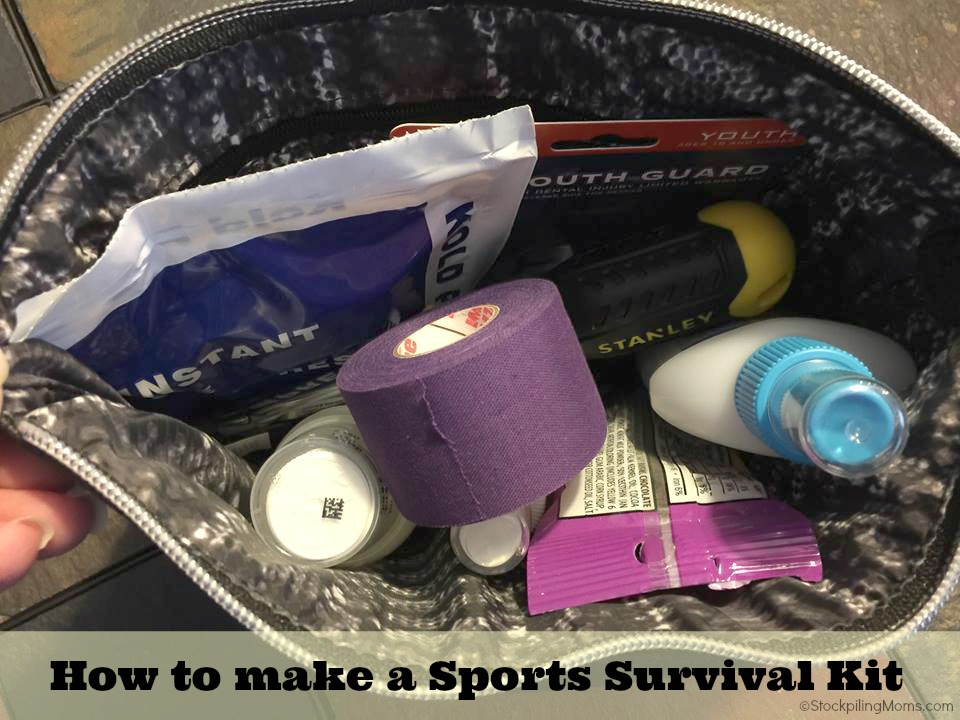 I hope this Sports Survival Kit helps you while you are on the go this year with your kids! Remember it is always better to be prepared! It will save you time and money.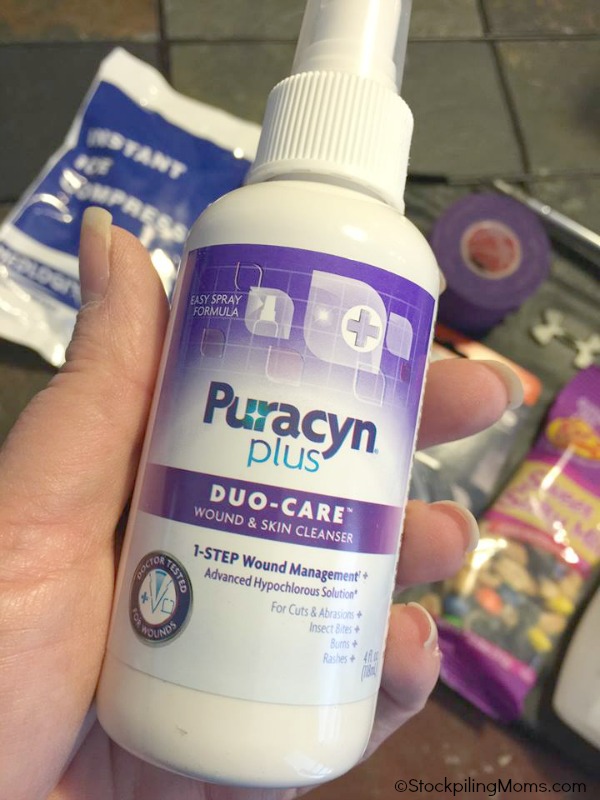 I think Puracyn would be perfect for soaking blistered or exhausted feet or dealing with ingrown toenails too!
Disclosure: This is a product-sponsored conversation written by me on behalf of Puracyn® Plus Duo-Care™ Wound & Skin Cleanser. The opinions and text are all mine.
Hop on over to Instagram and follow the fun! We love posting memes, family fun, travel, and whatever we are feeling that day! Pinterest is also an amazing place to visit Stockpiling Moms. This is where you can pin all your favorite articles from our Food, Travel & Lifestyle Blog!
Melissa is a football and soccer mom who has been married to her best friend for 24 years. She loves sharing recipes, travel reviews and tips that focus on helping busy families make memories.