What does it feel like to have a Mammogram?
This summer I had my first Mammogram. I turned 40 and my Mammogram was my birthday present to myself. What? Yep, you are reading that correctly. After my birthday I called to schedule my first Mammogram. So what does it feel like to have a mammogram?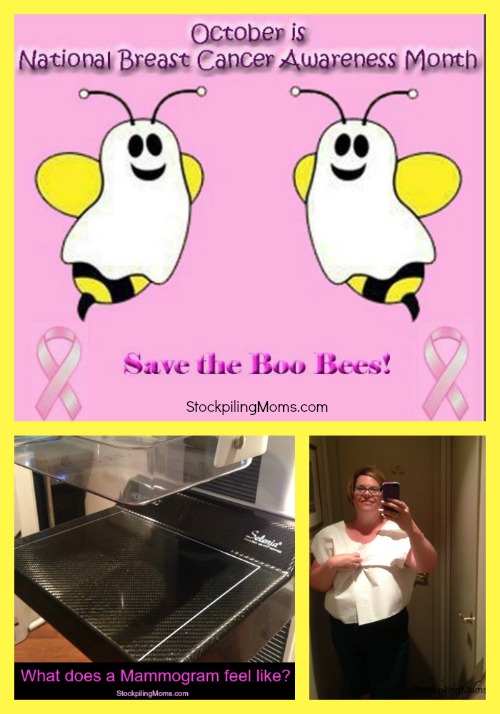 My friend Paula had recently had a Mammogram detect a cancerous lump that resulted in a mastectomy that saved her life and when I read the news on her Facebook wall it really gave me the extra motivation to call and schedule mine.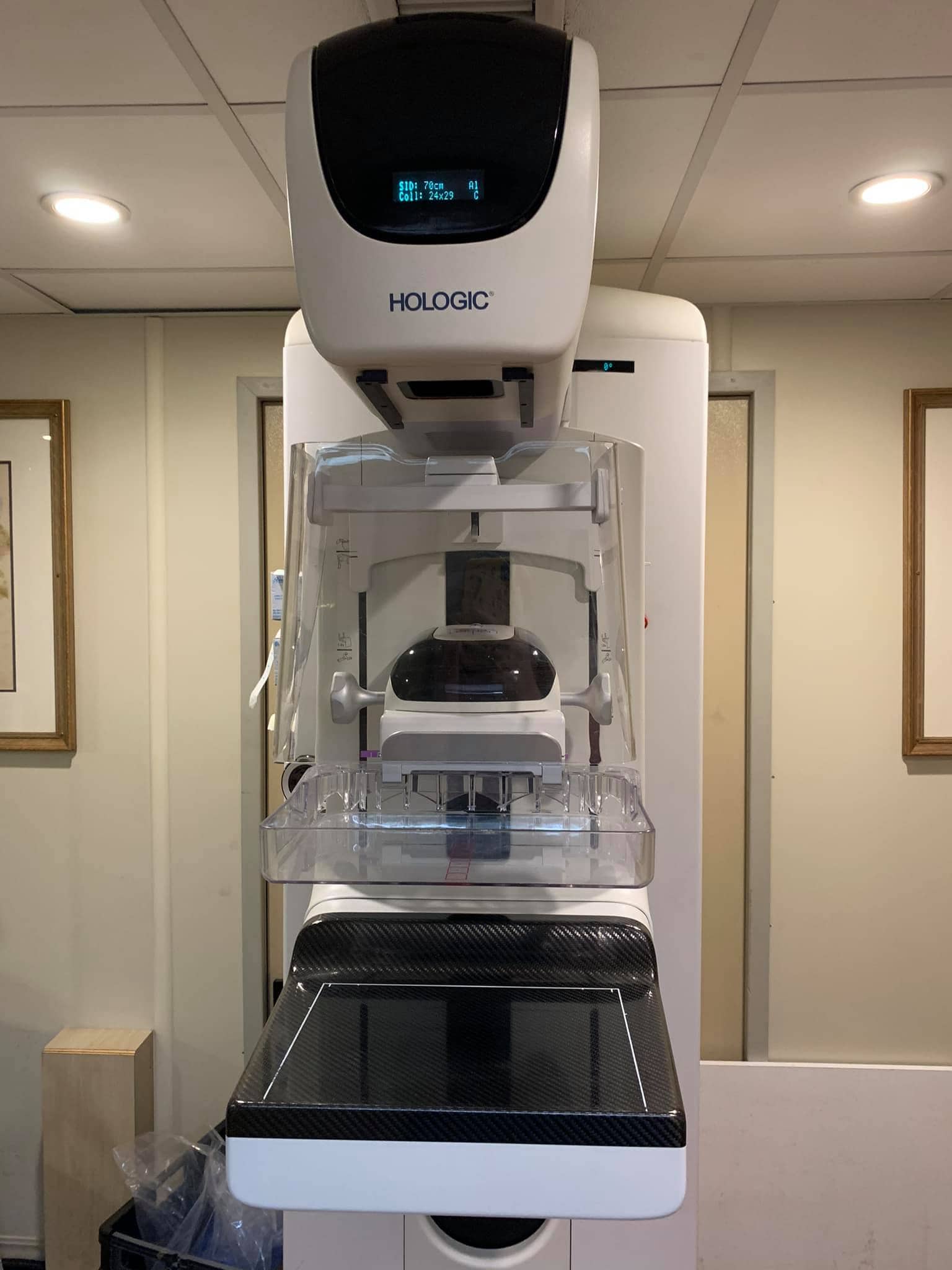 Mammograms are a pivotal role in early breast cancer detection partnered with self breast exams. The goal of the mammogram is to detect breast cancer before clinical signs are noticeable. Mammograms can often show a breast lump before it can be felt through breast exams just like for my friend Paula. It is important to continue with or start doing self breast exams but don't rely on them to detect breast cancer.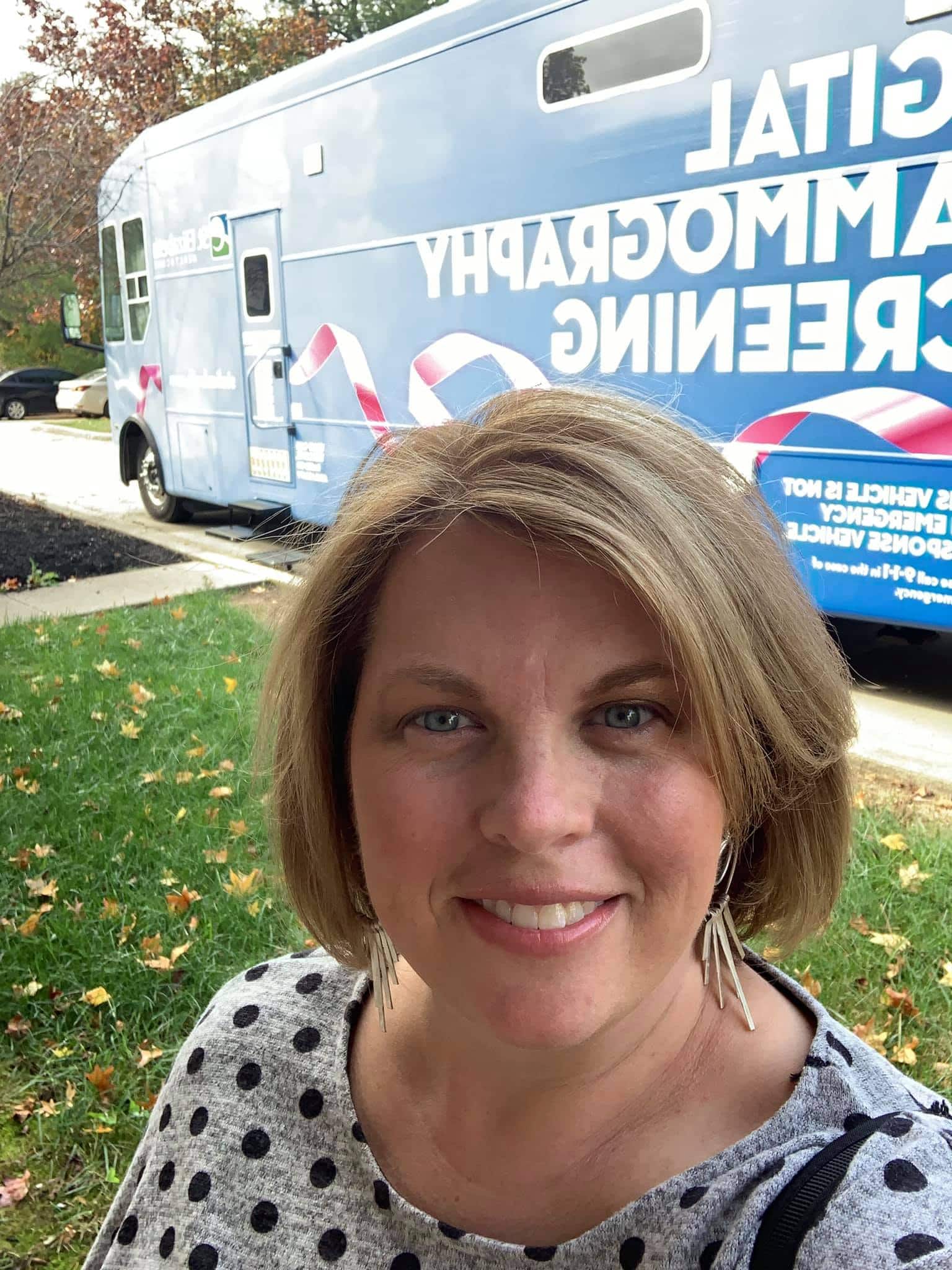 A mammogram is an X-ray that allows a radiologist to examine the breast tissue for any suspicious areas. So what does that mean for your breast? Is it safe? The breast is exposed to a small dose of iodizing radiation that produces an image of the breast tissue. According to the American Cancer Society it is safe because of the limited amount of radiation used.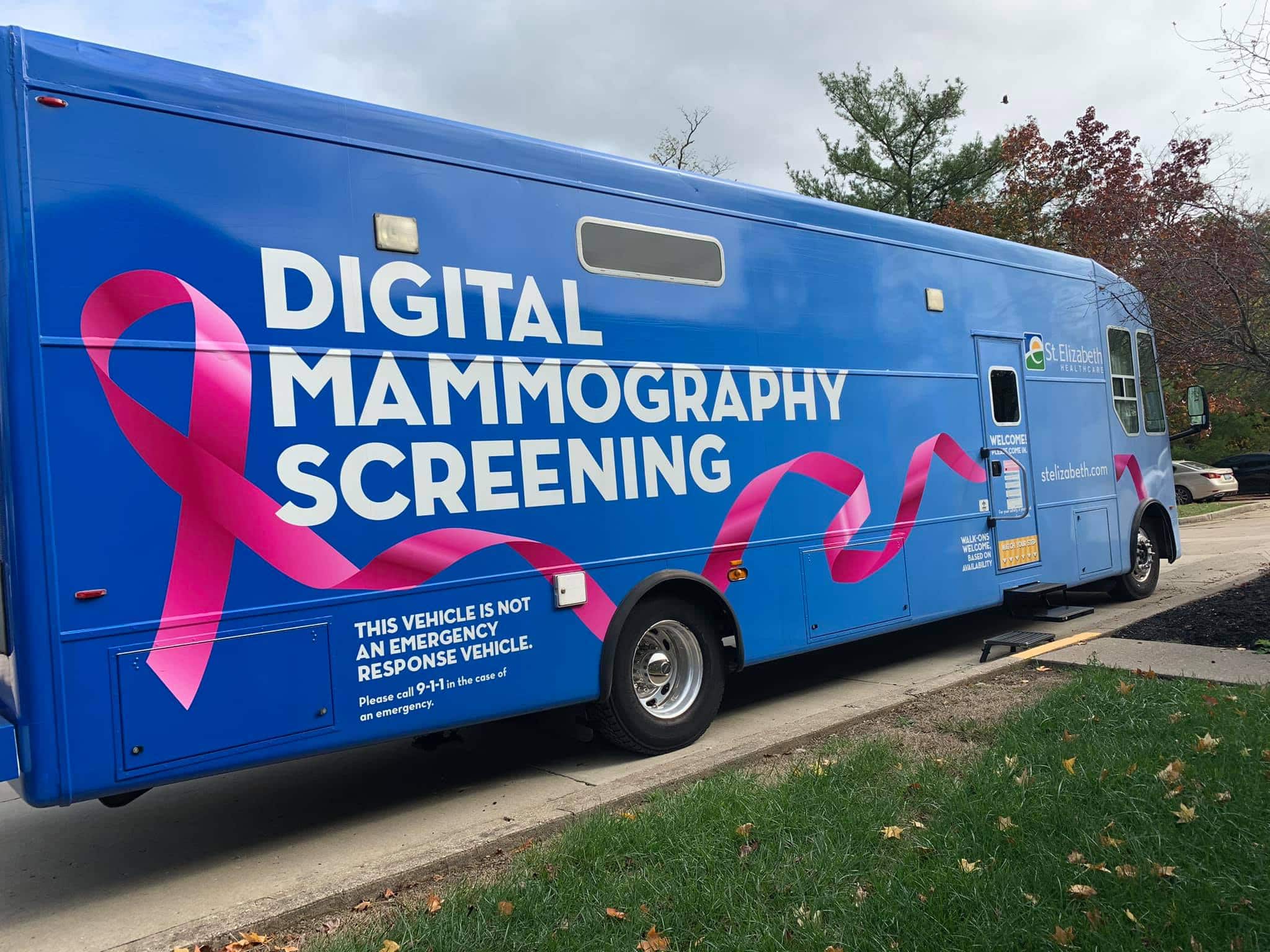 I headed to the Mammogram appointment (I scheduled my appointment at the traveling Van location – which was super convenient for me). I was asked to completely undress from the waist up and put on a paper robe. The technician was really nice and since this was my first Mammogram she walked me through the process and even indulged me as I took pictures.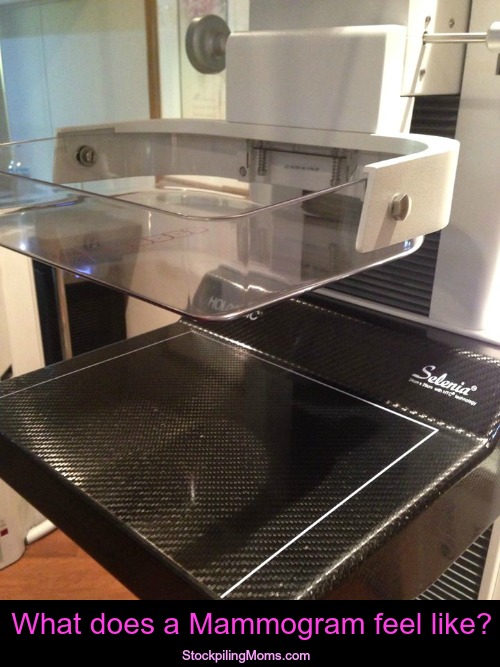 In the past I had heard a Mammogram was similar to placing your breast inside a refrigerator door and slamming it shut. WHAT? I was really NOT looking forward to my first Mammogram and then my Mother In Law called me with some exciting news. She said that she went for her Mammogram and that with the advances in technology it wasn't like it used to be! She said it was like pressing it flat like a pancake now and no longer cold. THRILLED I thought, hey I can do this!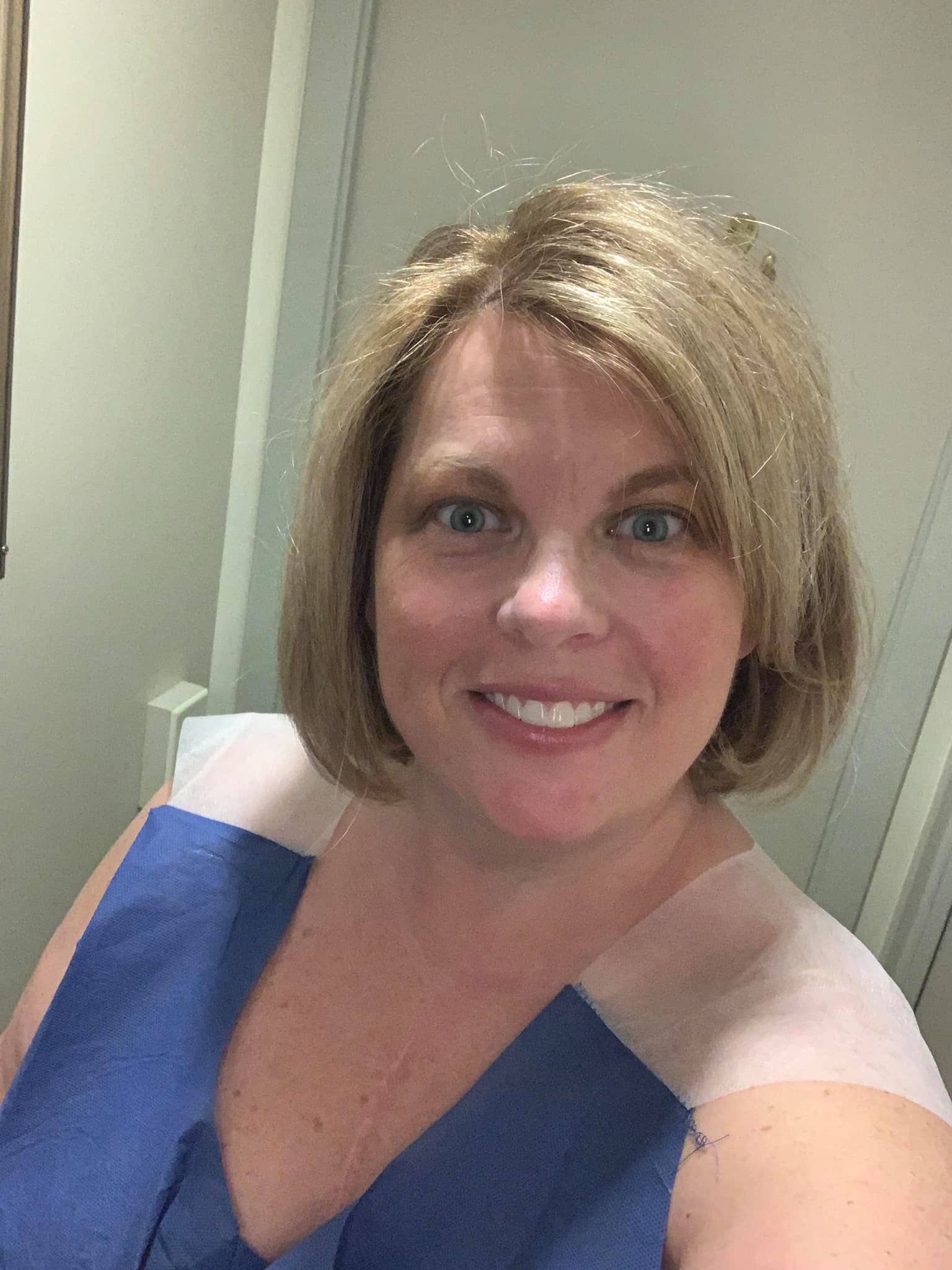 What does it feel like to have a Mammogram?
During the mammogram, your breasts are compressed between two firm surfaces to spread out the breast tissue. I personally did not find this painful at all. It was slightly uncomfortable at times but there was no pain.
They did two compression angles on each breast for a total of four. It was really quick. From the time we started to finished it was less than 5 minutes total. I did not find the plates to be cold at all. It was pressing the breast against the plate but not painful only slightly uncomfortable.
The technician had to physically "pick up and move my breast" to place it on the equipment and get the correct placement so they could get a good picture. That was a little different than a normal day but it didn't bother me. My paper "robe" tore and I just removed it as to get it out of the way. It was kind of funny as I told the technician, I am not shy and we proceeded.
An X-ray captures black and white images of your breasts that are displayed on a computer screen and examined by a radiologist who looks for signs of cancer. If the mammogram shows an abnormal area of the breast, your doctor may order additional tests offering clearer, more detailed images of that area. (Lumps are usually non-cancerous and can be caused by fatty cells, calcium, or other conditions like cysts).
When should you scheduled your first Mammogram?
Women 40 and older with an "average risk" should have mammograms every one or two years.
Women who are younger than 40 with a "high risk" for breast cancer should ask their healthcare professional whether mammograms are advisable before age 40 and how often to have them.
Tips for preparing for a mammogram
Choose an "ACR (American College of Radiologists) Breast Centers of Excellence" certified mammogram facility or its mobile mammography van to schedule your mammogram. Mobile mammography vans travel throughout the tri-state area (NKY/Cincinnati) to community sites in order to provide convenient, efficient access to mammograms. Look in the paper or call your local hospital to learn when a van will be in your area.
Schedule for a time when your breasts are least likely to be tender (usually the week after your menstrual period).
Bring prior mammogram images with you (if you're going to a new facility) so the radiologist can compare them with your new images.
Do not wear deodorants, antiperspirants, powders, lotions, creams or perfumes under your arms or on your breasts because they may contain metallic particles that could be visible on your mammogram and cause confusion. If you forget they will provide wipes so you can remove them prior to the Mammogram.
Results are usually called or mailed to you and your physician within 30 days of the mammogram. Notify the facility where you had the mammogram if you do not hear results within 30 days. I filled out a post card which was mailed to me with my results and then my Dr. called me as well.
A tip from our reader Diana – wear pants, shorts or skirt so you don't have to totally un-robe into your undergarments (if you wear a dress you will be in your undergarments).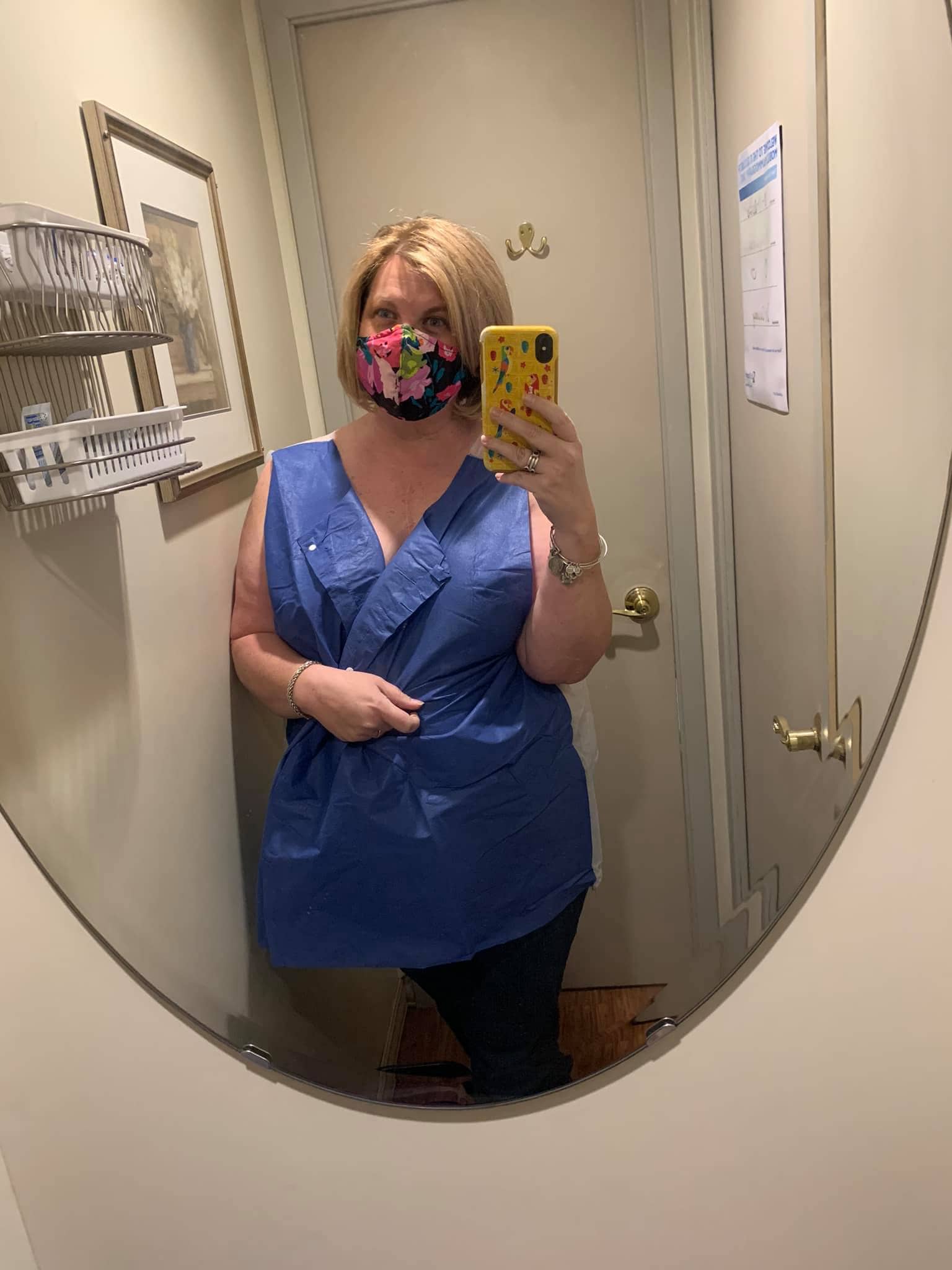 One thing that I learned through this process is that if you are unable to afford a mammogram or don't have insurance, contact your local hospital to learn about grants and other funds that may be available. Locally if you are without insurance you don't have to pay when you have your mammogram at a van.
Disclaimer: I am not a medial professional. I am sharing my experience with you in hopes to spread awareness and help you if you are preparing for your first mammogram.
Other Posts You May Enjoy:
Simple Steps To Prevent Cancer
10 Honey Recipes & DIY Remedies
10 Simple Steps to Lower Your Cholesterol
8 Foods That Help Fight Cellulite
Melissa is a football and soccer mom who has been married to her best friend for 24 years. She loves sharing recipes, travel reviews and tips that focus on helping busy families make memories.