Headache Relief without Medication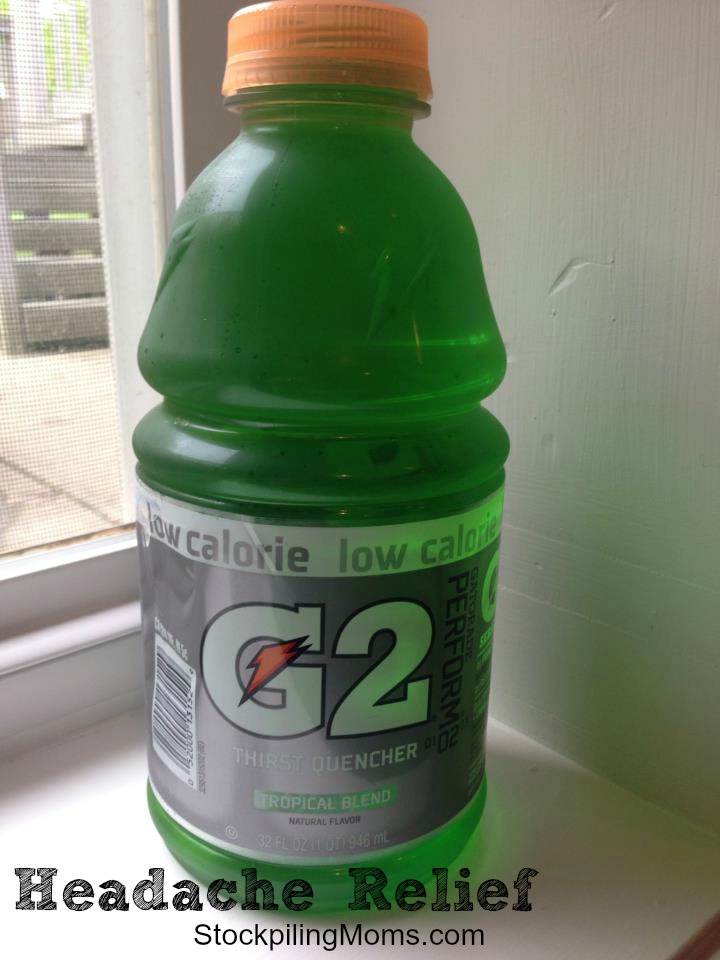 I wanted to share with you this tip for Headache Relief without Medication. I suffer from migraines and normally I carry medication or essential oils with me when I am on the go however, I forgot to pack them along with me and at Peyton's soccer game I came down with a pounding headache. I knew I was in trouble, and I mentioned it to one of the other soccer Moms and she gave me a GREAT tip on how to cure the headache without taking medication.
Normally I don't use OTC medication because I use essential oils, but I was stranded without them and decided to give her tip a try. I had nothing to lose except a pounding headache and I was concerned it was going to quickly turn into a migraine.
Headache Relief without Medication:
Her tip was to drink a 24 oz Gatorade or Powerade as quickly as possible! What? It just can't be!!! So, I did it! The headache started edging off about halfway through the sports drink. As I finished it off, I felt the headache starting to leave. She told me that sometimes you have to drink 2 sports drinks to "cure" your headache but that is only if you are really dehydrated. She asked me if I had been drinking enough fluids and as I thought about, I knew I hadn't. When we go to soccer, and I know there is only a portlet I often don't drink a lot pre-game. WOW! I will never make this mistake again. The electrolytes in the sports drink help with the constricting of your blood vessels and in turn that helps your headache to leave.
I was thrilled with this awesome DIY for Headache Relief. You can almost always find a sports drink when you are on the go. I hope this tip helps others who suffer with headaches or migraines.
This is my go-to for how to treat a migraine or headache with essential oils.
Articles You May Enjoy:
How to Clean White Spots out of Wood
Melissa is a football and soccer mom who has been married to her best friend for 24 years. She loves sharing recipes, travel reviews and tips that focus on helping busy families make memories.