5 Tips for Avoiding the January Blues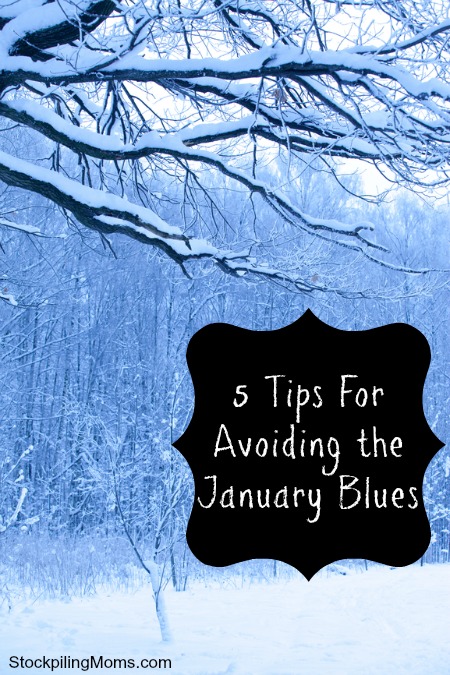 Here are 5 Tips for Avoiding the January Blues. January is always a time that many people get the blues. The sun is not shining, and it is cold and dreary. Here are five tips to help you avoid the blues this year. Trust us it is easy to get depressed and feeling down in the dumps when the sun is not shining. These are tips and suggestions to help you avoid the feelings and look towards summer to keep your soul shining.
5 Tips for avoiding the January Blues
1. Increase your Vitamin D – By eating foods rich in Vitamin D or adding a supplement you will be able to keep your energy at a more normal level. I actually increase mine to because my recent blood test indicated that I was low in Vitamin D. Knowing that I won't see the sun for quite some time I added this supplement and can tell a major difference. Foods rich in Vitamin D include: Salmon, Tuna, Flounder, Milk, Fortified Cereal, Pork, Eggs, Mushrooms, Beef Liver, Ricotta Cheese.
2. Increase your Omega-3 – My Dr. also suggested that I increase my omega-3 fatty acids. They block chemicals called cytokines that cause a "bad mood". If you increase your oily fish (salmon, sardines, mackerel and tuna) as well as flaxseed oil, nuts and seeds you will see an improvement in your mood.
3. Protect yourself against virus – This has been a terrible season for illness and nothing makes you blue more than being sick. It is not too late to get the flu shot or flu mist if you choose to (I am not advocating for or against). It is important to wash hands and other public areas (like your desk at work and any shared surface like grocery carts and keyboards). Another tip is regularly wash hand towels in bathrooms or switch to paper towels during the winter months.
4. Eat Breakfast – If you start your day fueling your body yo will feel better. Breaking the "fast" is important. Don't skip breakfast because your body needs to start the day with nutrients and protein. You may want to start with hard boiled eggs or even a green smoothie.
5. Get 8 hours of sleep – This is a big one! It is proven that if you don't get enough sleep that not only will you have less energy but that you will not lose as much weight. If you try to go to sleep at the same time and get up the same time this will help with your weight loss goals. If you skimp on sleep you will reduce your leptin, which is a weight loss hormone. This hormone is responsible for telling your body when it has had enough to eat! When you lose sleep you also increase the production of the hormone Ghrelin. It is a hormone that tells you when you are hungry. So increasing this hormone makes you eat MORE!
Disclaimer: I am not a health professional and I am not giving medial advise. Please consult a physician before making changes in your diet.
Other posts you may be interested in:
Melissa is a football and soccer mom who has been married to her best friend for 24 years. She loves sharing recipes, travel reviews and tips that focus on helping busy families make memories.