Applebee's A Better Lunch Combo Menu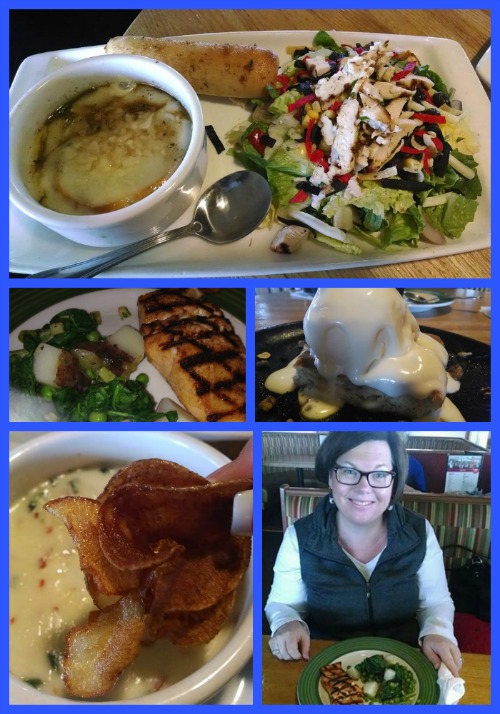 Applebee's A Better Lunch Combo Menu. What do you normally do for lunch? If you are like most it is grabbing something on the go or a cup of soup or sandwich. In 2013 Shelley and I committed to each other to set a lunch date once a week with each other! It has been one of the best things were ever did. Not only do we spend that time catching up and visiting we use the time together to work on the blog and plan our editorial calendar. Now, life keeps us really busy, and we normally average 1-2 times a month in reality, but it is something we both look forward too.
Applebee's A Better Lunch Combo Menu:
Dining out once a week can really add up though on your budget. However, one thing that we have learned is that dining out for lunch is much more affordable than dining out for dinner. We have tried a variety of restaurants. One of our favorite new spots that we are enjoying is Applebee's. Not only is it tasty it is also affordable! They have a mix and match lunch menu with up to 200 choices starting at only $6.99 available every day from 11:00 am – 3:00 pm! You can get a classic + classic for only $6.99, a classic + a signature for only $7.49 and a signature + a signature for only $7.99. Visit Applebees.com for all the choices!
Classics Include:
Soups:
Tomato Basil Soup
Soup of the Day
Salads:
Caesar Salad
Spinach Salad
House Salad
Sandwiches:
American BLT
Classic Turkey Breast
Chicken Fajita Rollup
Lunch Portion Entree:
Honey Pepper Chicken Tenders
Three Cheese Chicken Penne
Applebee's recently challenged us to participate in their lunch challenge. They provided us with a gift card and asked Shelley, and I go to lunch together 5 times in the next month. Of course, we jumped at the chance! Applebee's also has a nice gluten free menu for those who eat gluten free (like me). Shelley enjoyed the Fiesta Chicken Chopped Salad and French Soup Combo which is pictured above! Of course, with an appetizer and a dessert you have an amazing lunch! 🙂
We have a fun Applebee's Giveaway for one of you coming soon! What is your favorite Applebee's Menu item?
Disclaimer: This is a sponsored post. Applebee's provided a gift card for us to dine however all opinions are 100% our own.
Melissa is a football and soccer mom who has been married to her best friend for 24 years. She loves sharing recipes, travel reviews and tips that focus on helping busy families make memories.