Samsung Robot Vacuum Review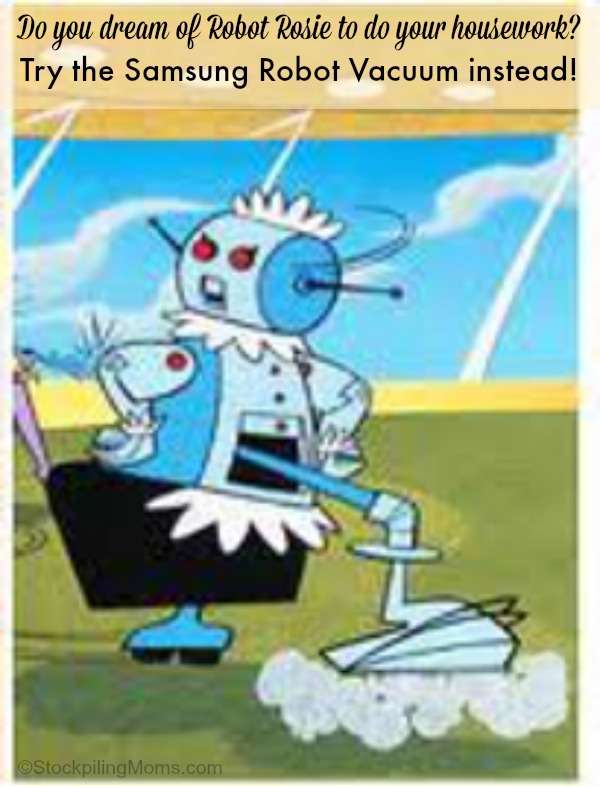 Samsung Robot Vacuum Review. Have you ever dreamed of owning a vacuum that would do all of the work for you? If so, your dream can soon come true! I have been dreaming of owning the Samsung Robot Vacuum and when Best Buy offered me the chance to review it there was no way I could pass on the offer. My friend Teresa came over the day it was delivered and literally FLIPPED out when she saw it.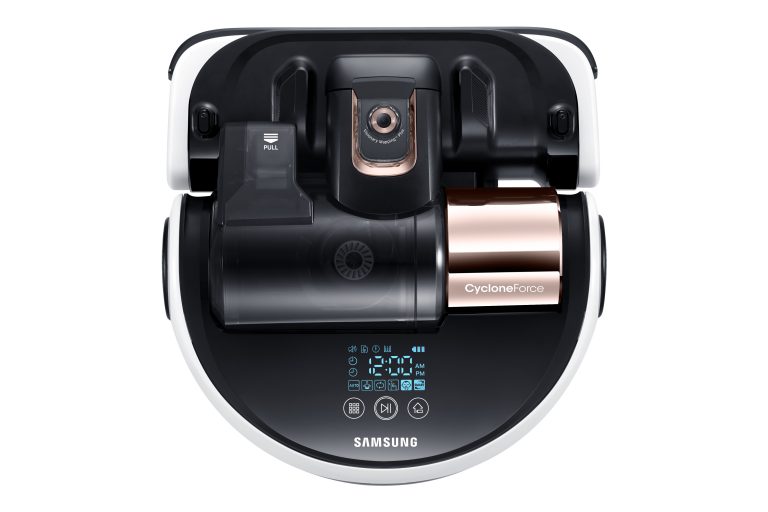 Samsung Robot Vacuum Review:
There are a lot of features that I loved about the Samsung Robot Vacuum. I think one that I was most surprised about was the Extreme Suction Power. I really questioned whether or not the Robot would do as good of job as a traditional vacuum. The Cyclone Force's strong centrifugal force separates dirt and debris into an outer chamber. So, it maintains suction power by keeping the filter clean with less clogging. This is a really cool feature especially if you have pets. I was more than impressed with the suction power and really couldn't believe this vacuum cleaned so well for a robot!
The Samsung Robot Vacuum cleans even more than the traditional vacuum. It has a wider brush, so it can clean larger areas with less movement. What I found was the coolest feature is the Comprehensive Scan – an upgraded, high-performance full view sensor comprehensively locates even very narrow or small obstacles across a wide area. With fewer blind spots, it can navigate safely around an entire room. The Robot literally scans your room and then moves around any obstacle and vacuums. We intentionally left out dog toys and other items in the floor to see what would happen and the robot maneuvered around them with ease.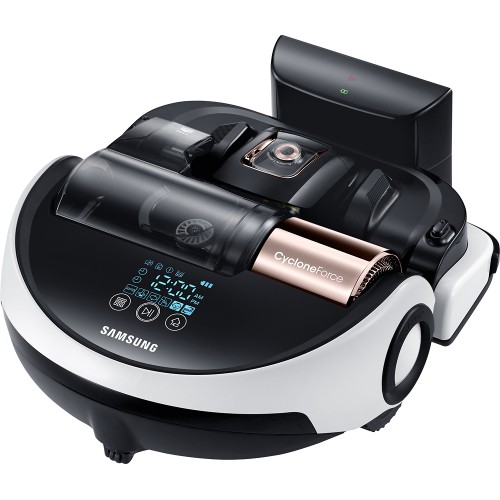 You can also point and clean with the Samsung Robot Vacuum. A point cleaning controller lets you guide it to clean dusty spots (you know those hard-to-reach spots under the furniture). I was really surprised by how well the wheels move smoothly move and overcome most obstacles. I was actually able to go take a shower and the Robot kept working while I wasn't there. I like the remote-control feature too!
Using the Samsung Robot Vacuum made me think of the Jetsons made Robot Rosie. Ok – maybe it isn't that good, but it is pretty close! It is fast, efficient cleaning. I was really impressed with the visionary mapping plus system that leads the Robot Vacuum around the optimal path for the fast-track cleaning. Using its 10 sensors and on-board digital camera it creates a complete map of your house and calculates the most efficient cleaning path. Heck, I think the Samsung Robot vacuum was more efficient than I am!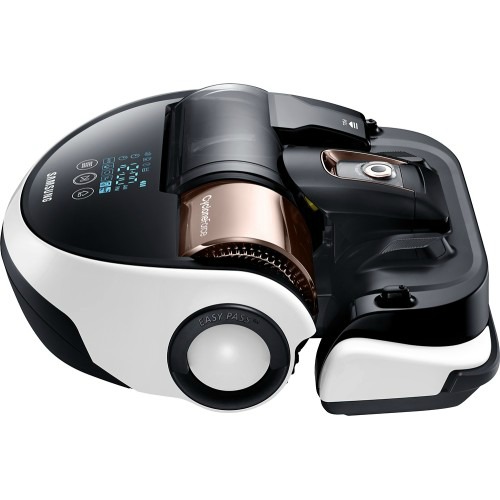 The Samsung "Clean How You Like" has 7 Cleaning Modes and lets you choose the best way to clean in different situations. It has 4 styles of cleaning, including auto, spot, max and manual modes, scheduling modes and a dust sensor mode. I think it is better than a traditional vacuum because of the 7 settings. Best of all it has a bagless technology and comes with a cleaning brush. It is perfect for pet owners who like to vacuum daily.
One thing that I was concerned about was having to worry about charging the Robot but luckily it is always charged automatically. It has 60 minutes of cleaning time. When the battery gets low it automatically moves to the docking station to recharge itself, before resuming cleaning. Now that is what made me realize how smart the Robot really is!
So, did anyone else grow up watching the Jetsons? Would you like to have a Robot Rosie or a Samsung Robot Vacuum to help you with your house keeping?
Disclosure: The reviewer has been compensated in the form of a Best Buy Gift Card and/or received the product/service at a reduced price or for free.
Melissa is a football and soccer mom who has been married to her best friend for 24 years. She loves sharing recipes, travel reviews and tips that focus on helping busy families make memories.