Hand Hygiene Tips for Back To School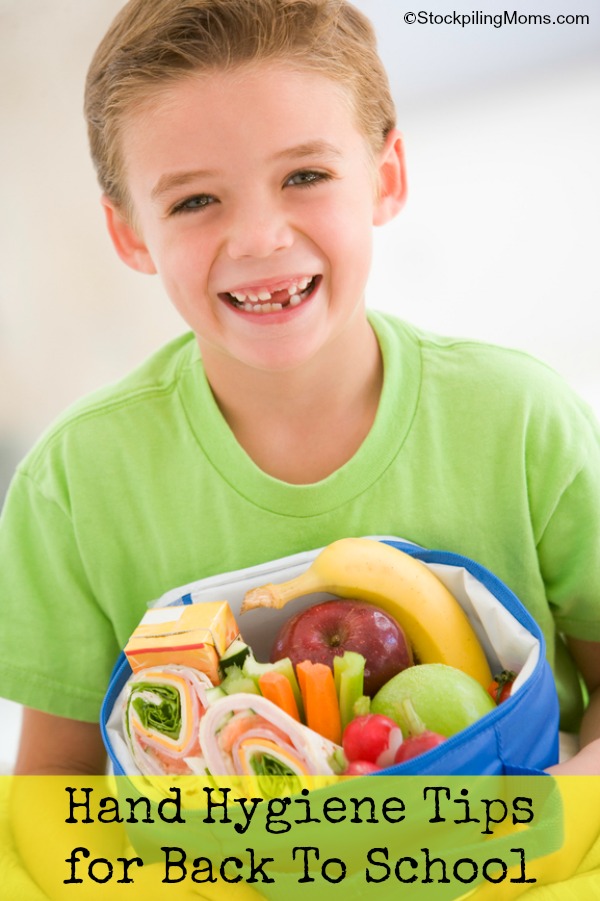 Check out this Hand Hygiene Tips for Back to School. It is hard to believe but we are less than two weeks away from Back to School! Where has the summer gone? Are you counting down the days or dreading it? I am dreading it. I love summer and this summer has just seemed to fly by. We have had a blast and I really hate to see it end. However, the time is near and that means that I need to prepare for back to school.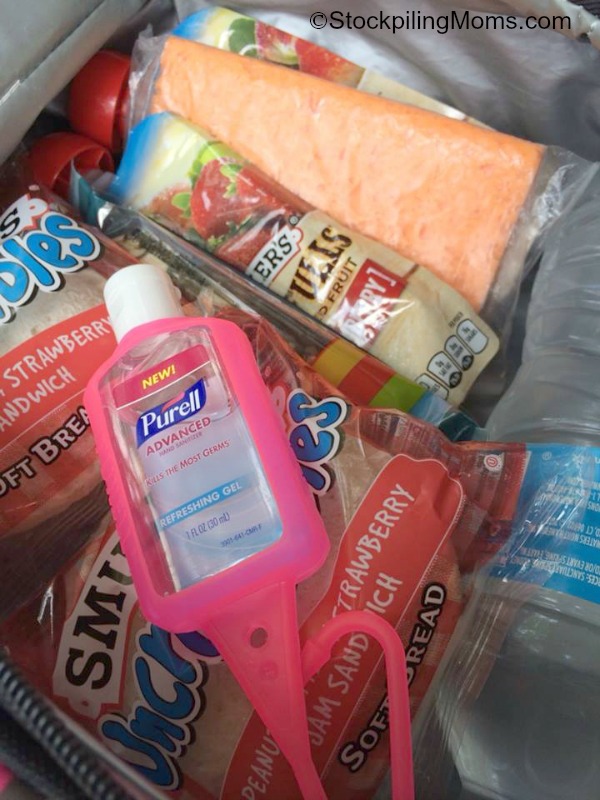 Hand Hygiene Tips for Back to School
In the Classroom: Each classroom should have a supply of PURELL® for little hands. I volunteer often and watching the hygiene habits of some of the kids is a little shocking. I am thrilled to see bottles of PURELL® in my kids' classroom that are used often and before the kids eat special treats or after they cough or sneeze. This is a great time to stockpile hand sanitizer so that you can gift it to your teacher throughout the year.
Recess/PE Class: My son LOVES both recess and PE. If you ask him what his favorite subject is he always replies with PE. There are often germs on PE equipment and of course outside, so it is important to take extra precaution after the children play outside, use balls or other PE equipment or have indoor recess. A great tip is to add a PURELL® Advanced JELLY WRAP to your child's gym bags so they can enjoy a healthy break from the classroom, but not hand hygiene.
Lunchtime: Another favorite for my son. He loves lunch. This is his favorite time of the day. I go to lunch once a week and eat with him and the stories I could tell. I have seen kids drop food on the floor and pick it up and eat it, I have seen them swap food (after taking a bite) and I have seen them drop their napkins and then use them. I added a PURELL® Advanced JELLY WRAP to Peyton's lunch box so he always has the option to use it before (or while eating).
School Bus: If your kids ride the school bus be sure to add a colorful PURELL® Advanced JELLY WRAP to their backpack. You can even give one to the bus driver so they can have a healthy school year too. This is a great first day of school gift and Christmas present.
Sports: If your kids play sports, it is important to wash hands when they come off the field. Often times there is no availability to do that so that is why I always keep a PURELL® Advanced JELLY WRAP on Peyton's soccer backpack. You can also use PURELL ® Sanitizing Wipes so you can wipe away any dirt that accumulated during the game!
On-the-Go Parents Hand hygiene is important for mom and dad too. Attach a PURELL® Advanced Jelly Wrap to a messenger bag, purse or briefcase before heading out the door for work. With easy access to hand sanitizer, mom and dad can practice proper hand hygiene at key moments during the day! When I am on the go, I appreciate having one on my bag.
Play Dates: With new friends come new germs. Whether you are hosting, or sending your child to a new friend's house, remind them to sanitize their hands after playing and before eating. Keep PURELL® Advanced Hand Sanitizer in plain sight so they don't forget or send some along with your child as a thank you for hosting.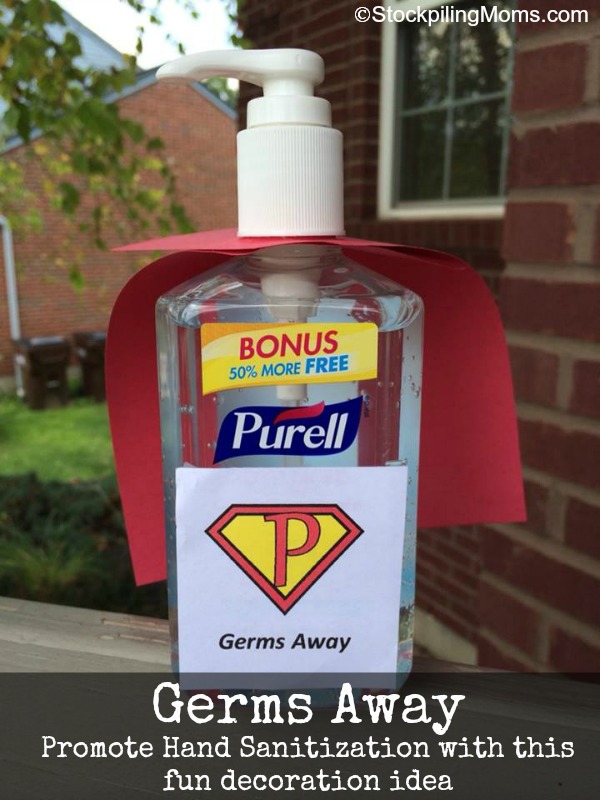 Germs Away
makes a cute gift idea for Teachers, Coaches and Parents.
We hope you've been keeping up with the PURELL Advanced 30-Day Challenge! How has the Challenge has impacted your family's hand hygiene routines? Have you noticed a positive change in your family's hand hygiene habits? Are they using hand sanitizer more frequently? Every day? I am noticing a BIG difference at our house. Of course, we have a PURELL® Advanced JELLY WRAP on or soccer bag, backpack, purse and brief case 🙂 If you haven't checked it out here are the details!
PURELL Advanced 30-Day Challenge
Are you ready for 30 days of fun and 30 days of prizes? The PURELL Advanced 30-Day Challenge Promotion is your chance to introduce new healthy habits, win prizes and show off you creativity! Every day, there will be a new challenge to complete. For every challenge you tackle, you will receive a new entry into the promotion. So the more challenges you complete, the more chances you have to win! Sounds like a fun way to keep healthy to me!
How Does It Work?
On Monday, July 14, visit www.facebook.com/PURELL or www.purell.com/30daychallenge to register for the promotion
Download the list of challenges and get your entire family involved
Check back every day to complete another challenge and view the photo gallery
Share the promotion with friends via e-mail, Facebook, Twitter, Pinterest and Google+ for even more chances to win!
You will receive:
1 entry when you register for the promotion
1 entry for every friend who registers for the promotion (limit 10 entries)
1 entry each time you visit the PURELL Advanced 30-Day Challenge page on Facebook or at www.purell.com/30daychallenge (one visit per day)
5 entries for videos, 2 entries for photos and 1 entry per story read
So if you are like me you are thinking what types of daily challenges will this 30-Day Challenge include?
Here are just a few examples of the daily challenges:
Upload a picture of a PURELL Advanced hand sanitizer bottle you decorated (like our Germs Away idea)
Post a video of yourself using PURELL Advanced hand sanitizer at a summer barbecue
Give us your two SCENTS or more – show us your collection of your favorite PURELL Advanced scented JELLY WRAPTM Carrier products
Why do you want to participate in the PURELL Advanced 30- Day Challenge? Because you can WIN!!!
Prizes Include:
63 Daily winners will receive PURELL Advanced products
8 Weekly winners will receive a $100 Visa gift card
30 Grand Prize winners will receive a Healthy Family Prize Pack, including a variety of fun, healthy habit-forming gifts
I hope these tips help keep you prepared when you are on the go and for Back To School! Good Luck on the PURELL Advanced 30-Day Sweepstakes and don't forget to join the PURELL Be Well Network!
Disclosure: I am being compensated by PURELL for your participation in this campaign. You must also include that you are part of the Mom It Forward Blogger Network.
Melissa is a football and soccer mom who has been married to her best friend for 24 years. She loves sharing recipes, travel reviews and tips that focus on helping busy families make memories.