DIY Equestrian Ribbon Invitation That is Perfect for a Derby Party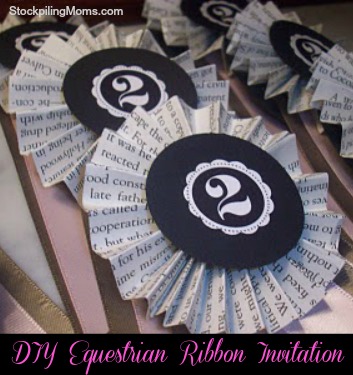 This is a tutorial for DIY Equestrian Ribbon Invitations which would be perfect for a Derby Party. Invitations most certainly set the scene and mood and are your guests first impression of how awesome your party will be! When you send or hand deliver an invitation that is worth hanging on to or even worthy of refrigerator real estate then you've set the stage for a great party!
I racked my brain for a long, long time to try and think of something that would be worthy for a vintage Derby Party. I haven't been super impressed with a lot of horsey type derby images so I continued to search for the perfect way to invite our guests to a lovely afternoon of horse racing. So, here I give you the tutorial for making equestrian ribbon invites. Enjoy!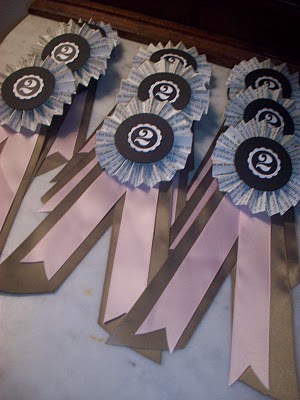 DIY Equestrian Ribbon Invitation:
Supplies:
page from a book
scalloped punch
2 inch circle punch
hot glue
ribbon (I used 2 different widths)
fabric scissors
paper trimmer
black card stock
print out of number (click here to download the numbers)
Step 1: I trimmed 2 strips from the book page on my paper trimmer that were the same width
Step 2: Stack your 2 strips on top of each other and begin your accordion fold making small pleats. Crease them so the edges are crisp.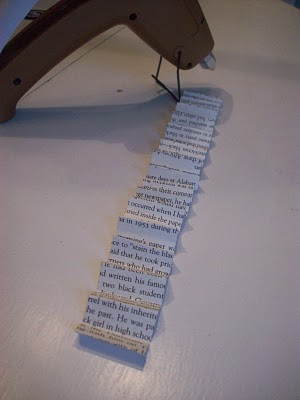 Step 3: Separate the two strips and put them end to end. With a dab of hot glue make 1 long strand of accordion folds.
Step 4: At this point, punch a 2 inch circle from your black card stock and layer with a scalloped punch number.
Step 5: Connect the 2 ends of your accordion folded book page together. Push the circle flat and gather the points in the middle.
Step 6: Glue your number circle into the middle of your accordion and hold until the glue sets.
Step 7: Cut 2 of the same lengths of each color of your ribbon. Stack and glue them to the back of your rosette.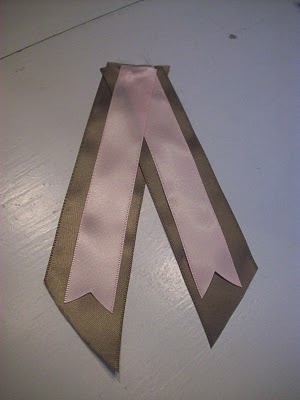 Step 8: Cut points into your ribbons
Step 9: Hot glue your rosette to the ribbons
Step 10: I covered the back of the invitation with another black card stock circle to cover the ribbon. I will add a smaller white card stock circle to the back of the invite with the information for the party at a later date.
So that's it! Easy peasy right! Be sure to check out my full post on to plan a Derby Party.
DIY Projects:
Melissa is a football and soccer mom who has been married to her best friend for 24 years. She loves sharing recipes, travel reviews and tips that focus on helping busy families make memories.