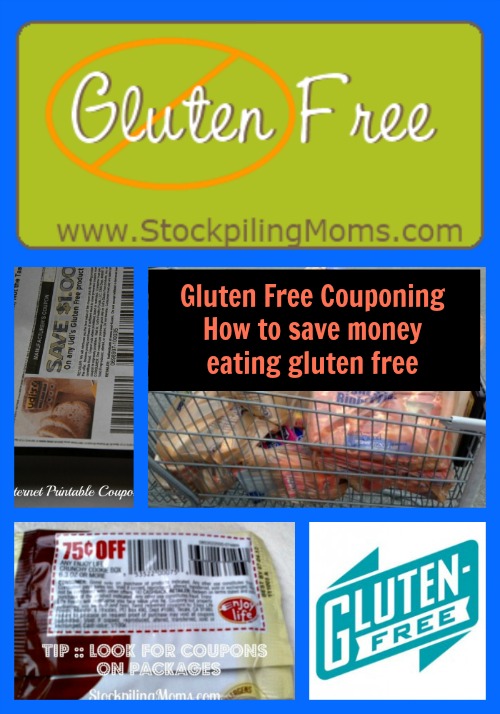 Gluten Free Couponing – How to save money eating gluten free. It is a misconception that you cannot eat gluten free and use coupons. You have to think outside of the box when it comes to gluten free couponing.
Gluten Free Couponing:
When I got my diagnosis that I have Celiac Disease my response was "How am I going to save money eating gluten free". Not the typical response that my Dr. was expecting but as a deal seeker and a Stockpiling Mom it was my reaction. After the initial shock I decided to dive headfirst into saving money gluten free. I wanted to continue to save and wanted to help others do the same.
Gluten Free Coupons Do Exist! However, they are a little harder to find. My first tip is to purchase or obtain multiple papers each week. Consider purchasing from a coupon clipping service and targeting specific Gluten Free coupons versus buying a paper full of coupons that you cannot use.
If you are new to purchasing coupons it is a great way to get additional quantities of coupons versus buying multiple papers. I find it a useful tool in finding Gluten Free Coupons from the Sunday Paper.
Another great resource is to collect coupons at the store. You can also print coupons online. Some helpful resources include: MamboSprouts.com, commonkindness.com, healthesavers.com, Driscolls.com and BeFreeForMe.com
Think Outside the Box: Join eClubs and eNewsletters of brands you like. Visit brands websites for coupons or special offers. Contact brands you use and request a coupon. Follow brands you use on Facebook and twitter. By contacting and following the brands you are likely to find out about their sales and special offers as well as get coupons in your inbox.
Store Loyalty: Shop at a variety of stores in order to get the best deals. It is work time in driving to a store to use a coupon strategically matched with the sale and stockpile.
Brands: You will need to be un-brand loyal. Purchase the brands that offer you the coupons and special offers. This is harder to do with Gluten Free products because you risk the products not tasting good but try contracting the company to see if they will send you a sample first.
Product Size: You are no longer going to buy the largest size available. Instead buy the smallest size allowable based on the wording on your coupon. Read more here.
Incentives: Factor in any incentives you have to shop. Some stores offer gift cards or Catalina coupons for purchasing a specific quantity. Others offer rewards through gas discounts or other programs.
Tips For Success: Shop the Drug Store Deals. Every week there are freebies at CVS, Walgreen's and Rite Aid. We post a weekly Drug Store Deals post weekly. Clip coupons for basic staples and household items. If you are not limited to a specific type of cleaning product or basic household product then be sure to clip coupons and save on those. Plan your shopping trip based on the sales cycles. Also consider a Co-op and buy in bulk when possible. At many stores like Whole Foods you can get a discount for purchasing 1 case of product.
Where Can I Save? Ethnic Markets, Whole Sale Clubs, Co-op, Online, Grocery Store, Specialty Stores, Natural Food Stores, Farmer's Markets.
I personally do really well at Kroger. Also consider Whole Foods, Trader Joe's, Aldi and Big Lot's. Each of these links will tell you the specific coupon policy and we post deals for Kroger weekly.
Shop Online: You can do really well shopping for gluten free products at Amazon.com. Sign up for Swag Bugs and use Swag Bucks credits to earn Amazon.com gift certificates. This is a great way to save. Vitacost.com is hands down one of my favorite places to shop online for Gluten Free and Organic products. When you purchase $49 or more you get FREE shipping and you do really well with savings up to 33% daily. When matched with coupons and special offers you do even better. GlutenFreeSaver.com is a daily deal site for Gluten Free products. I love this site! You can save 50% or more and often times the deals include free shipping! It is a great way to try a new brand it is a stockpile time for sure!
Price Matching: Some stores allow you to bring a current competitor sale ad into the store and they will "match" that price. This allows you to make less trips and shop at a store that is conveniently located to you. Stores that price match include Wal-Mart and Target. To price match, you must have an original sales ad with current date. Show the cashier before the item is scanned and the price will be manually reduced. Read more here.
Manager's Specials: Everyday reductions are made at the grocery in all departments especially produce, dairy and meat with manager's specials. This is a great time to stockpile.
Utilize Your Freezer: When you find great deals extend the life by freezing. Think outside of the box when it comes to freezing. You can freeze eggs, milk, cheese, hummus, bread, fruits, meat, OJ, butter, veggies and more! Use a FoodSaver® to extend the life of your frozen items. Read more here.
Overage: This is a great way to put gluten free and healthy items into your cart. When you purchase an item for $0.75 and use a coupon for $1.00. You are "over" $0.25 on the item and earn back towards other items in your order. Some stores however will automatically adjust the amount of the coupon "down" to match the price of the product Some stores that give overage include Wal-Mart and Kroger. Target and Family Dollar often time give overage. YMMV – It may depend on your cashier as well. Read more here.
Tax Deductions: Individuals diagnosed with celiac disease may be able to receive tax deductions for expenses associated with gluten-free foods and products. You must have a Doctor's note & keep your receipts. Visit celiaccentral.org/shopping/tax-deduction-guide-for-gluten-free-products for more information.
Melissa is a football and soccer mom who has been married to her best friend for 24 years. She loves sharing recipes, travel reviews and tips that focus on helping busy families make memories.