Gluten Free Menu at Tom + Chee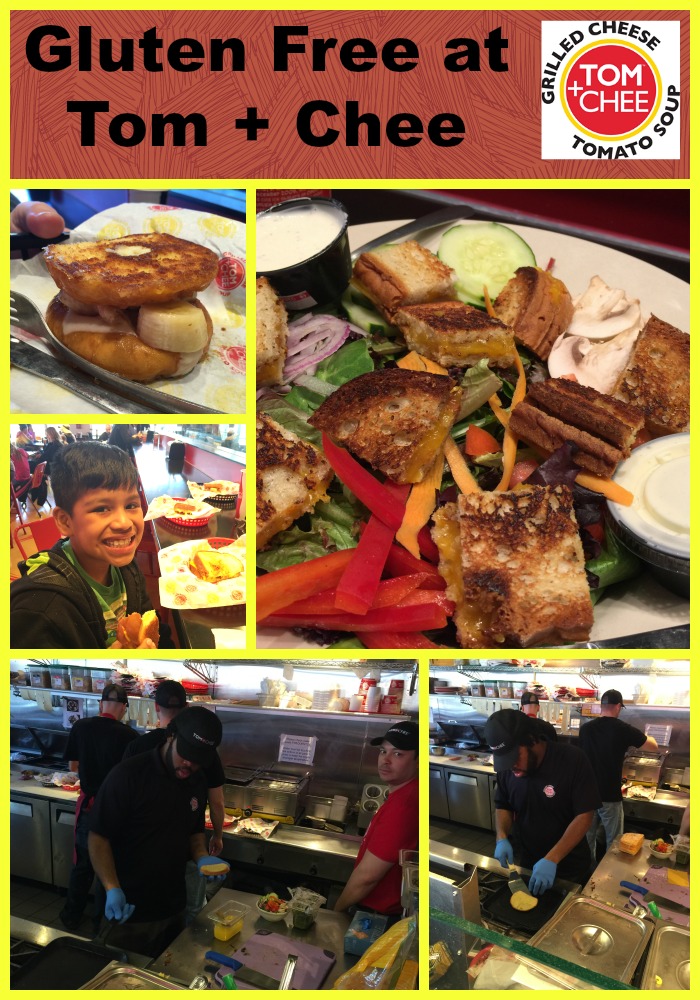 If you are gluten free you must check out the Gluten Free Menu at Tom + Chee. If you are looking for the best grilled cheese ever you have to visit Tom and Chee. I was introduced to this delicious dining experience by my friend Brittney. When she told me that her brother worked for a restaurant that only made grilled cheese and soup I thought it was crazy, well that was until I dined there. This is a unique place to dine because if you don't like grilled cheese it isn't the place for you. What is funny is my son would not even try a grilled cheese until we went to Tom + Chee. Only because they don't offer anything else he tried one and was immediately hooked. Now he begs to go all of the time. Luckily for us it is conveniently located or we would be regulars.
Gluten Free Menu at Tom + Chee:
While dining one evening I had the chance to meet Lance who is actually a trainer for Tom + Chee. He talked to me about the strict policies that they have in place to avoid cross contamination. He actually travels all over the US training about this! I was thrilled to hear that they even prep their salads in another location to avoid any chances of cross contamination. They also have a separate prep area for their sandwiches too! You can see in the pictures above. My favorite is the Gluten Free Chicken Pesto Sandwich or the Salad with Gluten Free Grilled Cheese Croutons. Regardless of what you order you are sure to be pleased.
You can view the complete where you can find Gluten Free Allergens at Tom + Chee. I have dined there dozens of times and am always 100% satisfied! I hope you enjoy it too! Tom + Chee originated in Cincinnati, OH and was featured on Shark Tank. It is now a franchise as a result of its success and being on the show. Pretty cool!
Gluten Free Posts:
Best Gluten Free Food at Universal Studios Orlando
Can you eat gluten free on a Disney Cruise?
Gluten Free Peanut Butter Cookies
Melissa is a football and soccer mom who has been married to her best friend for 24 years. She loves sharing recipes, travel reviews and tips that focus on helping busy families make memories.