DIY Baseball Burlap Wreath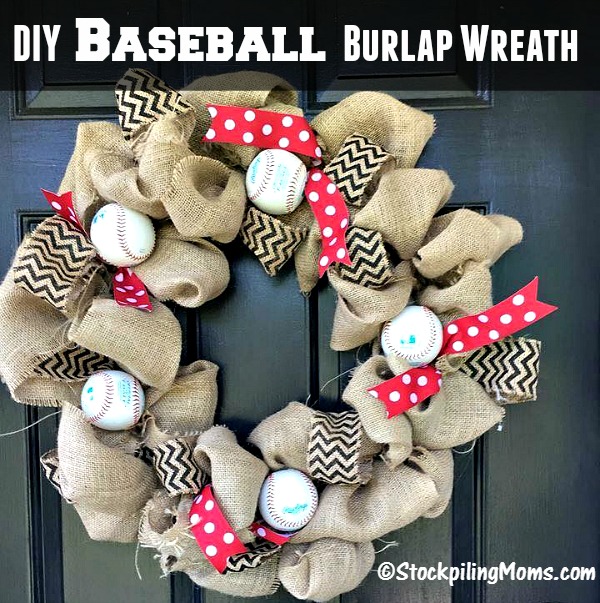 This easy DIY Baseball Burlap Wreath was so much fun to make. It is perfect for the National All Star Game #ASG2015 that is going on right now here locally in Cincinnati! If you have a baseball player or fan in your house this is for you. It is so much fun with all the different activities happening here in town. My boys are loving the All Star Game decorations and I couldn't pass up getting into it by making this wreath!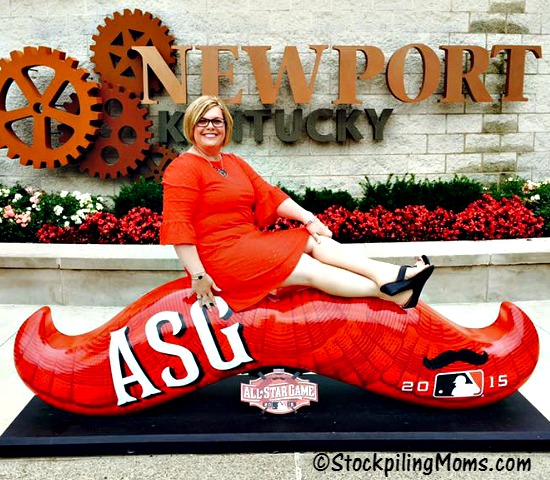 DIY Baseball Burlap Wreath
Supplies needed: Wreath wire frame (medium size is what I used), 2 bundles of burlap, 1 bundle of black chevron print burlap strips, 5 baseballs, red and white ribbon, floral wire and a hot glue gun.
Step 1: Hold the wire frame in one hand, securing the end of the burlap ribbon with that same hand. With your other hand, begin pushing loops of burlap through the back of the frame, alternating sections and pushing them together as you go. Use floral wire to secure burlap to wire frame.
Step 2: Continue pushing loops through the frame all the way around. This takes about 10-20 minutes.
Step 3: Once the frame is full, fluff & even out the loops.
Step 4: Use floral wire to secure ribbon pieces throughout the wreath. (See picture for placement)
Step 5: Heat your hot glue gun. Once ready place glue on the back of baseball and position on the wreath. Gently push down to adhere. Try to adhere to the wire frame as well to have more stability. Let the wreath lay down for 20 minutes to let the glue dry and make sure it is secure.
More DIY Wreath Ideas:
Shelley is a boy mom, marine wife, and is blessed with an amazing family. She loves sharing recipes, travel reviews and tips that focus on helping busy families make memories.